Snow-plow crews at Glacier National Park, MT finally reached Logan Pass Saturday morning, a long-awaited milestone in the prolonged spring plowing season to clear the park's renowned Going-to-the-Sun Road.
"The plows have reached Logan Pass," stated a social media post from the park Saturday. "[F]rom our Logan Pass Parking Lot, you can see where the plows ha[ve] made an initial pass at least as far as the end of the parking lot."
According to the park's website, 29 miles of the Going-to-the-Sun-Road is currently open for travel. The west side of the park has been plowed up to Rimrocks, and east side plow crews have — to date — progressed all the way to Siyeh Bend.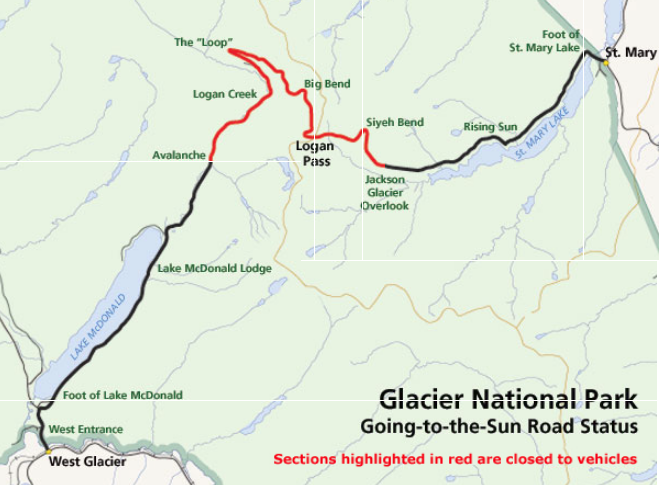 The route's plowed sections allow for visitors to drive "15.5 miles from the park's West Entrance to Avalanche" and "13.5 miles from the St. Mary Entrance to Jackson Glacier Overlook," the park's website goes on to state. The area between Jackson Glacier Overlook and Avalanche is closed presently.
Other prohibited roads include Inside North Fork Road (at Logging Creek RS and Fishing Creek) and Cut Bank Road (at Ranger Station). Segments open to vehicle and foot traffic consist of Camas Road, Chief Mountain Road, Many Glacier Road, and Two Medicine Road, to name a few.
Spring plowing on the scenic mountain roadway is an annual — and typically arduous — process. This year, it began April 3. Steady progress has been underway ever since. Current estimates approximate that the earliest date at which the upper region of Going-to-the-Sun Road could open is June 22.
Skiing, snowshoeing, hiking, and biking and other forms of similar recreation are not allowed, and access is not accessible, beyond Lake McDonald Lodge while crews are working.
The park's website makes a point to note, however, that the opening date "could be later, depending on weather and plowing conditions encountered by park plowing crews." Crews are now working their way through Oberlin Bend below the park summit.
"As you can see, there is no shortage of snow remaining up at the pass," the Facebook post said.
Click here to view the latest road status report for Glacier National Park.