Paper lift tickets may fall by the wayside as many resorts switch to RFID lift tickets. The first day at a new resort follows a predictable routine: wait in line at the ticket counter, purchase a lift ticket printed on adhesive-backed paper, then attach the ticket to a wire wicket before standing in line to get scanned before boarding the chairlift and finally hitting the slopes. That could all change as many resorts transition to RFID technology.
RFID stands for Radio Frequency Identification. Instead of a single-use ticket, guests at many resorts receive a card with an embedded RFID chip. After placing the card in a pocket, electronic scanners at the bottom of the lift read the RFID chip from inside the pocket and open the gate. Gone are the armies of barcode-scanning lifties, and gone too, resorts hope, are long lines caused by the old ticket scanning process.
Many resorts are further streamlining the process by allowing guests to add days to their pass online or at electronic kiosks, eliminating that long wait at the ticket counter. Some resorts are even integrating their passes with apps to help clients track their ski statistics. At Whistler Blackcomb, guests can download the WB+ app which generates statistics in addition to enabling pass holders to participate in challenges. Whistler Blackcomb support team manager Yolanda Foose says, "Our guests love WB+, it's driving them to visit different areas of the mountain, ski longer and more often."
Other resorts are taking the technology a step further by allowing guests to add stored value to their cards. For example, at Panorama Resort in BC, guests can add credits to their RFID card which can then be spent on resort amenities. SKIDATA, one of the companies creating resort-specific RFID systems, takes stored value one step further with their Passport to the Resort program, which allows guests to link their RFID chip to their credit card. This creates additional marketing opportunities, motivating resorts to switch to RFID lift tickets.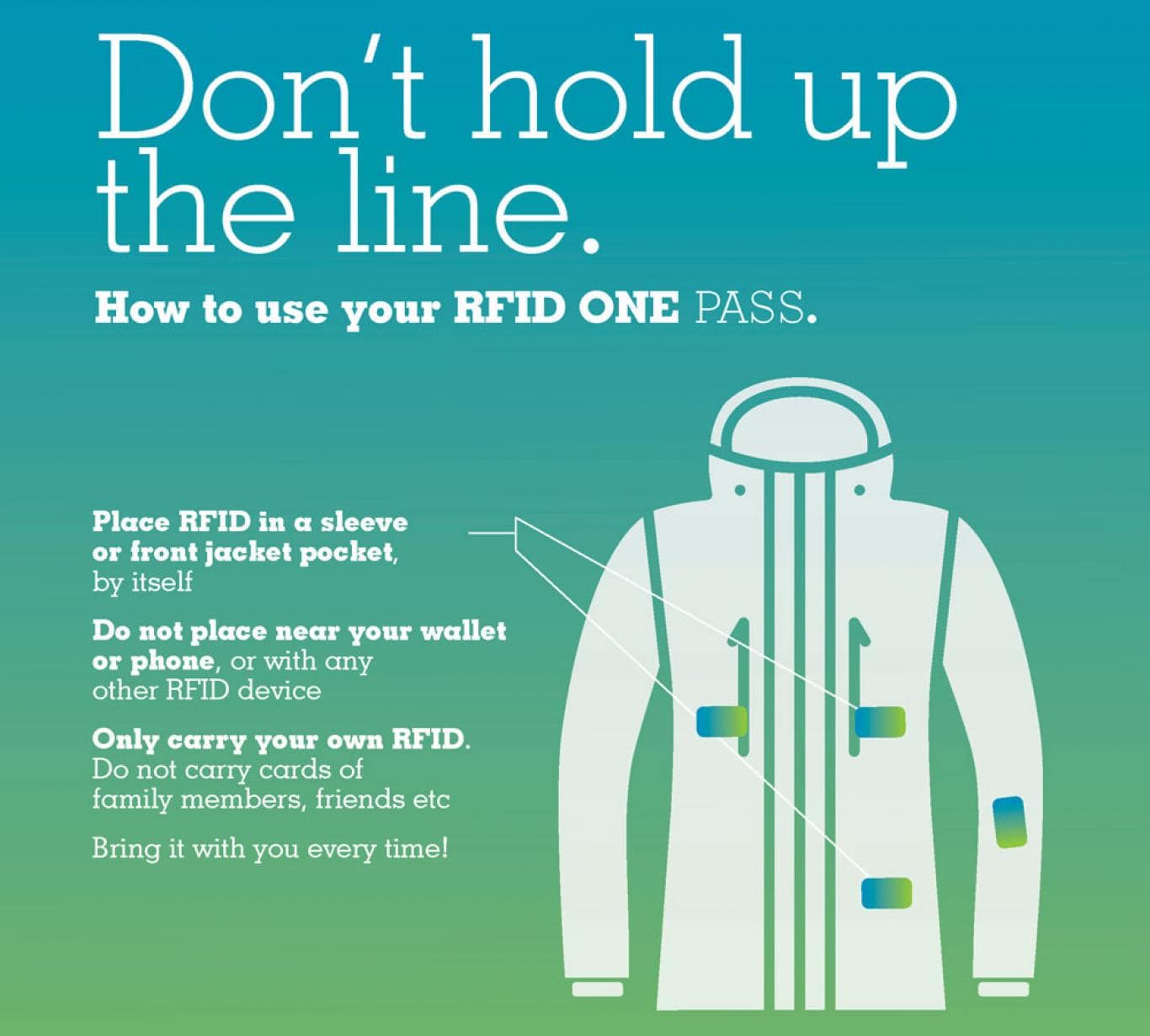 Of course, integrating credit cards with RFID technology raises the question of cyber security. Guests may not know what personal information is stored on the RFID chip, nor how it is encrypted. RFID technology has been compromised by hackers in the past. The MBTA subway system in Boston uses RFID chips and  was hacked by MIT students in 2008. (The students hacked the system to ride fare-free and later published an academic paper about their exploits.)
One company, Ski Pass Defender, claims to have the solution to RFID security concerns. Ski Pass Defender is a case that covers the RFID chip and keeps it from being read until the user presses a tap that lifts the card and allows the chip to scan. Billed as "squeeze to read, release to ride technology," the Ski Pass Defender may have found a modern solution to a modern problem.