Like many of us, your humble author grew up with a love… wait, a passion for skiing. As a youth with delusions of grandeur, I saw myself checking out off the grid (before there really was a grid) and spending days, weeks and months living the dream and putting down big lines all day and talking to the beautiful people all night. Rinse, repeat, do it all over again the next day.  Like most of our youth dreams, those that were not acted on immediately seemed to slip away way too easy.  Life: aka school, work, kids, spouses, cars, houses soon became the new normal and those dreams of living the ski bum lifestyle soon vanished.
Luckily for most of us, the passion did not vanish. Somewhere in between the demands of life, growing up, and adulting we've managed to hold on to our passion and still satisfy the need to be on the hill as often as life will allow, whether that be 5 days or 50 days. Be it with the family and kids, or with your boys from back in the day, those days on the hill managed to keep the fire alive and every once in a while we remember that crazy kid who thought life was going to be all powder, chutes and zipper lines. But what if we want more?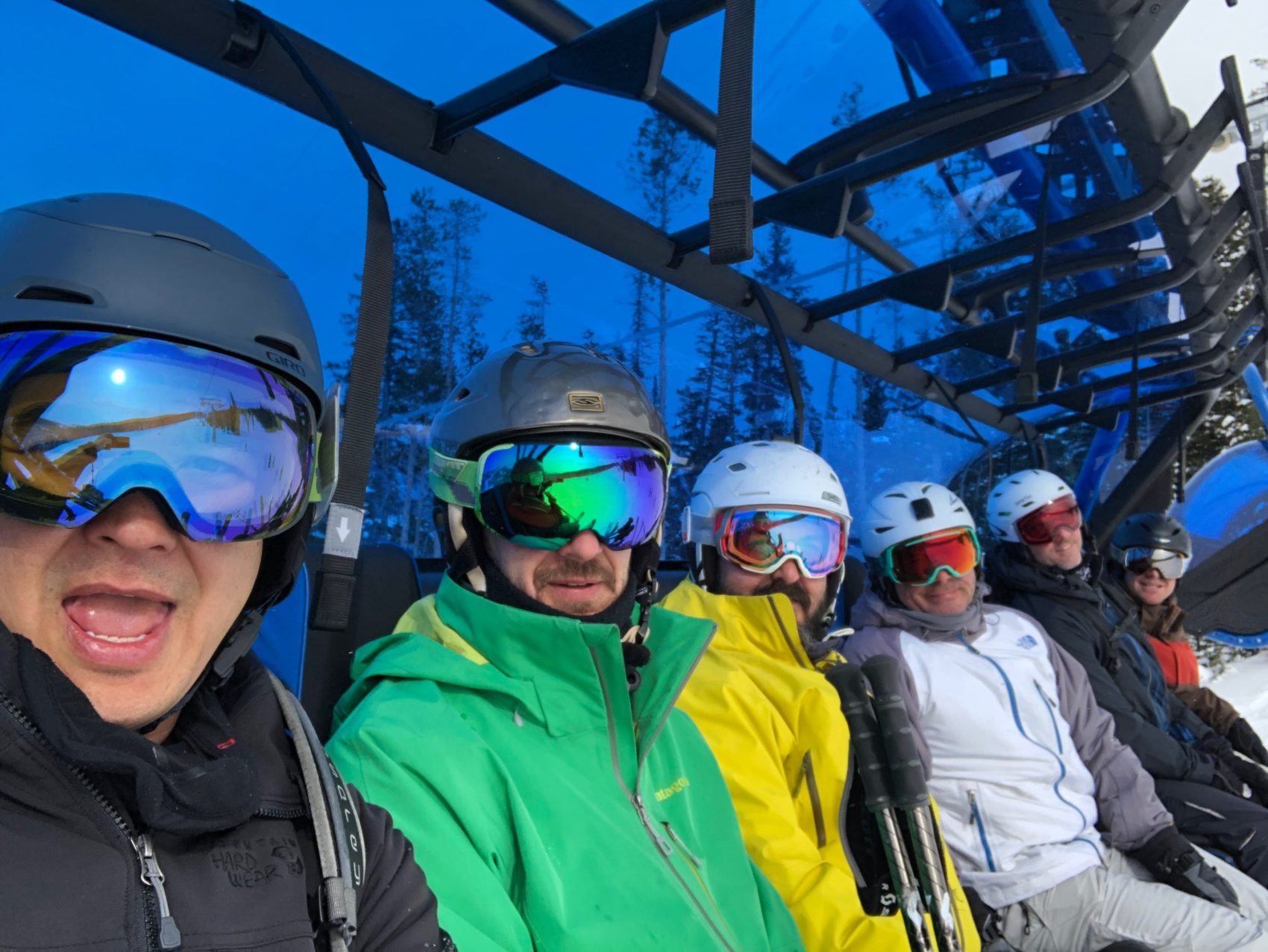 For those of us who have aged gracefully enough, we enter a new phenomenon taking over the mountain towns across the country.  I submit to you the Reverse Ski Bum.  As the 40s creep up and kids are off to college we enter a new phase guided by resources that were not available when we were young. The days of stealing Saltines, butter, and honey in the lodge for lunch, or praying you have enough gas to get to and from the hill are over. Armed with more personal resources and more options to live a life on the hill dreams can still come true.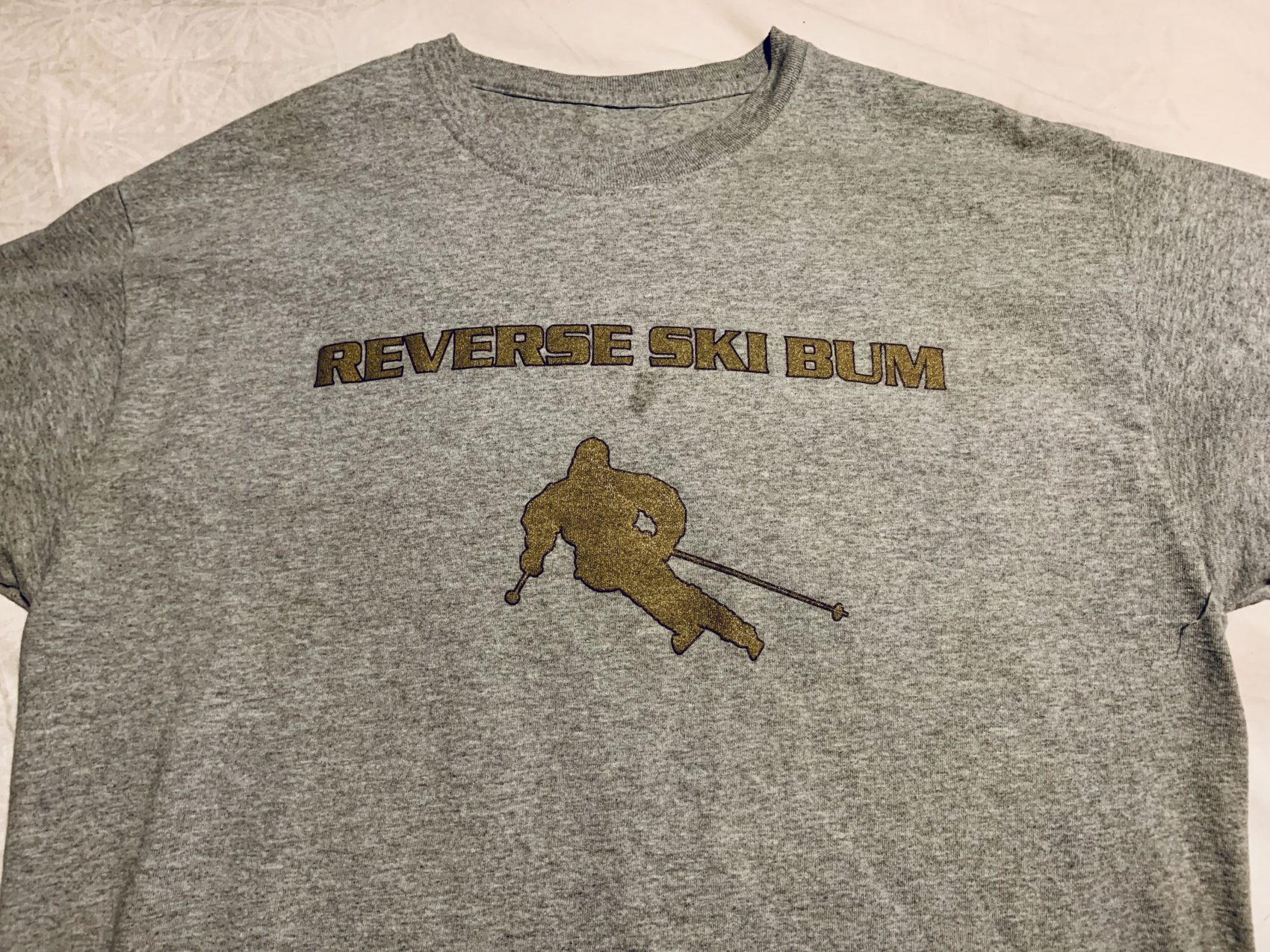 With the availability of the multi-resort passes, homes on wheels, ability to work anywhere, better equipment, and in-town resources there has been a surge of folks in their finest season in life (my biased review of the 40s) hitting the roads and living the pseudo ski bum lifestyle.  The fact that it is happening on the back end of where it was supposed to happen, in reverse, is something to strive for and celebrate.  The trick is how to execute and make this happen in real life and adopt the lifestyle. What boxes need to be checked and how can you convert from corporate life to a refined ski bum life where you can chase the snow, ski the world, and live your best life. Here are the necessities:
Income:  While quitting your job and grabbing your skis or board may be ideal, ski town life is expensive so an income is still necessary. Luckily the remote workforce and opportunity to work remote is only growing. According to Forbes by 2027 over half of the workforce will be remote meaning companies will need to adapt and provide opportunities to the future of work.  Additionally, ski towns like Mammoth ae adapting with coworking spaces that are both functional and affordable.  Mammoth's The Fort, which boasts both in-town and ski-in/out coworking spaces, can be had for $99/mo and that includes a full Ikon pass.
Accommodations: Ski town living is affordable said no one ever.  Luckily there are more options than ever. The sprinter van phenomenon, complete with all the comforts of home and more, along with connectivity can provide a home on wheels that can move from town to town allowing you to live life on the road and on the hill. Off the lot and conversion options are abundant and can be had for small or large budgets depending upon needs and your resources.  Additionally, the availability of home swaps, ski leases, co-living options that are now prevalent on the internet for all styles of living.
Lift Access: Is there a better time to want to spend as much time as possible on the hill?  With the Ikon and Epic pass, it is now possible to live the dream of the ski bum vagabond lifestyle chasing pow across the country and world, or posting up at your favorite resort that has unlimited access for dollars a day.  The affordability of these passes related to the days available is off the charts and was unfathomable in the original days of the ski bum dream.
Necessities of Life aka food and drink: Ski towns are no longer food deserts where one is reliant on local mom and pops charging exorbitant prices.  The ability to distribute food nationally by the major chains has resulted in a presence nearly everywhere, keeping prices down to earth and allowing for reasonable food budgets. More restaurants and bars means more competition for your dollar, even high-end restaurants such as White Buffalo Club in Jackson Hole are in on the happy hour game offering 5-star meals at bargain prices. Your smaller local watering holes are even more likely to be budget-friendly.
Freedom: This may be the hardest to attain. Aside from the above, spouses, kids, and mortgages are still a factor in the decision and process. What comes along or gets left behind will vary greatly from opportunity to opportunity depending upon current life standings.
Is the Reverse Ski Bum equivalent to the dirtbag ski bum we dreamed of being when we were in high school or ready to call it quits in college? ABSOLUTELY NOT, nor should it be.  That's the beauty. If you've paid the price of the corporate grind, built your empire, or even have managed to scrape by til you have that freedom, the options we have today are much greater than at any time in the past. Is it easy?  Of course not. It takes major life changes and logistical planning to execute, ones that your ski-crazed author is still navigating for a 2020 exit.  The Reverse Ski Bum lifestyle is out there and available, so start searching because in the immortal words of the late great Warren Miller, "If you don't do it this year, you will be one year older when you do."