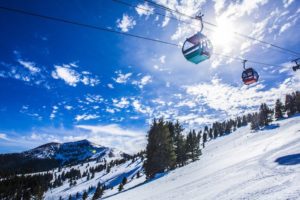 Ski Apache, a New Mexico resort operated by the Mescalero Apache Tribe is having trouble staying open. The resort is suffering major snow related issues and the lack of communication regarding closures is causing a massive impact on local business. The resort was closed for 6 days the first week of December, and four days the second week with little advanced notice or communication with shops or accommodations. The resort maintains that they may close without warning in the case of weather related incidents, or lack of skiers and riders. Ron Anderson, owner of the Wild West Ski Shop is among the business owners frustrated by the actions of Ski Apache.
"Communication between the mountain and the Inn and us in town has been fragmented. We all work very hard down here and we're all in the same business pool. They rely on us, and we on them. We try real hard to get ready to go and then all of a sudden, bam, they are closing" -Ron Anderson speaking with Ruidoso News
Frizzell Frizzell Jr., Chief Operator for Ski Apache released a calendar outlining the closures for the rest of the season, closing on Monday and Tuesday 3 times a month.
"If we get a significant amount of snow, we definitely can open every single day," he said. "We're trying to spend the majority of time on those dead days, Monday and Tuesday, to make as much snow as possible, so people aren't tearing up stuff and it will be good for the rest of the week, and mitigate some of our costs at same time." -Frizzell Frizzell Jr. Speaking with Ruidoso News
Businesses that rely on Ski Apache are weary of the resorts decisions regarding closures. The sentiment is that it will dissuade customers from coming to the resort when they aren't sure if it will remain open.
Ski Apache is working on an email list to warn local businesses of any other closures and is hoping for a snowy winter to improve conditions.