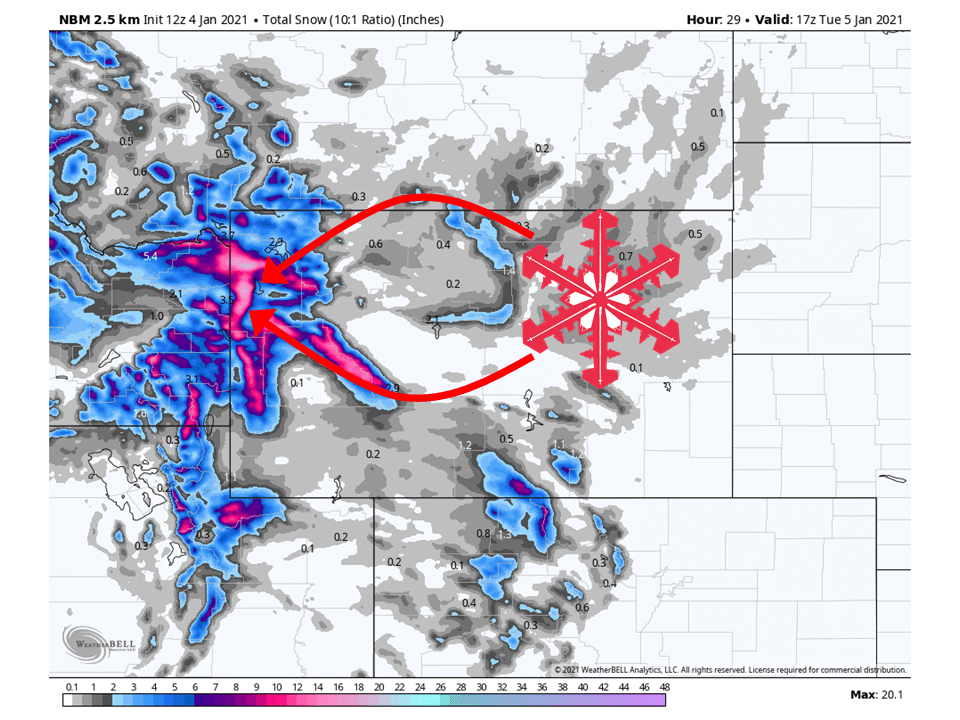 Forecast By SnowBrains Meteorologist – Eric McNamee
 10:15 AM MST, 1/4/2021
Brought to you by Grand Targhee
Forecast Summary:
A quick-hitting shortwave trough will bring 12-18″ of snow along the Tetons in Wyoming through tomorrow. 
This will lead to heavy snowfall for both Grand Targhee and Jackson Hole Ski Resorts during the day tomorrow.
By Wednesday a ridge of high pressure will build over the Western US, with some weak shortwave troughs moving through the remainder of the forecast period. 
Short-Term Forecast:
Monday-Wednesday:
A shortwave trough will move through the Western US today and tomorrow, bringing 12-18″ of snow to the Tetons.
Snow will get started later tonight as the shortwave approaches the regions and continues through the day Tuesday.
This is due to high amounts of moisture from the Pacific slamming into the Tetons, helping to force orographic lift across the area. 
The National Weather Service has issued a Winter Storm Warning for the Tetons and surrounding mountain ranges because of this. 
By Wednesday a ridge of high pressure will build over the Western US and dry conditions out.
A trough will move onshore over the West Coast today, with snow
returning over western portions ahead of this system. The associated
cold front is expected to push into western Wyoming by this evening
and quickly move across the rest of the area through Tuesday
morning. There will be strong forcing across the west tonight,
shifting across the rest of the forecast area Tuesday. Significant
snowfall continues to be likely over western portions and expect the
heaviest snowfall to occur through the overnight hours tonight. Have
upgraded the Watch to Winter Storm Warnings and Winter Weather
Advisories, as a result. There will be a chance for snow across
northern and southern portions early Tuesday morning, as the cold
front moves across these areas. These chances will spread southward
east of the Divide after daybreak, as the cold front exits the
forecast area. Minor snowfall accumulations are likeliest over
Natrona and portions of Johnson counties. There will also be a
window of snow turning to rain (or a rain/snow mix) for a few hours
early Tuesday afternoon. This could turn travel conditions
hazardous, as temperatures return to freezing by sunset. Also expect
very windy conditions Tuesday, as there are very strong pressure
rises in the wake of the cold front. The strongest winds look to
occur across northern Johnson County and Sweetwater County. High
winds are still a possibility in these areas, but do not look likely
at this time.
-NWS Riverton 1/4/2021
Long-Term Forecast:
Thursday-Sunday:
The ridge of high pressure mentioned above will remain in place over the west through the weekend, with some weak shortwave troughs moves through.
Relatively light snowfall is expected out of these shortwaves at this time.
Extended Forecast:
Sunday and Beyond:
Global ensembles are indicating below-average precipitation and above-average temperatures are possible over most of the Western US through the extended period.