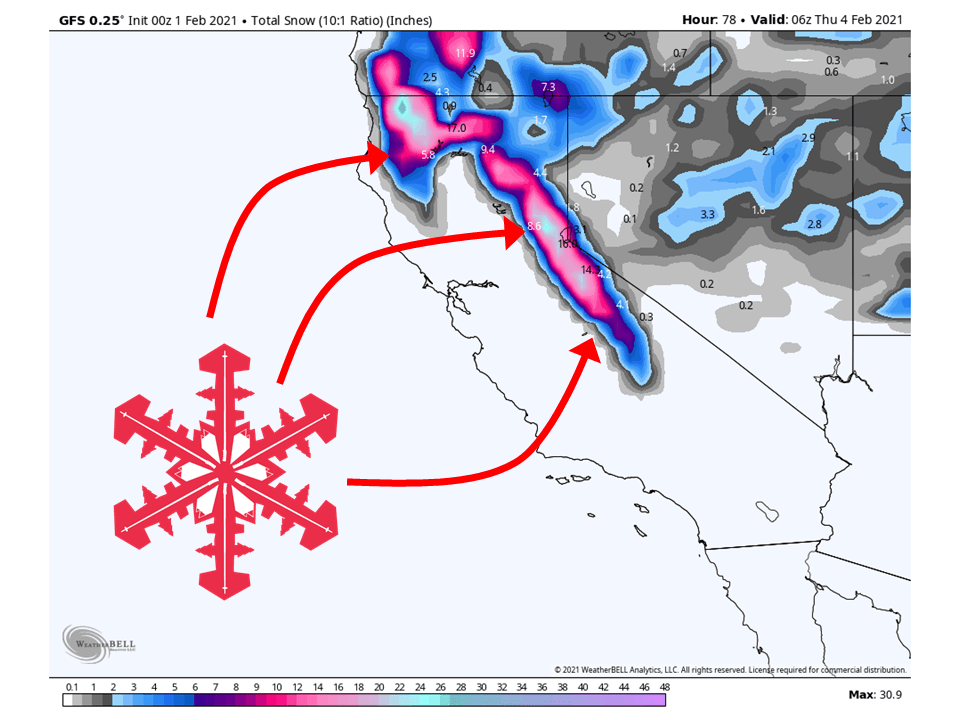 Forecast By SnowBrains Meteorologist – Eric McNamee
Brought to you by Squaw Valley Alpine Meadows
 9:40 AM MST, 2/1/2021
Forecast Summary:
Another round of snow is expected across the northern Sierra this week as 12-18″ of snow will fall, with locally higher amounts.
Resorts like to get the most snow are Boreal, Kirkwood, Homewood, Heavenly, June, Northstar, Sugar Bowl, Squaw, Alpine, and Mt. Shasta Ski Bowl. 
The pattern looks like it will dry out in the extended. 
Short-Term Forecast:
Monday-Wednesday:
A longwave trough off the California coast will draw moisture into the state, bringing 12-18″ of snow to the northern Sierra through Wednesday, with locally higher amounts.
Snow will fill in today and pick up in intensity through the day tomorrow.
Snow levels will be high (~6000 feet) to start out but will lower as the event progresses, with colder air filling in.
By Wednesday, the moisture tap will begin to subside as the trough moves inland.
Snow will then taper off across the state late Wednesday night.
Have upgraded winter storm watch to a warning Monday night
into early Wednesday, as WPC winter storm index is indicating a
brief period of moderate winter storm impacts at pass level
Tuesday morning into the afternoon. Currently expecting 10 to 18
inches with locally 2 feet of snow for storm totals above 5000
feet. Snow levels will start off near 6000 feet Monday night and
fall to 4000 feet Tuesday afternoon. Sref ensembles are indicating
storm total 4 to 8 inches at Blue Canyon(5280 feet).

Atmosphere will also turn a bit convective Tuesday afternoon, as
indicated by 200-300j/kg of cape over the Sacramento Valley,
slight thunderstorm chances look possible Redding to Sacramento.
Valley Rainfall amounts are expected to range from 0.50 to 1.00
inches with 1 to 2 inches over the foothills.
-NWS Sacramento 2/1/2021
Long-Term Forecast:
Thursday-Sunday:
A strong upper-level ridge will build in over the west coast the second half of this week.
This will result in conditions drying out and temperatures warming up.
Friday and Beyond:
Global ensembles are indicating dry conditions continuing in the extended but with temperatures cooling slightly below normal.