Forecast By SnowBrains Chief Meteorologist – Eric McNamee
 4:20 pm MST, 10/23/2021
Forecast Summary:
An atmospheric river will slam into the Sierra Sunday and bring 1-4 FEET of snow to the high Sierra through Tuesday.
At least 1-2 feet is likely around the Tahoe area, locally up to 3 feet above 8,000′.
2-4 feet is likely in the high Sierra (above 8,000′).
A dry pattern looks to develop in the long term and continue through the extended. 
Short-Term Forecast:
Saturday-Tuesday:
The highly anticipated atmospheric river will slam into the Sierra and bring 1-4 FEET of snow through Tuesday.
Snow will begin mid-day Sunday around 8,500′-10,000′ before dropping to 5,500′-6,500′ Monday as the cold front moves through.
As mentioned, 1-2 feet is expected around Tahoe with locally up to 3 feet in high elevation and 2-4 feet in the high Sierra.
This has prompted NWS Sacramento and NWS Hanford to issue Winter Storms Warnings for the Sierra.
By Tuesday, snow will taper off across the state as the system moves east.
The much-anticipated atmospheric river will materialize along a
deepening trough in the North Pacific Ocean over the next 24
hours. With Integrated Vapor Transport values forecast to peak in
the 1000 to 1250+ kg/m/s range, combined with strong upper level
jet of 100 to 125+ kt, a powerful system will bring widespread
heavy rain to much of northern California. Onset of the
precipitation will begin overnight Saturday and into Sunday
morning with periods of the heaviest precipitation occurring
during the day on Sunday and into Sunday night. The warm air
associated with this system will result in high snow levels at the
onset of the rain, starting in the 8,500 to 10,000 ft range early
Sunday. This means that nearly all pass levels will start off
with heavy rain rather than snow. The colder air will gradually
filter in from north to south late Sunday and Sunday night,
resulting in a drop in snow levels to around 5,550 to 6,500 ft by
mid-day Monday. Strong south/southwest winds will be accompanied
by the heavy precipitation; a Wind Advisory is in effect for the
Delta, Sacramento Valley, and lower foothills early Sunday morning
through Sunday evening.
-NWS Sacramento 10/23/2021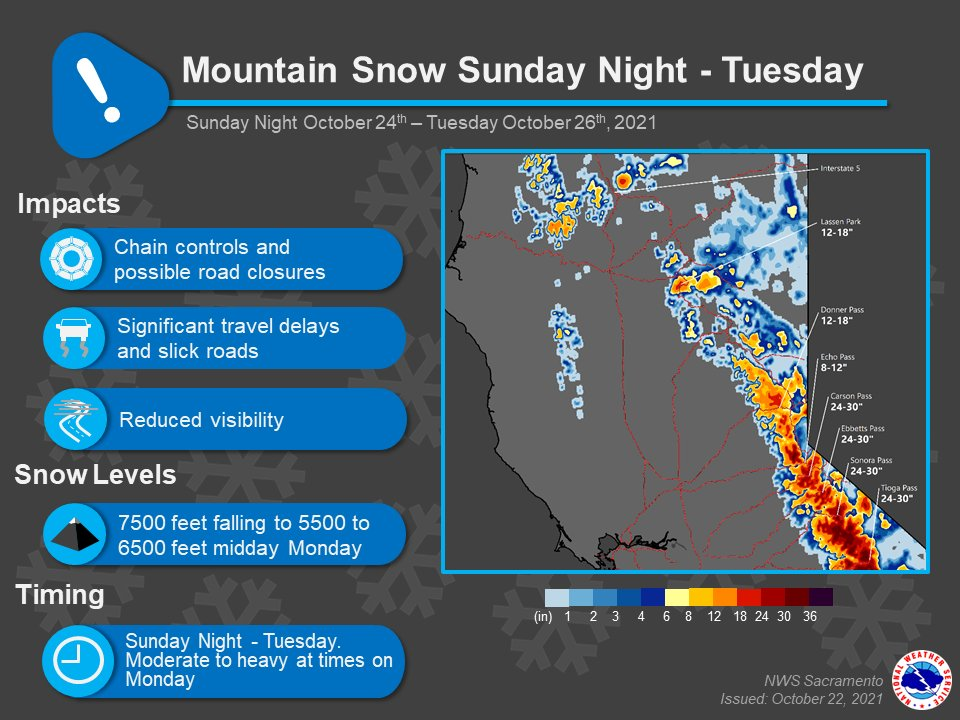 Long-Term Forecast:
Wednesday-Friday:
By mid-week, high pressure will build over the west coast and dry out conditions in California.
Mild weather will continue through Friday.
Extended Forecast:
Sunday and Beyond:
Global ensembles are indicating below-average precipitation across California through the extended.