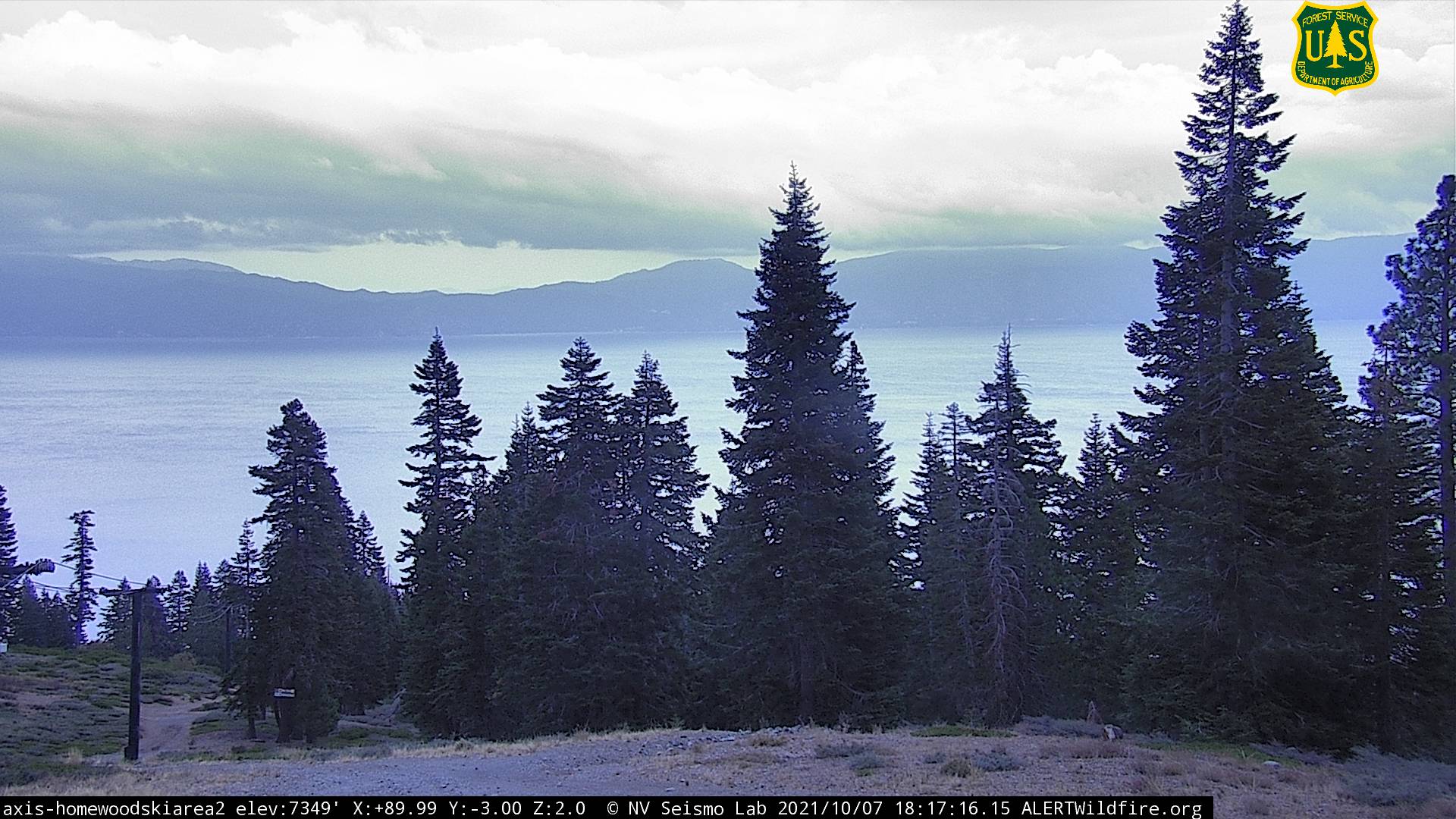 Forecast by SnowBrains Meteorologist Andrew Park
10/7/2021 8:00 PM MST
Forecast Summary
Tonight into Friday:
A deep trough will move onshore tonight through Saturday, bringing rainfall and

some snow

to higher terrain surrounding Lake Tahoe. 
The majority of precipitation will occur this evening and into tomorrow, diminishing by Friday evening as the trough ejects east. 
Weekend:
Cool, northerly flow will dominate the pattern as a shortwave ridge builds over California.
Mostly a pleasant weekend with some potential for scattered showers by Sunday evening.
Mon/Wed:
As another deep system moves in from the Pacific Northwest, high winds could bring critical fire weather to the region. 
Tonight through the Weekend:
Vorticity maximums have finished swinging around the western periphery of the long-wave trough off the western seaboard. This indicates the low will soon lift quickly to the east across California into the Great Basin. While moisture looks impressive with this system on satellite and models, most of the water vapor will slide to the south over lower terrain, moving on to bigger and better things in Utah. Currently, the situation over northern CA this evening is quite calm, with some scattered thunderstorms and rain showers drifting northeast across the high Sierras, as seen using RadarScope below.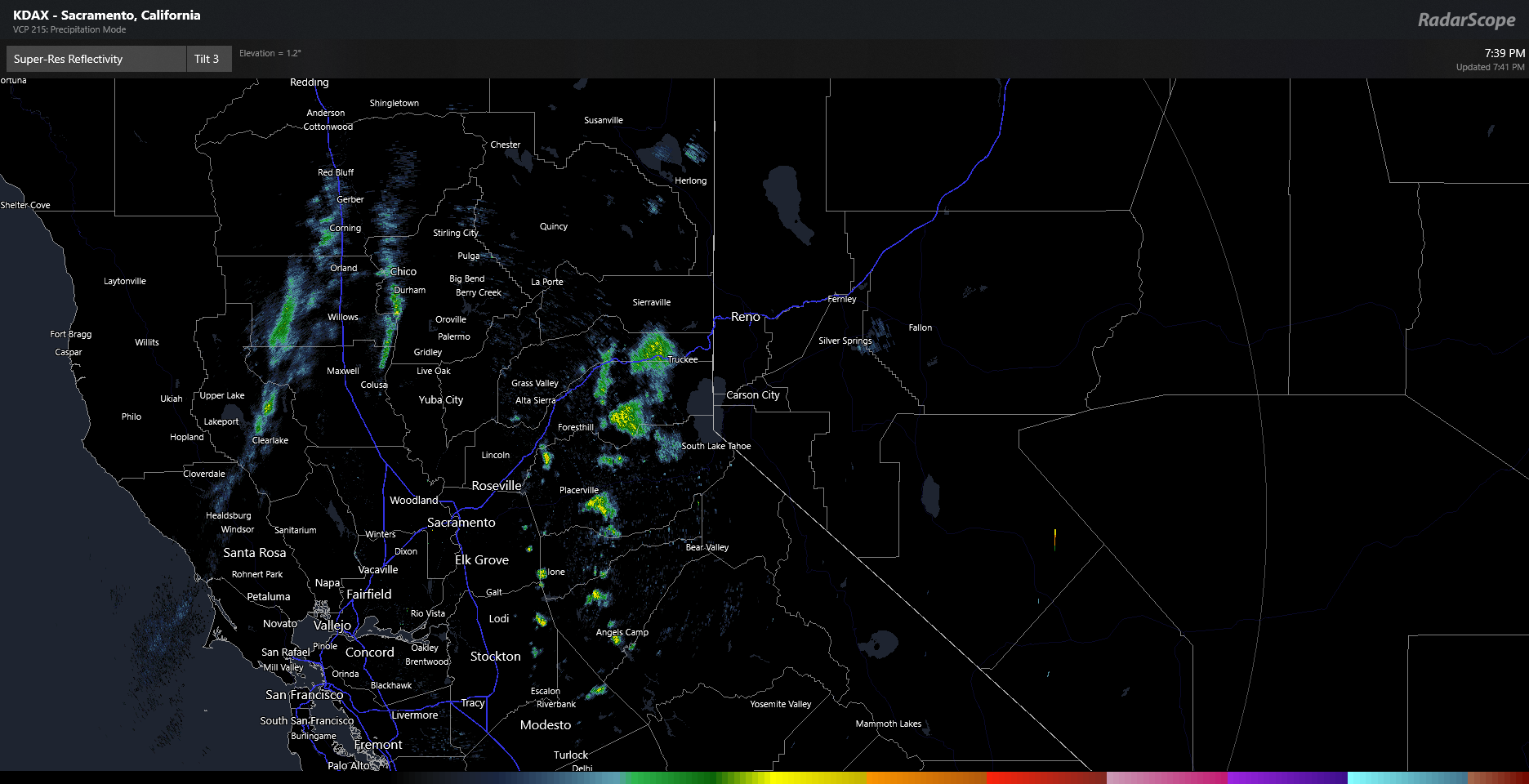 This pattern will change overnight with precipitation increasing as the moisture embedded in the flow interacts with the terrain, driving rainfall and snow above 7,500ft. However, like the National Weather Service office out of Sacramento, I am not impressed with this feature (to Sierra Nevada Standards) as current high-resolution ensemble guidance only pinpoints around 6 inches, perhaps a foot or more, in some of the higher elevation peaks. See a snippet from their AFD below (follow them on Twitter as well: https://twitter.com/NWSSacramento )
Area Forecast Discussion
National Weather Service Sacramento CA
151 PM PDT Thu Oct 7 2021

.DISCUSSION...
Some light precipitation moving across the area at this time.
Mainly over higher terrain from I-80 and north. Upper trough will
push across the area tonight and basically be moving on coast by
Friday morning. This will push areas of showers across the area
tonight. Showers in northern areas now will likely dissipate this
evening and more organized area develop south of I-80. This will
also bring snow to the higher terrain late tonight into tomorrow
morning. Did consider an early season snow advisory but not
thinking too much will accumlatate and area meeting lower criteria
isn`t too big. Heavier rain amounts should be up to a half inch in
upper foothills and mountains which should be hitting the sweet
spot for not too much rain in burn scars and beneficial to fires
in the area.

Let's take a look at an 18Z NAM cross-section over Truckee, CA, to see this weekend's events. Circled below, we can see the deep, "moist" trough with freezing levels well below the peaks by Friday morning. The moisture quickly departs as the system exits the region while a shortwave ridge builds over northern California, bringing pleasant conditions back to the area.
So how much snow can we expect? Let's look at the short range ensemble forecast system (downscaled by the University of Utah Dept. of Atmospheric Science). The image below represents mixture of model output with slightly "tweaked" inputs. This gives us a great representation of different solutions and where the models agree with one another. So will it snow in the Sierra Nevada Mountains? Most definitely. How much? We can expect around 3-6 inches by and large with the potential for a foot or more in protected areas.  Saturday morning could be quite pretty, please take pictures and post them in the comments below. However, this snow shouldn't stick around that long and will quickly melt by the end of the weekend.
References/Links:
Alert Wildfire Cameras: http://www.alertwildfire.org/partners.html
RadarScope: https://www.microsoft.com/en-us/p/radarscope/9mw4stn492s0
University of Utah Dept. of Atmospheric Sciences weather page: https://weather.utah.edu/