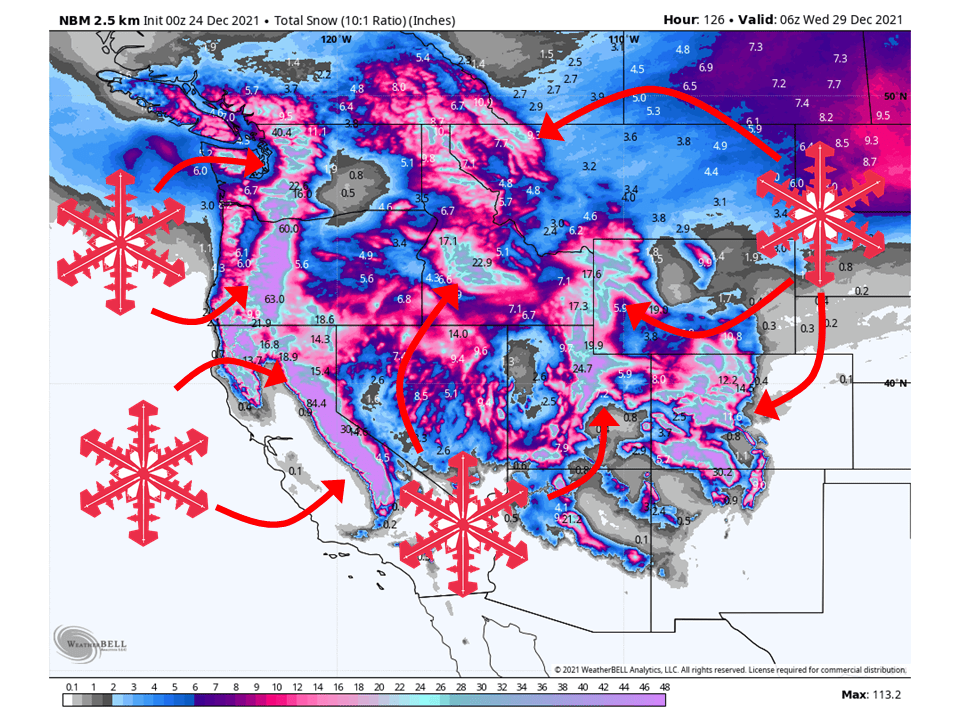 Forecast By The SnowBrains Meteorology team
 10:25 PM MST, 12/23/2021
Forecast Summary:
A very active pattern will bring multiple rounds of snow across the western US, with significant snowfall totals likely through Tuesday. Snow will get started Thursday night and will keep going almost continuously through Tuesday for most locations. A brief break will come Wednesday before active weather continues going into the second half of next week. Active weather continues into the extended with above-average precipitation and below-average temperatures across the west.
California
Short term Forecast:
A series of shortwave troughs will move through California and bring almost continuous snow to the Sierra through Tuesday. The first round will come Thursday night into Friday moving from north to south. The next round of snow will be right on it's heels as the second shortwave trough moves into the state, slamming moisture into the Sierra Friday night into Saturday. A third and final shortwave will move through, bringing widespread snow Sunday and Monday
Snowfall totals will be flat-out impressive, with most resorts getting upwards of 6-8' of snow and some localized spots reaching up to 12'!
Bear Valley – 105-120"
Dodge Ridge – 95-105"
Homewood – 85-100"
Kirkwood – 90-100"
Mammoth – 75-85"
Northstar – 65-75"
Palisades at Tahoe – 85-95"
Sierra at Tahoe – 70-80"
Sugar Bowl – 90-100"
Pacific Northwest
Short term Forecast:
Ongoing snow across the area will continue into through Monday as a series of three shortwave troughs move through the PNW. The first of said troughs exits the region Thursday night, bringing scattered snow showers. The second shortwave will move through the region Friday and Saturday, with widespread snowfall likely for all mountain locations. The third and final shortwave will move through Sunday and Monday, bringing another round of snow.
Totals will be pretty decent across the Cascades, with the Oregon Cascades seeing the most.
Washington:
Crystal Mountain – 24-32"
Mt. Baker – 24-32"
Stevens Pass – 12-20"
Summit at Snoqualmie – 28-36"
Oregon:
Hoodoo – 60-75"
Mount Bachelor – 48-60"
Mount Hood – 64-72"
Timberline – 66-78"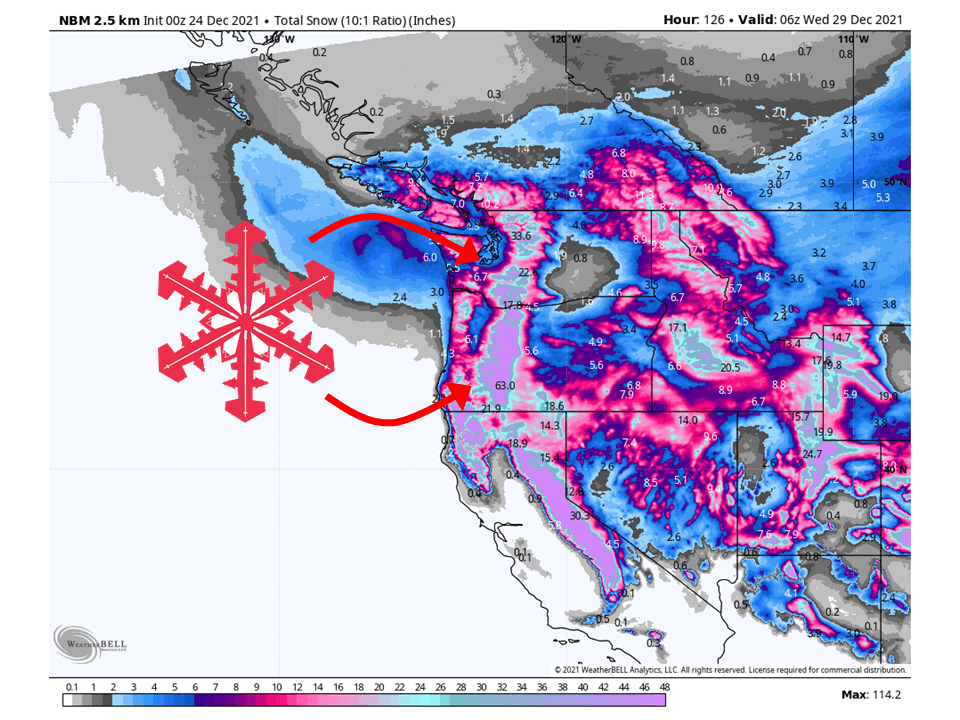 Utah
Short term Forecast:
Moisture-laden southwesterly flow will bring snow showers across the Wasatch through the day Thursday before snow becomes heavy overnight Thursday. By the time snow eventually tapers off Friday evening, great accumulations will have fallen across the state.
Storm total snow is expected to be impressive, with favored resorts approaching the 3-foot mark: 
Alta – 24-36"
Snowbird – 20-32"
Big Cottonwood Canyon – 16-28"
Park City Ridgeline – 14-26"
Snowbasin & Powder Mountain – 12-20"
Southern Utah – 8-12" 
After a short break, snow will resume by Saturday evening across northern Utah, spreading southward through the Wasatch overnight. Snow will be heaviest in the northern and central Wasatch, with the south getting comparatively less. Heavy snow will last across the state until Sunday evening.
This holiday storm will tack on solid totals on top of an already deep week: 
Cottonwood Canyons – 8-12"

Snowbasin & Powder Mountain – 5-10"

Park City Ridgeline – 4-8"
Quiet weather will never get the chance to take over, as yet another storm is forecast to bring snow to the Wasatch starting Monday morning. 
Once again, deep totals will fall on already soft snow making for top-tier riding conditions: 
Cottonwood Canyons – 10-18"
Park City Ridgeline – 5-10"
Snowbasin & Powder Mountain – 5-10"
Southern Utah – 4-8"
Colorado
Short term Forecast:
Three distinct pushes of moisture from the southwest will deliver impressive totals to Colorado this week. Considering the wind direction, resorts farther west and south will perform the best. Storminess in the region will linger through the end of the month.
Things kicked off on Thursday with snow showers and stronger flurries at times around the state. Thursday and Thursday night will see precipitation rates increasing and bringing heavy snow to resorts. Once again, the highest totals will be located at resorts further south and west. By Friday morning, here's what totals might look like around the state:
Wolf Creek – 17-25"
Snowmass – 13-19"
Telluride – 10-14"
Steamboat – 7-15"
Vail – 6-9"
Arapahoe Basin/Loveland – 5-7"
Skiing around the state will be excellent on Friday. Snow will continue to fall heavily throughout the day on Friday. By the time lifts are spinning on Saturday (Christmas Day), most of the precipitation from the first wave will be over. Here are what I see as possible storm totals between Thursday night and Saturday morning:
Wolf Creek – 32-42"
Snowmass – 22-30"
Telluride – 19-25"
Steamboat – 18-25"
Vail – 12-17"
Arapahoe Basin/Loveland – 12-16"
The second wave will be quick and won't deliver as much snow. Precipitation will begin early Sunday morning and linger through overnight between Sunday and Monday. By Monday morning, here are possible totals from the second wave:
Wolf Creek – 9-12"
Snowmass – 4-6"
Telluride – 3-5"
Steamboat – 4-7"
Vail – 3-4"
Arapahoe Basin/Loveland – 2-4"
A third wave will move through starting on Monday morning or early afternoon. This wave will be stronger than the second but still weaker than the first. The strongest precipitation will last through Tuesday night. By Wednesday morning, here's where I think resorts will end up between Thursday night (12/23) and Wednesday morning (12/29):
Wolf Creek – 65-80"
Snowmass – 36-46"
Telluride – 36-45"
Steamboat – 31-40"
Vail – 21-26"
Arapahoe Basin/Loveland – 16-20"
Wyoming
Short term Forecast:
The same pattern forecasted to hammer the Western US this week will also hit Wyoming hard. Nearly constant snowfall will allow resorts to climb up to over three feet by next Wednesday morning.
There's not a ton of nuance to the forecast for Wyoming over the next week. The bottom line is that it is going to snow and not stop for quite some time. The snow arrives in three distinct waves where precipitation will be heaviest, but steady snow will linger in between each storm.
Each storm looks nearly identical; both in terms of magnitude and direction. The first storm arrives on Friday morning before snowfall rates decrease on Friday evening. Storm #2 begins to ramp up on Saturday morning (merry Christmas!) and continues through Sunday morning. The third and final wave of energy arrives in the early hours of Monday morning and continues through early afternoon on Tuesday. Here are possible totals between Thursday night and Wednesday morning:
Jackson Hole – 34-43"
Snow King – 28-41"
Grand Targhee – 41-53"
Big Sky – 10-15"
Even after the main three storms move through, steady snow should still continue to trickle into the region throughout all of next week.
Extended:
Global ensembles indicate an active pattern will persist into the extended with above-average precipitation and below-average temperatures.