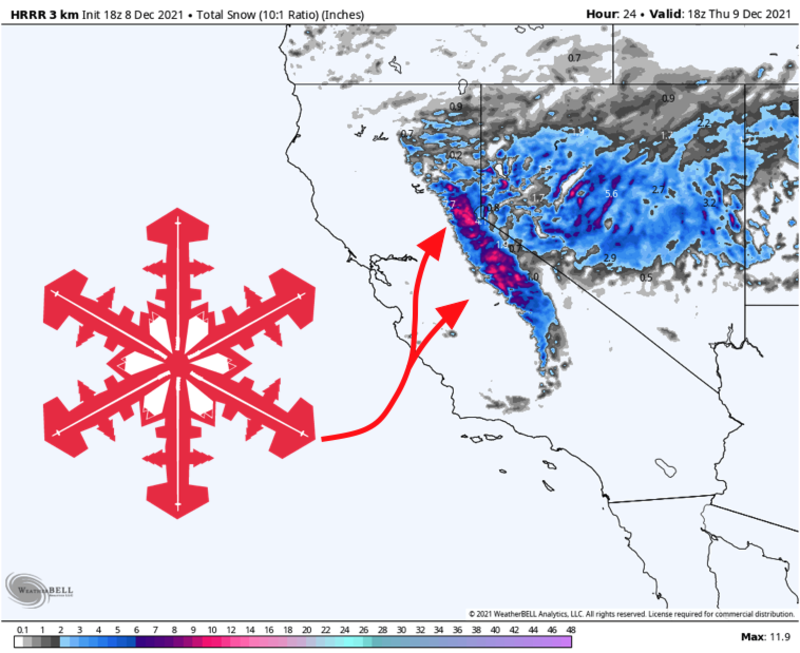 Forecast By SnowBrains Meteorologist Nathan Tarino
4 AM MST – 12/9/21
Forecast Summary
After a long dry spell, a badly needed storm is arriving in the Sierra Nevada overnight. Heavy snow is falling, and the storm will bring moderate snowfall above 6,000′ generally in the 4-8″ range. This storm is great news but won't solve the snow shortages plaguing the Tahoe area by itself. 
Luckily, a much stronger storm is expected early next week. Confidence is rising that a significant storm will impact California on Sunday and into the workweek. Impacts are likely to include feet of snow in the Sierra Nevada. 
Short Term Forecast
Webcams suggest it's snowing hard in the Sierra, with at least a couple inches on I-80 at Donner Pass already. Heavy snow will continue through the morning, slowly tapering off through the middle of the day. 4-8″ of snow will have fallen at most mountains by the afternoon. A few of the typically snowier resorts (Mammoth, Sugar Bowl, Kirkwood) could see closer to 6-12″ above 6,500′. 
Cool and quiet weather will dominate on Friday. West winds will begin to increase ahead of the next storm by Saturday evening and will be quite strong on Sunday. Rain and high elevation snow will begin to move into northern California by Sunday night.
Medium Range and Beyond
The Sierra need a big storm to turn the season around, and they're going to get one. A significant atmospheric river event is looking increasingly likely from Sunday into Tuesday. Below you can see moisture being drawn hundreds of miles northeastward straight into the Sierra Nevada by Sunday morning.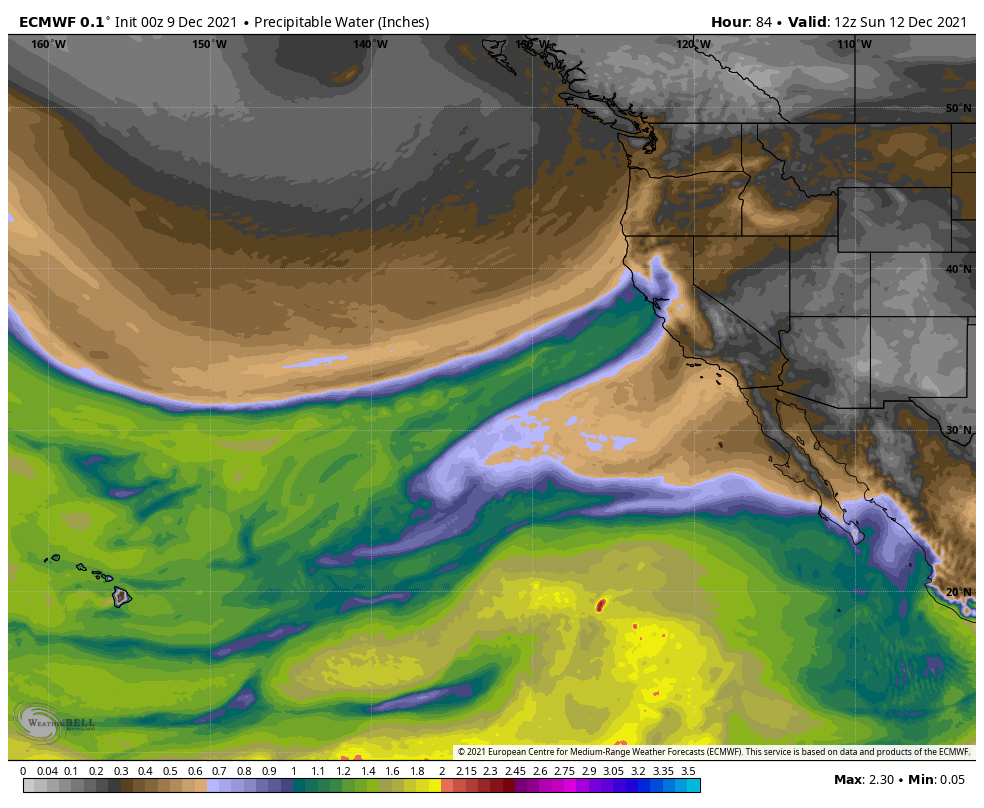 The exact orientation of the moisture plume is still uncertain and will be important for the Tahoe area, but a big dump is likely regardless. This is the type of storm that can produce very heavy snow over a long duration and sometimes insane 50″+ snowfall reports. What's even better is snow levels will remain near or below 5,000′ for the entire event. For now, expect 2-3 feet of snow across the Sierra Nevada, and keep an eye on the forecast. 
Another chance for snow will follow the big storm. More accumulating snow is likely next Wednesday and Thursday, by which point the seven-day snow totals will be getting ridiculous.