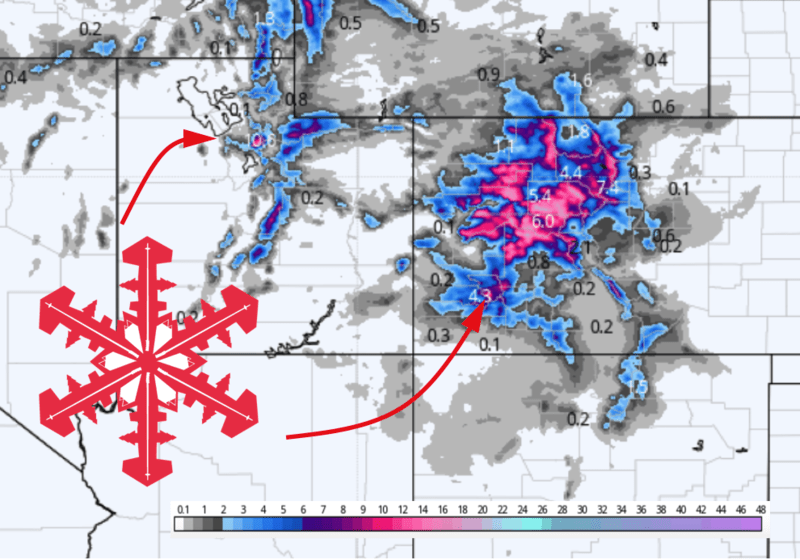 Forecast by Snowbrains Meteorologist Nathan Tarino
Updated Tuesday, October 25th 11 PM MST
Forecast Summary
This weekend's storm performed more or less as expected, with fantastic snowfall across Utah (enough for my first turns of the season) and light-moderate accumulations for most Colorado resorts. Below is estimated snowfall across the region from the storm:
We're going to add to our October snow totals, as another storm traverses the region Wednesday and Wednesday night. This one won't be quite as deep as its predecessor but will bring as much as another 12″ of snow to favored areas of Colorado.
The long-range forecast looks promising, too. Cool, disturbed weather looks increasingly likely across much of the West near the beginning of November. There is potential for another solid shot of snow just after the turn of the month.
Short Term Forecast
The next storm will arrive in two parts. A leading disturbance will bring a few snow showers above 6,500′ to central Utah early Wednesday morning before refocusing to Colorado through the day. Steady snow will overspread most of Colorado's resorts for much of Wednesday.
Meanwhile, a cold front will push southeastward into Northern Utah by early Wednesday afternoon. Briefly heavy mountain snow will accompany the front as it passes through, moving through Northern Utah by Wednesday evening and through Colorado over Wednesday night and Thursday morning.
By late Wednesday evening, expect about this much new snow in Utah:
Northern Utah Resorts (PowMow, Snowbasin, Beaver):

2-5″

Cottonwood Resorts:

3-6″

Park City Resorts: 2-3″
Southern Utah: Mostly Skunked (<1″)
By midmorning Thursday, look for the following totals across Colorado:
I-70 resorts:

4-8″

San Juan Resorts:

2-4″

Sawatch/Elk/ other central ranges (Crested Butte, Aspen, Powderhorn, Monarch, etc):

6-12″

Steamboat:

5-10″ 
People are already skiing in the Cottonwoods, so I expect genuinely good riding conditions on Thursday wherever there's enough coverage to ski. I plan on a dawn patrol lap at Alta Thursday morning before work.
Extended Forecast
A short period of warmer, quiet weather will follow this storm. It should be a beautiful weekend to get up in the mountains and enjoy the newly wintery scenery.
Things look to turn stormy again in the first week of November. Ensembles call for a big fat trough to develop over the West around a week from now: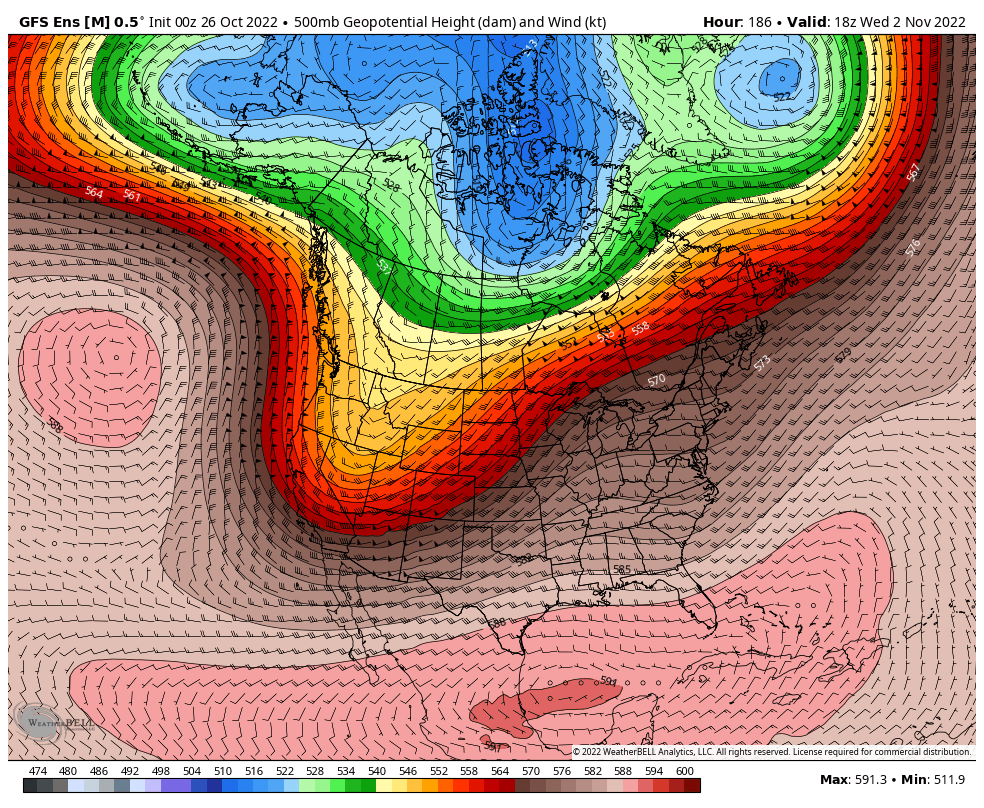 There's still quite a bit of uncertainty about what exactly this trough is going to look like. Even so, this is a pretty strong signal and it's very likely someone in the Rockies gets dumped on next week. I'll need to keep tabs on this over the next few days to find out where that'll happen.
The CPC is pretty excited about the beginning of November. Their long range outlooks suggest cool and wet weather across most of the West, including Utah and Colorado: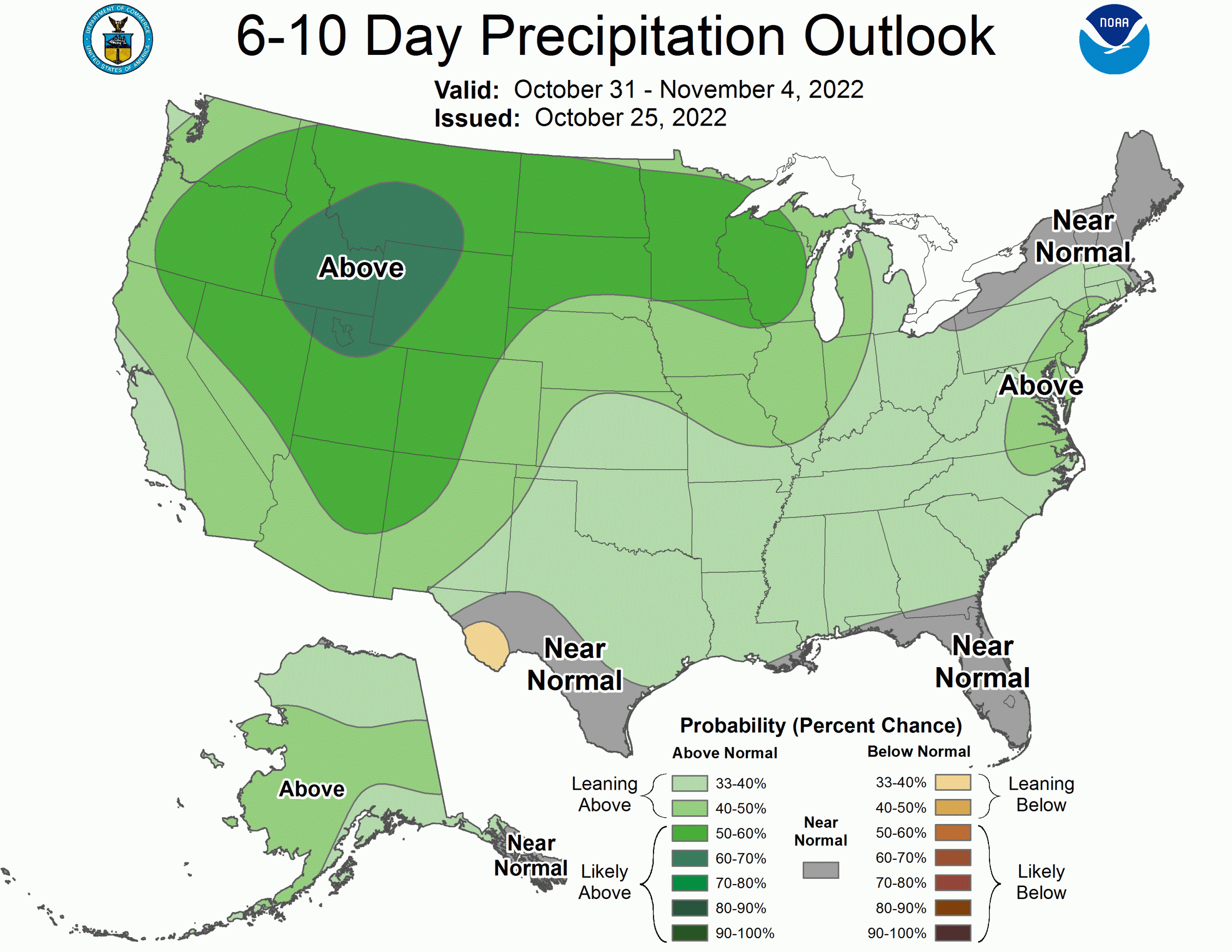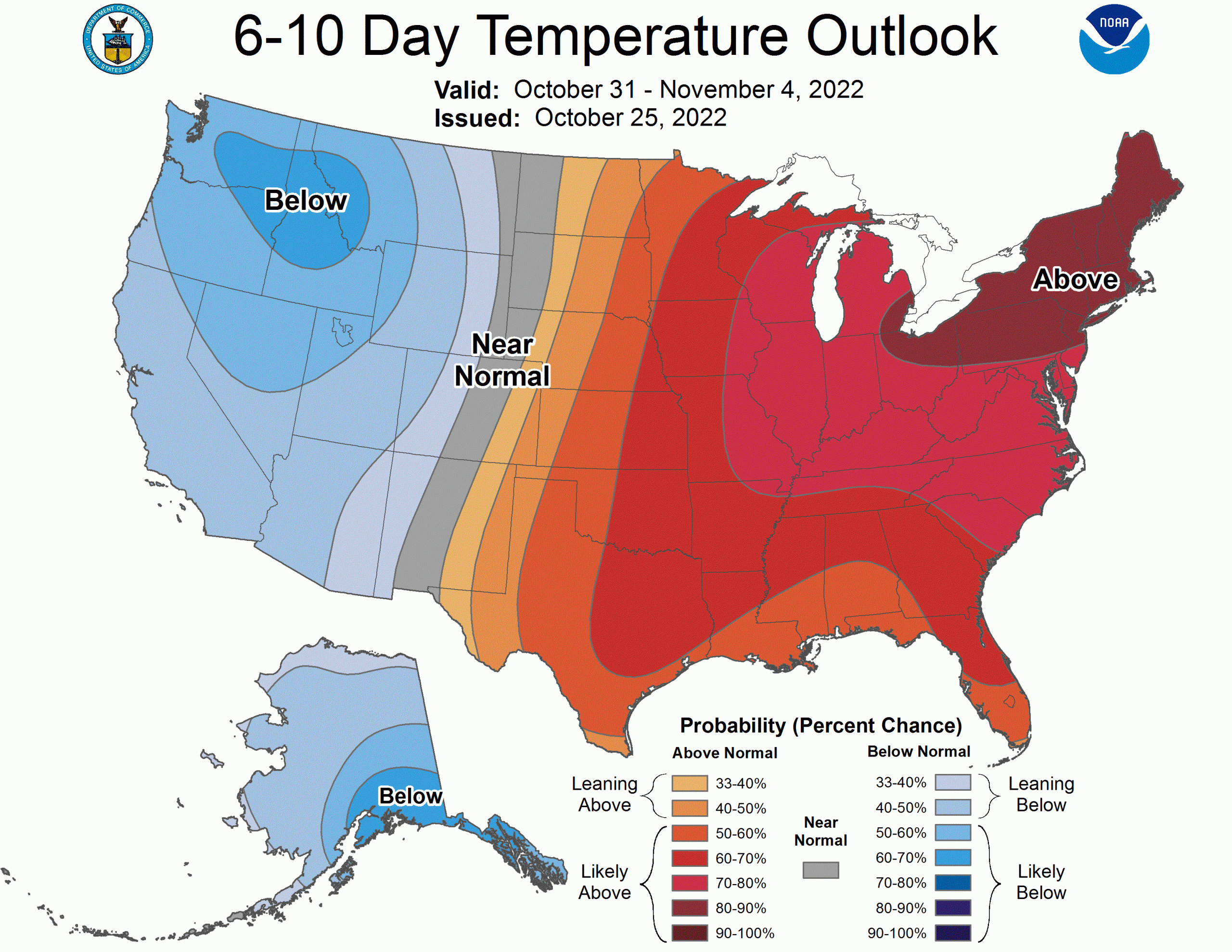 Just for fun, here are my first few pow turns of the season from Sunday evening. I hope you all get out for some skiing/boarding soon.