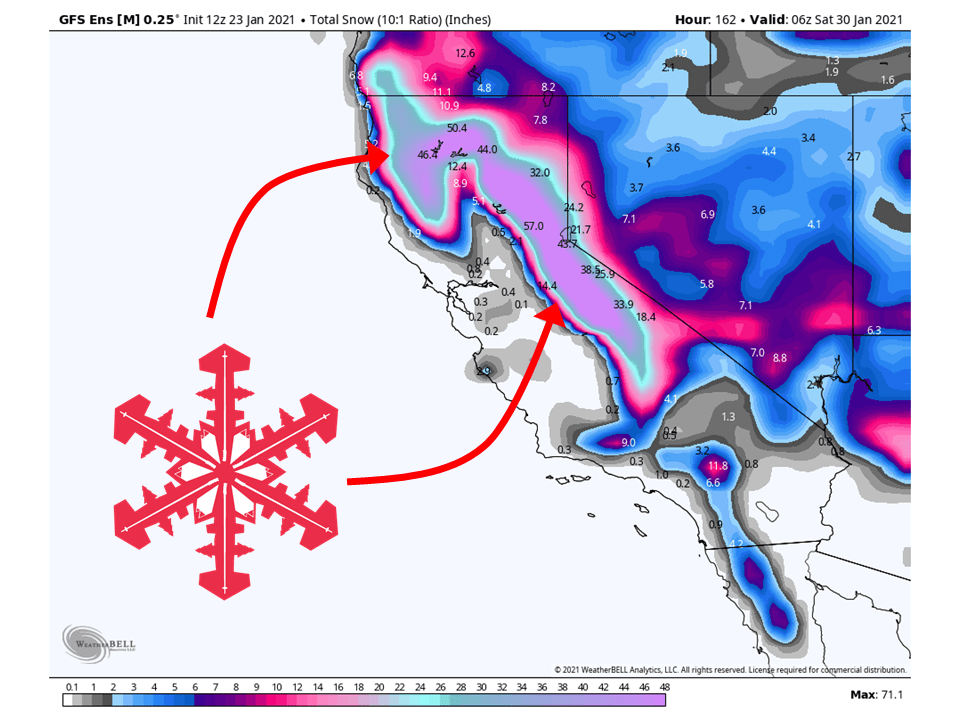 Forecast By SnowBrains Meteorologist – Eric McNamee
 2:00 PM MST, 1/23/2021
Forecast Summary:
A snowy week looks to be in store for California as a series of storms will drop 3-6 FEET of snow across the Sierras.
Even higher snow totals are possible as these storms look to be pretty potent and rich in moisture.
Resorts like to get the most snow are Boreal, Kirkwood, Homewood, Heavenly, June, Mammoth, Northstar, Sugar Bowl, Squaw, Alpine, and Mt. Shasta Ski Bowl. 
A wet pattern looks to continue into the extended period. 
Short-Term Forecast:
Saturday-Monday:
Light snow today will be replaced with heavier snow tomorrow, bringing 6-12″ of snow for most locations in the Sierras through Monday.
This will be associated with one in a series of troughs that will make their way through the state this upcoming week.
Precipitation will fill in across northern California tomorrow evening and slowly make its way south through the state Monday.
This has prompted the National Weather Service to issue Winter Weather Advisories for most mountain locations.
Long-Term Forecast:
Tuesday-Friday:
The meat of the high snow totals comes in the latter portion of the forecast, with the bulk of the 3-6 FEET falling during this time.
Things really start to get going Tuesday as the second shortwave trough pushes into the northern part of California.
Prolonged southwest flow will keep precipitation going nearly nonstop through the weekend. 
At this time, the moisture influx from this trough looks like it would constitute as an Atmospheric River event.
The next shortwave trough will push into the state Friday, bringing an additional round of heavy snow to the mountains. 
With the current forecasted setup, the National Weather Service has issued Winter Storm Watches across portions of the Sierra's.
These will likely turn to Winter Storm Warnings as we get into next week.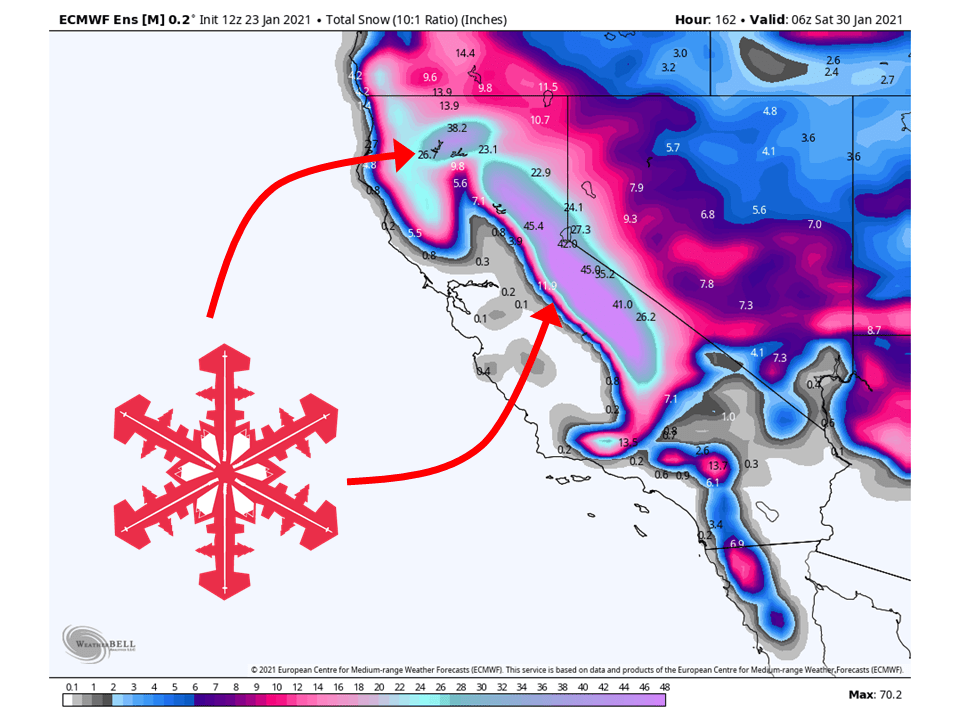 Extended Forecast:
Friday and Beyond:
Global ensembles are indicating an active and wet pattern to continue over most of the western US, especially over California.
Relentless Pacific jet stream (in shades of red/white/pink) for the next 1-2 weeks along the West Coast. That means storm after storm after storm on the way! (this is at 700 mb) pic.twitter.com/c9GzRRNGv1

— Jeff Berardelli (@WeatherProf) January 23, 2021
https://platform.twitter.com/widgets.js