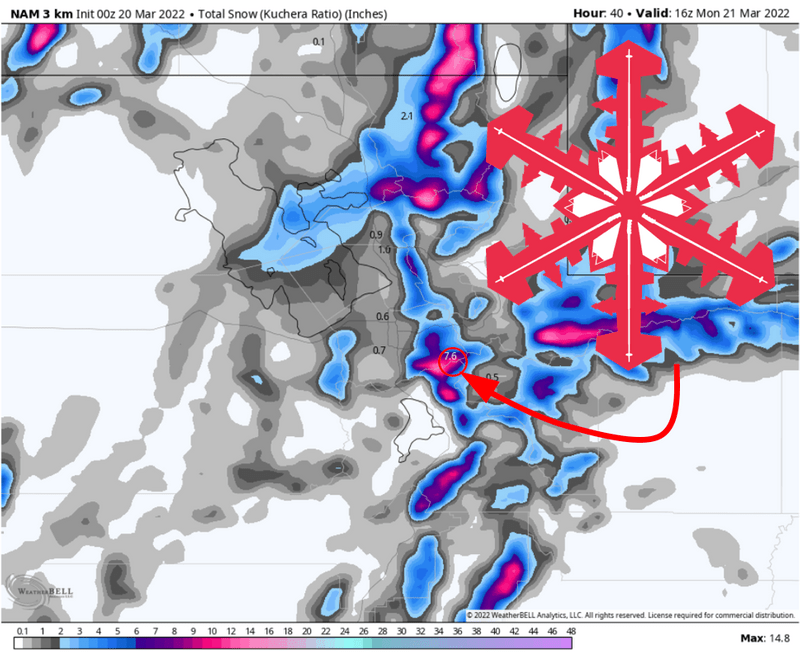 Forecast By SnowBrains Meteorologist Nathan Tarino
Updated 11 PM MST Saturday, March 19th
Forecast Summary
An upper level trough and associated cold frontal passage will bring a shot of snow to Alta on Sunday. Skiing conditions will improve through the day, with the potential for a few face shots by the afternoon. 
A period of spring weather will follow as we get into the next week. Ridging aloft over the West Coast will make for dry and mild weather in Utah until later in the month.
Powder prospects return near the end of March. Ensembles suggest there's some potential for a more productive storm cycle as we turn the calendar to April.
Short Term Forecast
March and April are by far my favorite months to ski Alta. Lift lines are short, the vibe at the mountain is always top-notch, and the snow doesn't really slow down until late April anyway. This next storm will be a perfect example of what makes spring skiing at Alta so great.
Snow will begin falling Sunday morning ahead of a cold front. Temperatures will be mild to start the day, with snow levels up at about 7,000′. Dense, velvety snow will fall through the morning, which should help cover up any crust a little quicker.
The heaviest snow will arrive late morning as the front passes. Expect a few hours of snowfall rates near 1″/hr around lunchtime, making for quickly improving riding conditions. Colder air will filter in over the same period, with snow to liquid ratios sharply increasing through the day. The skiing should be somewhere between good and excellent by the last couple of chairs.
Low density snow showers will continue into the late afternoon. By the evening, look for 5-10″ of right-side-up snow at Alta's upper elevations.
Long Range
The weather will dry out through the workweek. Progressively warmer temperatures and generally blue skies will make for a beautiful week of spring skiing.
Monday and Tuesday will be chilly with leftover soft turns. Wednesday and beyond will be warm and bluebird. Bring your tailgate grill and a six-pack to the hill next weekend to take advantage.
Longer range forecast guidance hints at some potential around the turn of the Month. Troughing is expected to develop somewhere over the Western US, bringing a series of storms inland. At this point, it's too early to say which region of the West will benefit, but this could potentially make for more good skiing in the Wasatch should things fall into place.
The CPC outlook leans toward wetter weather to end the month, accordingly: