After an absence in 2022, the "Lady of the Mountain" has returned to Mount Moran's east face in the far north section of the Teton Range this spring. Without expending too much imagination, one can see the outline of a woman's face looking left from across Jackson Lake. 
Mount Moran is a famously skied backcountry mountain measuring 12,610 feet, with a line included in the 50 Classic Ski Descents of North America. If you're familiar with Cody Townsend and his ambition to complete all 50 of these descents, you may have seen his video of this mountain which includes a 4-hour skin over frozen Jackson Lake, camping at the base, and ascending at 1:30 AM.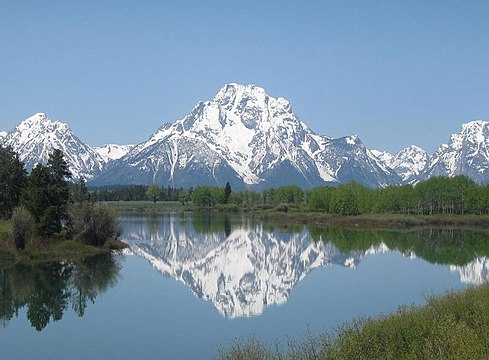 It is also a notoriously climbed mountain, with comparative difficulty to the Grand Teton and other southern Teton Range ascents. According to Wikipedia, no trails to Mount Moran have been maintained for over 20 years, and any overland approach requires bushwacking — this results in most climbs taking several days, though the technical portion is relatively short. The most popular route up is the CMC which scores a 5.5 difficulty rating and is named for the Chicago Mountaineering Club, whose members completed the first ascent. 
The mountain was named after landscape artist Thomas Moran, who accompanied the 1872 Hayden Expedition into Yellowstone. But despite painting and sketching some of the earliest records of Yellowstone, according to the Grand Teton National Park Service, he only saw the western Tetons and never the mountain named for him.  
Though Moran never laid eyes on the face, passionate nature observers can enjoy seeing "Lady of the Mountain" in the Tetons ranging from mid-spring to early summer, depending on the year's snowpack and rate of snowmelt. As noted from 2022's absence, it's never a guarantee, so her return this summer is greeted with a warm welcome.