The American Avalanche Institute's Sarah Carpenter was thoroughly questioned by ArtOfManliness.com about how to survive an avalanche and they wrote a great piece on how to prepare for avalanches, avoid avalanche, and what to do if you're caught in an avalanche.
First, a few avalanche facts:
– 24 avalanche fatalities in 2012/13
– Snowmobilers are twice as likely to die in an avalanche
– 89% of avalanche victims are men
– 90% of avalanche fatalities occur in avalanche triggered by the victim
Before you ever get into an avalanche, you should have taken avalanche classes, know how to manage avalanche terrain, and know how to wield your avalanche beacon, probe, and shovel like a ninja.  Accidents still happen and if you do get into an avalanche, this is what you'll want to do:
HOW TO SURVIVE AN AVALANCHE:
What to Do If You're Caught in an Avalanche:
Sarah says that "If you're caught in an avalanche, the best thing you can do is try to get out of the avalanche!" Sound advice. How do you do that?
When the Avalanche Starts:
If the avalanche starts right under your feet, try running uphill or to the side to get off the fracturing slab of snow. If you're on skis or a snowboard, head downhill first to gather some speed, and then veer to the side and off the slab. If you're on a snowmobile, continue in the direction you were going and throttle it off the sliding snow.
If you're not going to make it out, drop your ski poles, pack, and equipment, and abandon your snowmobile—you want to be as light and buoyant as possible in order to minimize how much you sink into the snow.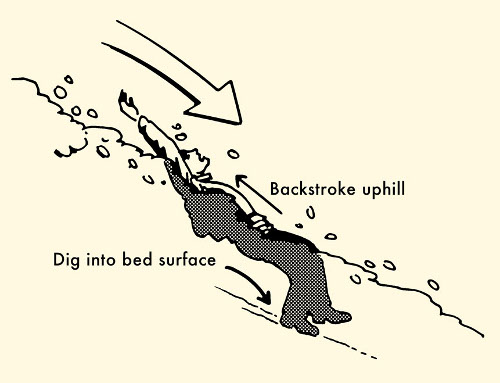 Once the snow topples you, "swim" to try to stay on top of the snow. You may have heard that you should swim like you're bodysurfing a wave, but that will actually take you towards the "toe" of the avalanche (the tip of the avalanche debris) which is the most turbulent zone of the avalanche—not a place you want to be. Instead, you want to roll to your back with your feet pointed downhill. Do the backstroke and try to head uphill. You can also try to dig into the bed surface–the layer the avalanche is sliding on–with your feet in order to slow your descent.
You may have also heard that you should try to crouch behind rocks or trees, but this is a bad idea. Trees and rocks slow snow down, causing it to pile up in that area. Hiding behind a rock will just bury you deeper in the snow.
If you can grab onto a tree, do it. But being able to do so is easier said than done.
"Grabbing onto a tree is a lot less likely than it sounds, as avalanches move at a high speed," says Sarah. "Grabbing trees is possible when the avalanche is first triggered.  It is much less likely as the avalanche gains momentum."  Indeed, avalanches can move at 60-80 mph!
Once the Avalanche Has Buried You:
If the avalanche buries you, and you're still alive, consider yourself lucky. About 1/3 of avalanche victims are killed by trauma; the avalanche can carry you into a tree or over a cliff and the debris it picks up as it storms down the mountain can clobber you.
Once the avalanche stops moving, it will begin to set around you like concrete. So your window for taking any kind of action is very small.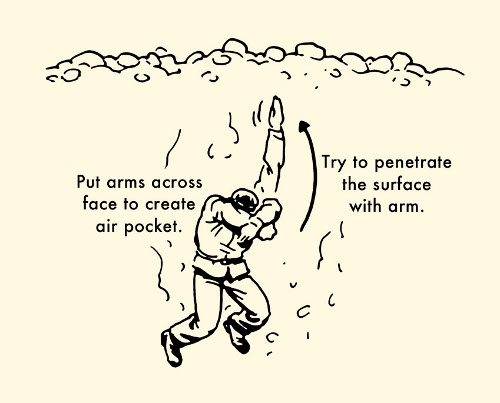 Immediately create an air pocket by putting your arm across your face—this gives you a little room to breathe. As the snow begins to set up, take a big breath. This expands your chest, which can give you a little extra breathing room as the snow hardens around you. If you're near the surface, try to reach an arm or leg up to penetrate it; this will obviously make finding you a lot easier.
But which way is the surface? You may have heard about the trick where you spit in order to see which way is up. But you'll likely be so entombed that this will be very difficult to do, and knowing the direction of the surface won't help you anyway; unless you're very near the surface, once the snow sets it's going to be impossible to dig yourself out.
The big thing is to stay as calm as possible, which Sarah admits is "easier said than done." But the calmer you are, the slower you'll breathe and the less quickly you'll use up the oxygen. Don't yell either—the snow is so insulating that rescuers are unlikely to hear you.
Now you just have to wait for your buddy to rescue you. Hopefully, he's prepared.
LEARN MORE ABOUT AVALANCHES: