A popular Lake Tahoe summer tourist destination is requesting people, especially day-trippers, stay away to help prevent the spread of COVID-19.
Placer County, and the town of Truckee, have joined forces to discourage weekend visitors until August 17th. The region is a popular destination during the summer months, and even during the pandemic has seen high numbers of visitors.
A joint statement released Thursday says the large numbers of people descending on the area on weekends are making it difficult to practice social distancing. 
Full statement below:
As leaders and decision makers in the Truckee-Tahoe region, we are constantly looking at health risk in our community and balancing that with its economic vitality. It has become clear to us that our desirable location is experiencing an exceptionally busy influx of weekend visitors that creates an inability to practice safe physical distancing in the most popular areas in our region.

We have serious concerns about crowds and how dense weekend populations impact our COVID-19 containment, our hospital capacity, and our ability to maintain the key recommendation from the California Department of Public Health of maintaining physical separation of at least 6 feet from other people.

Furthermore, Truckee Mayor David Polivy points out that, "We have seen substantial issues with parking, camping, calls for service, complaints about trash, large groups not distancing, and overcrowding in public areas and trails. These issues are all important in preserving our region, and keeping our residents and visitors safe and healthy while also keeping our business community viable."

This is historically a busy time in our region that has been even further compounded by larger numbers of day visitors than we have seen in previous years. The ability to physically distance in this pandemic is paramount. "With our current environment of uncertainty, and many of our businesses already having to take measures to reduce or close their operations due to an increase in COVID-19 cases, safety must be our top priority," states Placer County District 5 Supervisor Cindy Gustafson. "We cannot risk a further surge in COVID-19 cases and want to discourage visitation on weekends during what has historically been our peak summer visitation period, and instead see that visitation occur in what are historically less busy time periods in the late summer and fall."

The North Lake Tahoe and Truckee officials are strongly discouraging visitors from coming to the region on weekends through at least August 17, 2020, after which time they believe that visitation levels will subside to more manageable levels and better allow physical distancing of 6 feet between people to occur. We will continue to monitor our population influx, and will update any recommendations about visitation as needed.
Placer County, CA has seen 1,596 coronavirus cases and 13 deaths.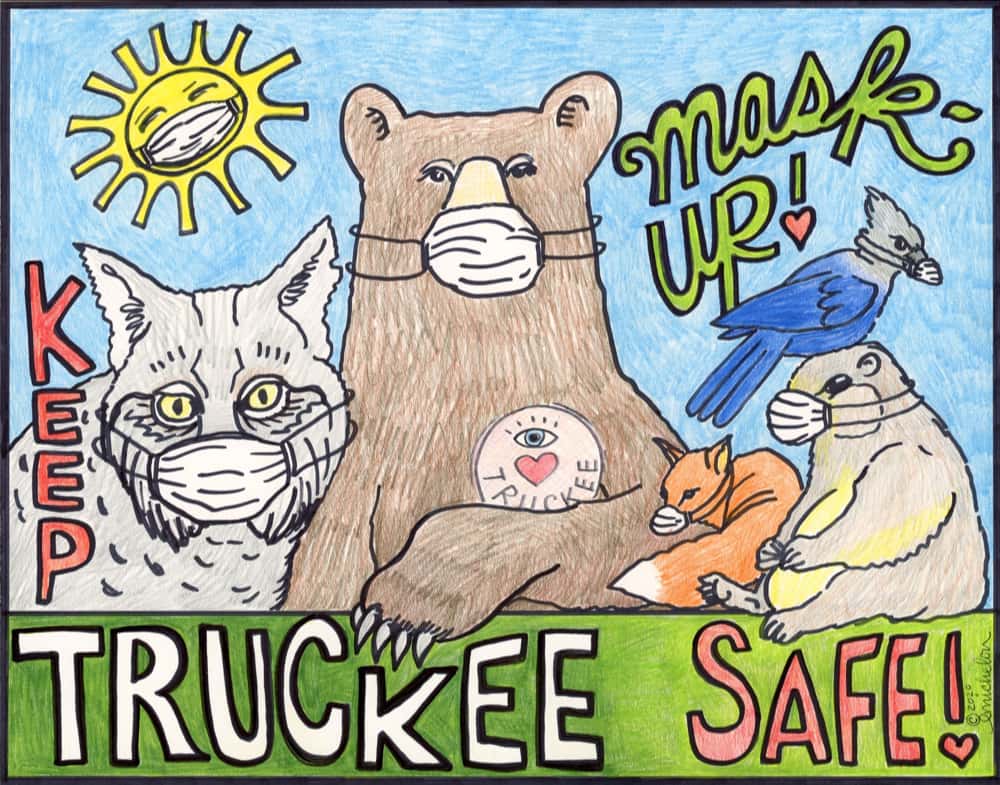 Tourism dependent rural California mountain town urges people to MASK UP to help keep businesses open during the critically important summer season
Following the Governor's closure of indoor restaurants, wineries, movie theaters, and other venues, and the full closure of bars and breweries in 19 California counties, and a rapid upward trend in COVID-19 positivity rates statewide, the tourism-dependent town of Truckee, California is urging everyone: locals, visitors, and part-time residents to wear a mask to help keep businesses open. Officials have stated the message is mandatory, not an option anymore.
"Our community absolutely cannot afford to slide backward to business closures again. We are launching a MASK UP campaign to keep our community safe and to help our lodging, restaurants, and retailers stay open. It's a matter of human life and economic death. Everyone needs to wear a mask when they're here to ensure continued access to Truckee."

– Colleen Dalton, director of tourism and economic programs for Visit Truckee
Recently, Visit Truckee, the destination marketing organization, began publishing articles, photos, and videos to get the message about how, why, when, and where to wear masks embedded in the hearts and minds of everyone in Truckee — whether residents or those visiting for the day or more. A local business owner pleads: "We understand, it's not fun to wear a mask, but if we work together, we can stay safe and stay open."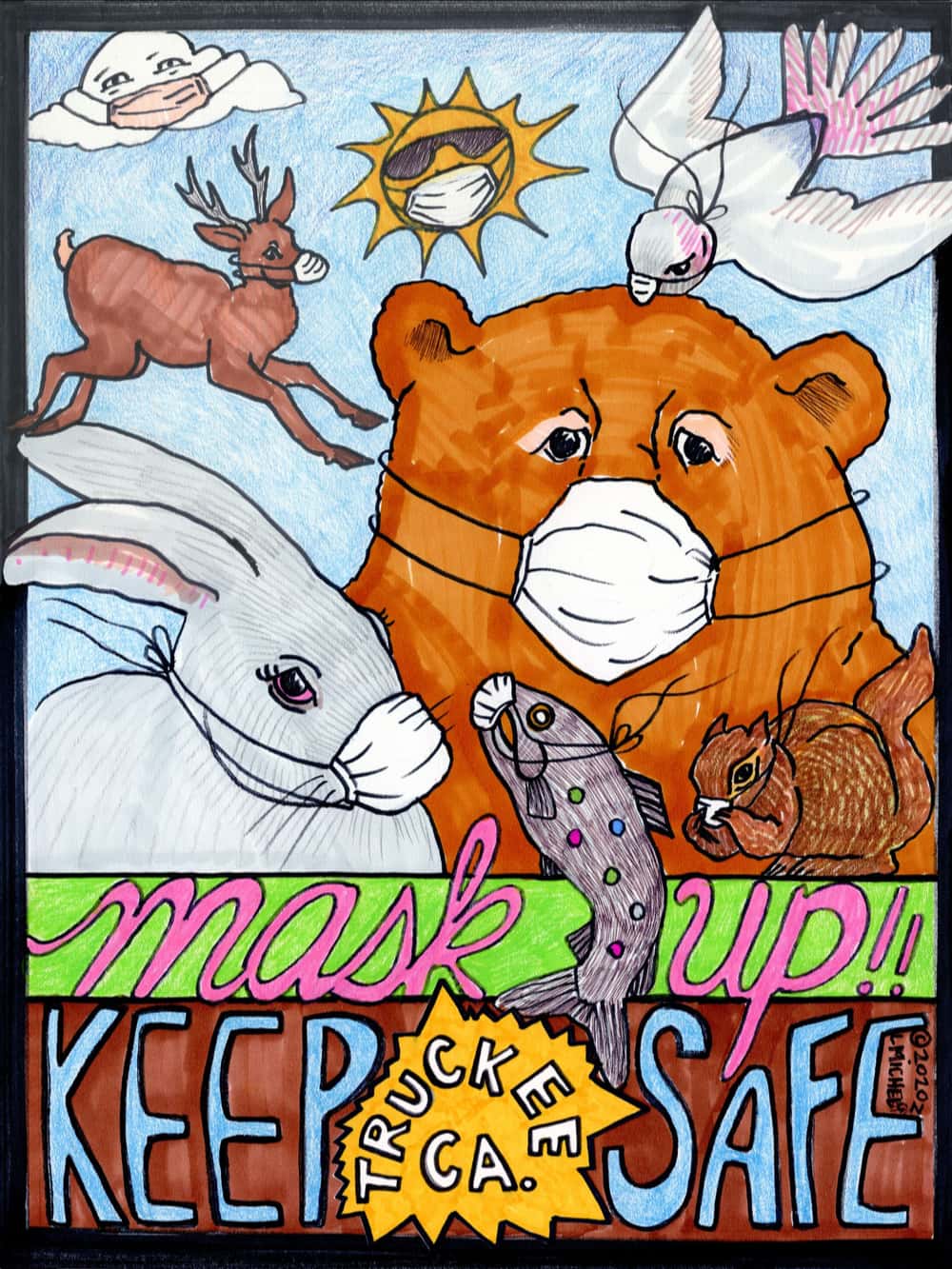 By sharing consistent messages about why it's important to wear a mask and by leveraging hashtags promoted by California Outdoor Recreation like #RecreateResponsibly and using a ski industry throwback, #RespectGetsRespect and the business-minded #StaySafetoStayOpen, Visit Truckee hopes its MASK UP educational campaign encourages the right behavior.
"The simple fact is that wearing a mask demonstrates the care and compassion you have for those around you and that Truckee businesses that are doing their best to stay open in these challenging times. We urge everyone to do their part to help protect our vulnerable, rural community."

– Colleen Dalton
Visit California also relaunched the Responsible Travel Code, encouraging visitors to be safe using the #RespectCalifornia tag. "Now more than ever, we must encourage behavior that is safe and responsible to avoid devastating health and economic impacts," stated Caroline Beteta President & CEO of Visit California.
Truckee, California located just 15 minutes from Lake Tahoe and 40 minutes from the Reno-Tahoe International Airport is an authentic mountain town with convenient access to alpine outdoor recreation. Surrounded by nearby downhill and Nordic resorts including Squaw Valley | Alpine Meadows, Sugar Bowl | Royal Gorge, Northstar, and Tahoe Donner, as well as hundreds of scenic dirt and road miles that are also used as a training base camp for athletes from around the world. With a charming historic downtown dating back to the 1800s and a vibrant Cultural District, there is plenty to do from shopping to craft brew tastings to walking along the Truckee River. Learn more and plan to visit at https://www.truckee.com.