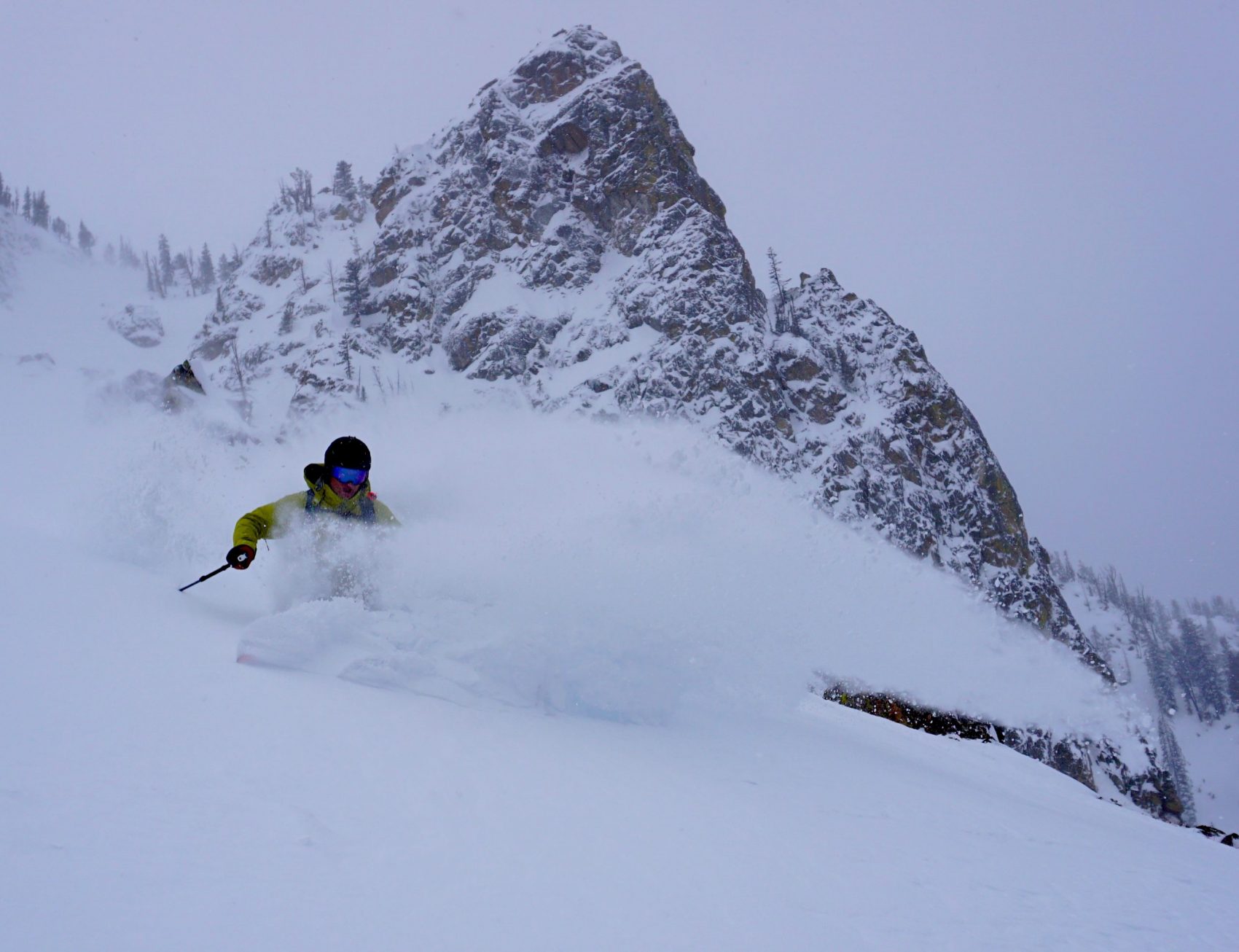 Brought to you by 10 Barrel Brewing
Report from January 3, 2021
12″ of new snow greeted us yesterday morning.
The snow initially fell as very low-density snow, but things got warm yesterday and created a bit of an upsidedown snowpack.
We were able to ski cut a few small avalanches in wind-loaded areas – about 8″ deep.
A Winter Storm Warning is forecasting 6-12″ of new snow tonight and tomorrow, and that new snow load very well may create some very unstable avalanche conditions in the Tetons.
The skiing was fun yesterday.
We skied a pillow zone and a chute and had a blast.
The snow was dense but good and deep.
Very upsidedown feeling snow down low.
Everywhere we skied felt slabby to me.
Please be smart and safe out there.
Dangerous avalanche conditions will likely develop today. In addition to loose snow sluffs, there will be an increasing chance throughout the day for skiers and riders to trigger small to large pockets of newly developed wind slab in leeward terrain at the mid and upper elevations. While less likely to trigger, large to very large persistent slab avalanches will carry much higher consequences. These deadly slabs could also step down from the release of a wind slab. Monitor the amount of new snow that accumulates today, and take note of the wind's ability to transport the new and available snow. Slopes that show signs of significant wind loading should be avoided.
Avalanche Forecast:

Weather Forecast:
Winter Storm Warning
URGENT - WINTER WEATHER MESSAGE
National Weather Service Riverton WY
253 AM MST Mon Jan 4 2021

...A Winter Storm Warning and Winter Weather Advisories for far
Western Wyoming late Monday Afternoon through Tuesday Afternoon...

.Any snow showers through mid Monday afternoon are expected to
have little accumulation. A storm system will impact western
Wyoming late Monday afternoon and Monday night, before exiting the
area Tuesday afternoon. Widespread significant snowfall over the
west is likely with this storm system.

Teton and Gros Ventre Mountains-
...WINTER STORM WARNING IN EFFECT FROM 3 PM THIS AFTERNOON TO
3 PM MST TUESDAY...

* WHAT...Heavy snow expected. Total snow accumulations of 6 to 12
  inches. 5 to 10 inches expected over the Gros Ventres and
  Togwotee Pass.

* WHERE...Teton and Gros Ventre Mountains.

* WHEN...From 3 PM this afternoon to 3 PM MST Tuesday.

* IMPACTS...Travel could be very difficult over Teton and
  Togwotee mountain passes. Areas of blowing snow in combination
  with strong wind could result in near whiteout conditions.

* ADDITIONAL DETAILS...Hikers and snowmobilers can easily become
  disoriented and lost.