Report from February 21, 2022
I drove from Park City, UT to Jackson, WY yesterday morning.
The Tetons reported 12″ of new snow yesterday am and I decided to gamble that it wouldn't be dust on crust somehow…
I met up with my old buddy Jamie and we headed into the backcountry to try out a chute I love.
I'd scoped it out of the side of my eye while driving into the resort and it looked like it was thin, but that it was just skiable.
We had to downclimb to get into the chute (see the end of the video above) and that set the tone.
From the top, I was hopeful that it would be a top to bottom powder dream.
I dropped in and right away, I was hitting the bottom through the dry powder snow.
I kept my composure up top and quickly lost it as the angle steepened and the chute narrowed.
I ended up choosing a skinny side chute – because it was fresh – and nearly got rocked out.
I had to do a short straight line to get out of the choke of the chute and I aimed my speed-check turn for a pile of stuff I was sure would be soft and forgiving.
It was hard, harsh, and nearly sent me crashing down the chute.
I got it back together and eased down the gut of the chute for a few turns.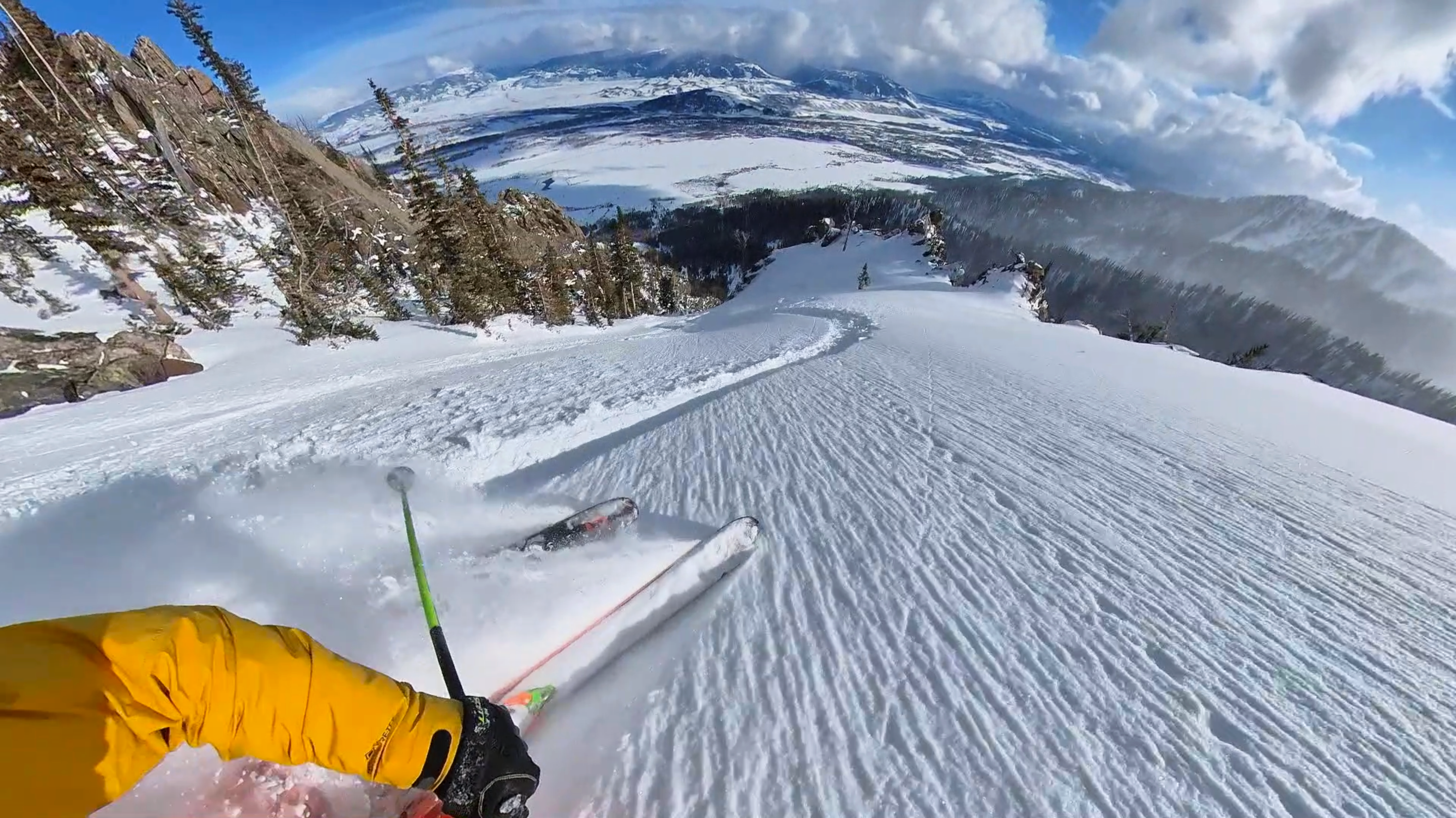 As I did, I eyed the right shoulder of the chute where I love to cut to out for a few powder turns and pillows.
I bravely cut to the right and quickly found the shoulder rocky, sketchy, and gorgeous.
As in the chute, about every other turn I feared hitting a rock – hard.
Somehow, I made it through and back into the chute proper.
The lower I got, the worse the snow.
By the bottom, it was just a couple of inches of snow on ice.
I waited for Jamie at the bottom.
We celebrated having gotten through unscathed and headed home.
I'd done a 24-hour fast this day and it felt great to break the fast with chicken wings, carrots, celery, and cookies in the lobby of the lodge where Jamie was staying.
I haven't gotten to spend much time up here this season and I'd forgotten how gorgeous this place is.
Fingers crossed for more snow soon!
Avalanche Forecast