Early on in the start of resort skiing, ski resorts across the country and around the world sold day passes, or lift tickets, to their customers in the same way that they still do today. The way they affixed them to skiers' clothing in a visible manner has changed.  In order for lift attendants, or "lifties," to efficiently check them before allowing uphill access, they needed to be in plain sight. With lack of a better way to attach them, many ski resorts simply glued or stapled them directly to the skier's clothing. Imagine how well that would go over today, plastering a paper ticket on a new $600 parka in either manner.

According to an article written by the International Skiing History Association, or ISHA, ticket attaching was about to change. In 1960, a miniature golf course and snack bar owner, Charles Hanley set up an interview, after being referred by his Pepsi rep, with the founder of a young ski resort named Preston Leete Smith. That resort's name was Killington, and they struck a deal for Hanley to work there that winter.  When speaking about the deal, Hanley stated:
"I was intrigued by the ski-area venture, so I agreed to design and build a kitchen system for the new base lodge." He also said, "Killington couldn't afford to hire me until after Christmas, so I said I could start in October and be paid retroactively. They jumped at the deal! I got paid $1.50 an hour."
While working for Killington, Smith noticed Hanley's ability to pay extreme attention to detail and think critically.  Charlie was assigned the task of solving problems around the resort such as cutting down the theft of rental skis, and in the end, more importantly, inventing the "ticket wicket" in 1963. Wikipedia defines a ticket wicket as "a short piece of light wire which loops through the ticket holder's clothing or backpack." It was named a "wicket" by Charlie's wife, Jane after she compared its shape to the wickets used in croquet. Tickets were either glued or stapled to the earliest versions of the "wicket." It was not until sometime in the late '70s that peel off, self-adhesive, tickets were being printed.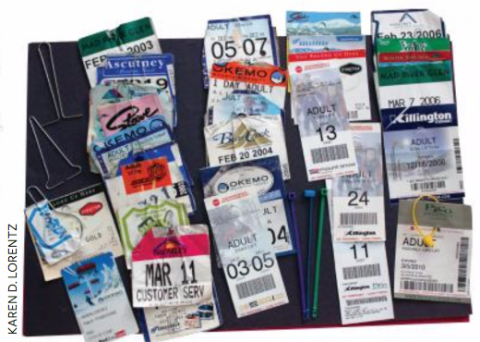 In 1966, Hanley applied for patents in both the U.S. and Canada, however, he assigned the rights to the Sherbourne Corporation, who was Killington's parent company. Although, the "ticket wicket" seems like one of those little gadgets that we all sit back and think to ourselves, "I bet the guy that invented this little thing got rich," Hanley did not think it was right to keep the patent rights to himself, since he was on the payroll when he came up with the idea. Killington sold over 750,000 wickets in the first year alone.  The "ticket wicket" eventually became so popular around the world that clothing manufacturers now include some type of loop or plastic ring on ski and snowboard gear meant specifically to attach lift tickets with the use of a wicket.
If you grew up skiing and riding in the late '80s and early '90s, you probably never came across a ski resort anywhere in the world that did not use ticket wickets. Many skiers and snowboarders collected tickets on their garments as an old school way to count their total ski days, and show their friends where they had been for the season. Some even daisy-chained them, one on top of the other, until they nearly reached from the waist to the ground.  Although pretty rad in the bragging room, this clustered collection of tickets made it harder and more time consuming for "lifties" to sort through them and check that customers had a valid ticket attached. This led to some of the larger, more crowded, resorts to begin using scan-able plastic tickets affixed with a zip tie that the lift attendants could check.
Many of these corporations even moved to RFID cards and automatic gates, eliminating the need for as many "lifties" and wickets. Despite the decline in wicket demand, ISHA recently quoted Jason Shoats, vice president of sales for Worldwide Ticketcraft, saying, "Half the lift tickets sold today are secured to a guest via a wire wicket and half with zip ties." So for now, more than 50 years after its inception, the "ticket wicket" lives on!