Located in the heart of the Mojave National Preserve, and only around an hour southwest of Las Vegas, Nevada, the Kelso Dunes serve as one of the best places in California for sand skiing. Rising over 600', these dunes are no joke, and in January me and one of my friends, Cobi Rusch, set out to ski these, all while capturing the experience.
I had never been sand skiing before. I'd seen videos online of people doing it and knew it was a little different from snow skiing, but I did not picture many of the struggles we eventually ran into.
Nonetheless, we decided to spend two days camping out at the base of the dunes and skiing and shooting our adventure. After a three and half hour drive from Orange County, we arrived with no other vehicles in sight.
We loaded up all of our ski equipment and camera gear and walked a mile and a half towards the tallest and more importantly the steepest dune visible. The biggest area of concern for us attempting this was speed. Knowing that sand was going to give us way more friction. I ventured out on Google looking for waxes specifically designed for sand skiing, and while I did hear of a few, I could not find anywhere I could buy them. Instead, I decided to simply put a lot of wax on an old pair of skis I didn't care about and give it my best shot. I brought some coconut oil as a backup because, accordingly to a Reddit thread, that may have helped as well (it didn't.)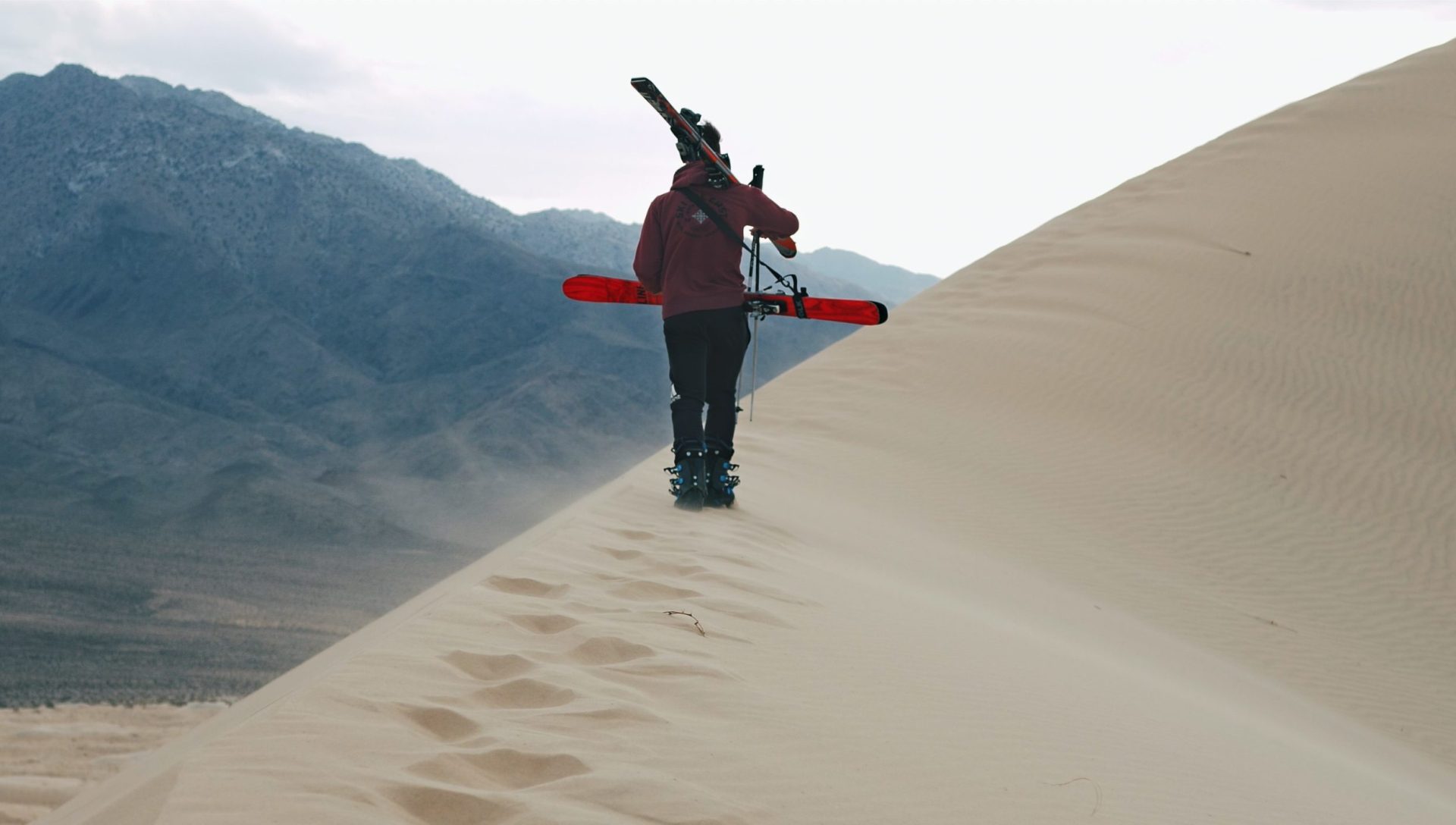 With a lot of leaning back and steep pitch, the first couple runs went surprising smooth. Was I ruining my skis and destroying my edges? Most definitely, but it was worth it. We lapped the peak several times, taking turns hiking up and filming each other coming down from every angle.
All was going well until the wind picked up—I mean really picked up, and got us caught in a borderline sand storm. 40-50mph winds and blowing sand whipping at us made us scramble to put all of our camera gear away. I cannot imagine how my eyes would have faired without us bringing our ski goggles, considering we were around an hour's walk away from our car with nowhere to hide from the consistent sand pelting our faces. Looking as though there was no sign of it stopping anytime soon, we decided to call it quits and pack our bags for our first day of shooting.
After spending the night car camping at the base of the dunes, the next day we set out to get some additional shots to complete our ski video. The weather had cleared, and it was a gorgeous bluebird day when we were able to get the following shot:
Whenever I think of a photo like this I go on the assumption that plenty of time, thought, and planning had gone into making this a reality, but for us, it was pure luck. As we finished our last couple of runs, we saw the moon continuing to drop right over the ridge we were dropping into, and so I made a run for the top to beat the moon from vanishing out of sight!
At the end of the day, it was an incredible and unique experience, flying down sand dunes in the middle of the Mojave Desert, with nothing and no one around you as far as the eye could see! I would recommend sand skiing to anyone who is looking for an otherworldly and unique skiing experience, but keep in mind the damage you will cause to your skis and the pitch of the terrain required. To this day (over a year after filming), I still open up my tripod and hear the grains of sand in its joints.