Report from Thursday, June 3, 2021
The words "don't get greedy" were all I could think of when I was not even halfway up the jagged, naked ridge leading to American Fork's Twin Peaks from Snowbird. I was on my way to ski the Wasatch classic Pipeline couloir at Snowbird as a plan B after realizing that the line I had wanted to ski in Mineral Basin was now cashed for the season.
But even that was pushing it.
I started hiking on dirt this morning from the bottom of the Gadzoom chair at Snowbird to ski an unnamed chute I've been looking at in Mineral Basin for years—Pipeline was my contingency plan if it wasn't in. I left at 7:30 and it was 65-degrees out, clear and beautiful.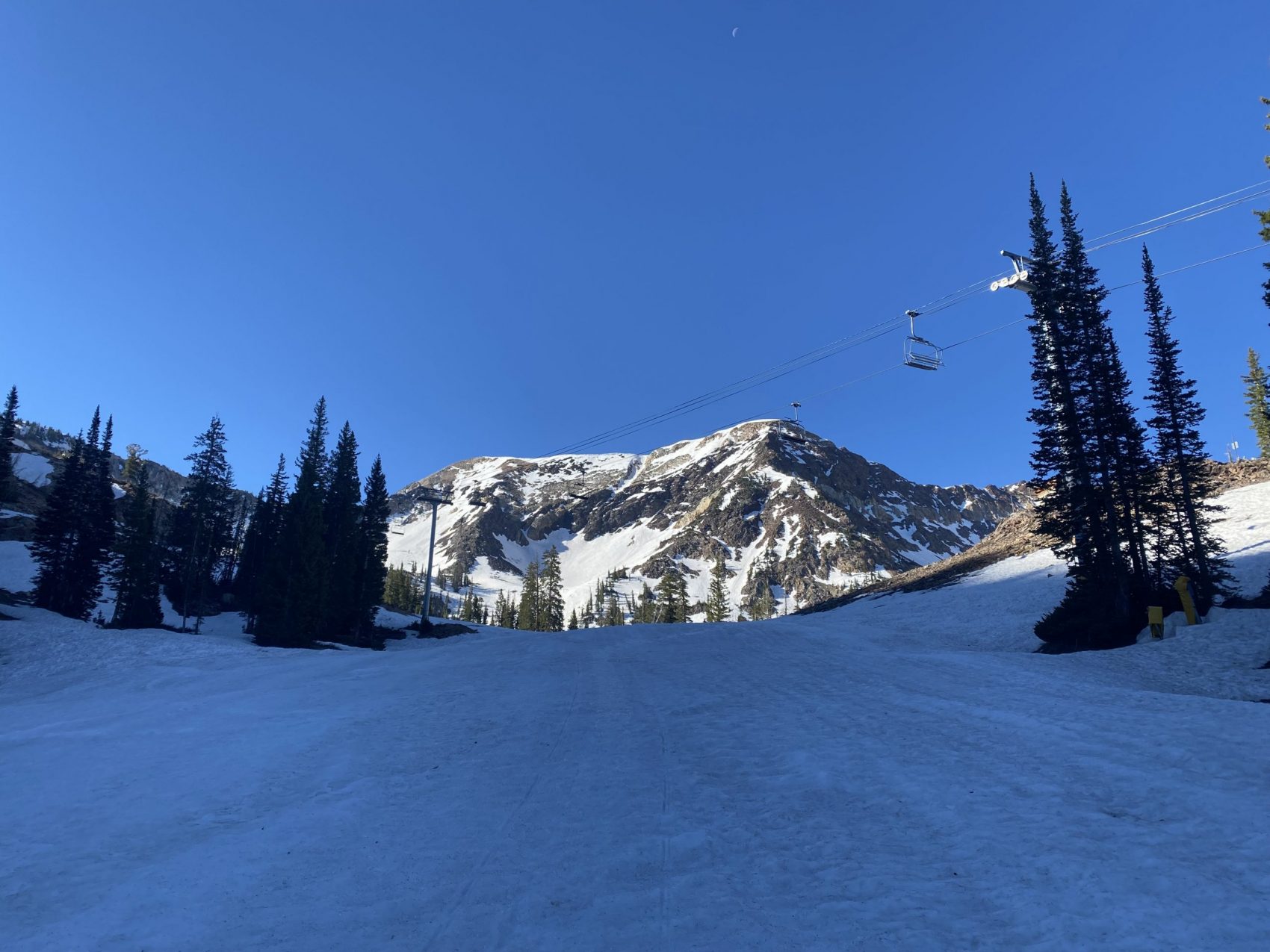 Snowbird's base is completely naked, stripped of snow until somewhere around 9,500-feet where the snowline suddenly reappears. This side of the mountain is currently vacant—in her raw state—and has the semblance of an ancient, overgrown shrine that nature is desperately fighting to take back.
I saw another party in the bowl below Pipeline finding what seemed like decent, slash-able snow from afar. Snowbird's live cam on its website made the chute look sexy—it looked skiable all the way from top to bottom.
But I couldn't be sure until I had direct eyes on it.
From the top of Mineral Basin adjacent to the Little Cloud top shack, I finally saw that it did go—but my first line choice didn't. It was way too rocky. I was happy to try for the classic instead.
That's when I decided to hike the "safe way" along the ridge from the top of Road to Provo instead of booting directly up the chute, which could expose someone to falling rocks of Life-Flight proportions.
In hindsight, I wish I had just booted up the damn thing.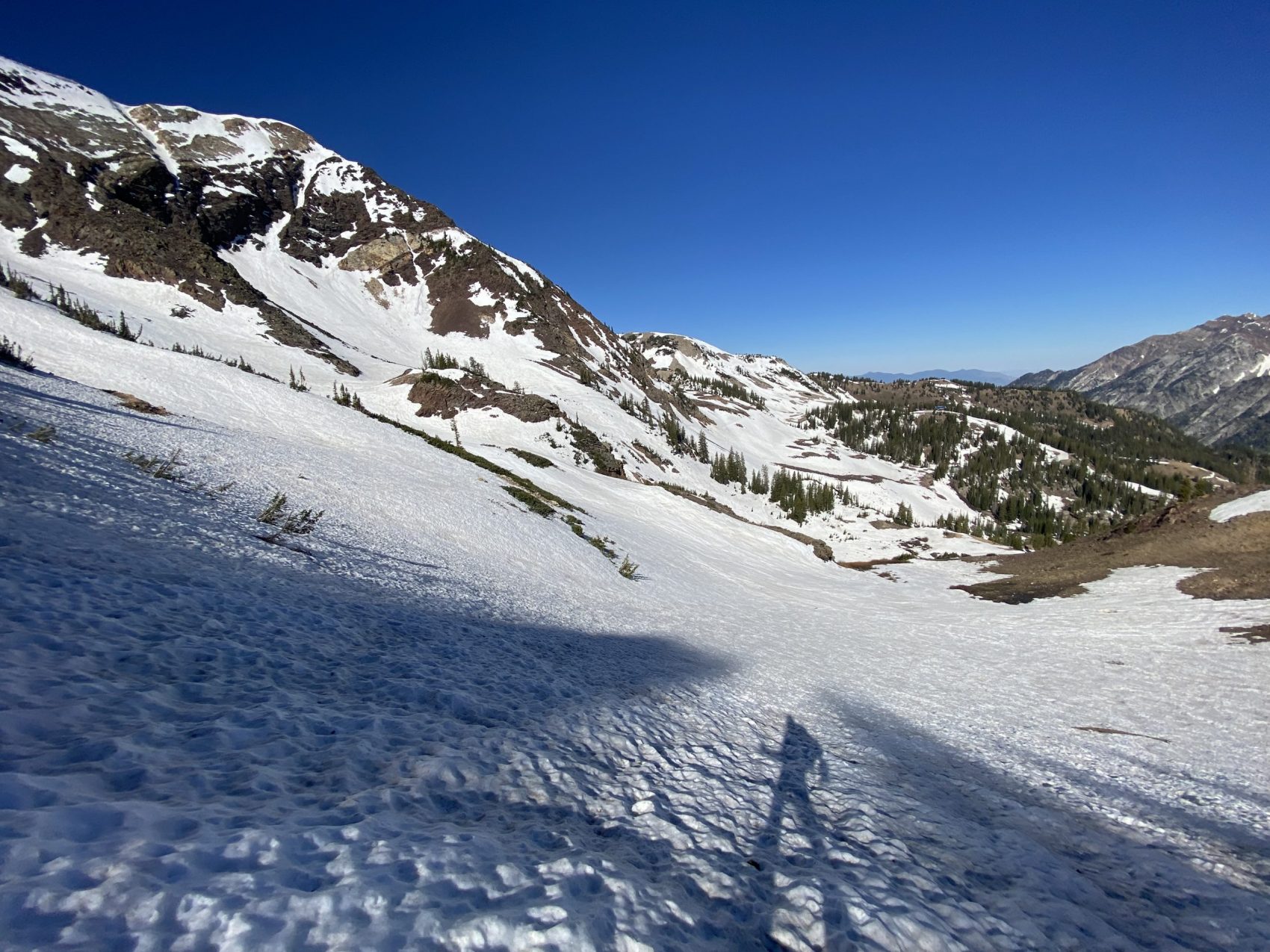 The ridge above Road to Provo—which is the recommended winter ascent route—is a thing of pure terror this late into the Spring. Its start is composed of individual pieces of sharp, pointy limestone mini-boulders that beg to throw you off balance, while the rest of the ridge-walk to the upper summit ridge is a balancing act with hundred-foot cliffs to either side of you.
I had to climb, crawl, clamper, shimmy, balance, and squeeze my way through the tight boulder fields with a pair of cumbersome skis on my back. One section of the ridge was a little too spicy for my blood, so I decided to downclimb and traverse over on loose scree to a catwalk in Mineral Basin below. It took much longer than it should have to surpass a mere 200-foot section of ridgeline and it was taxing.
But it was an adventure, nonetheless.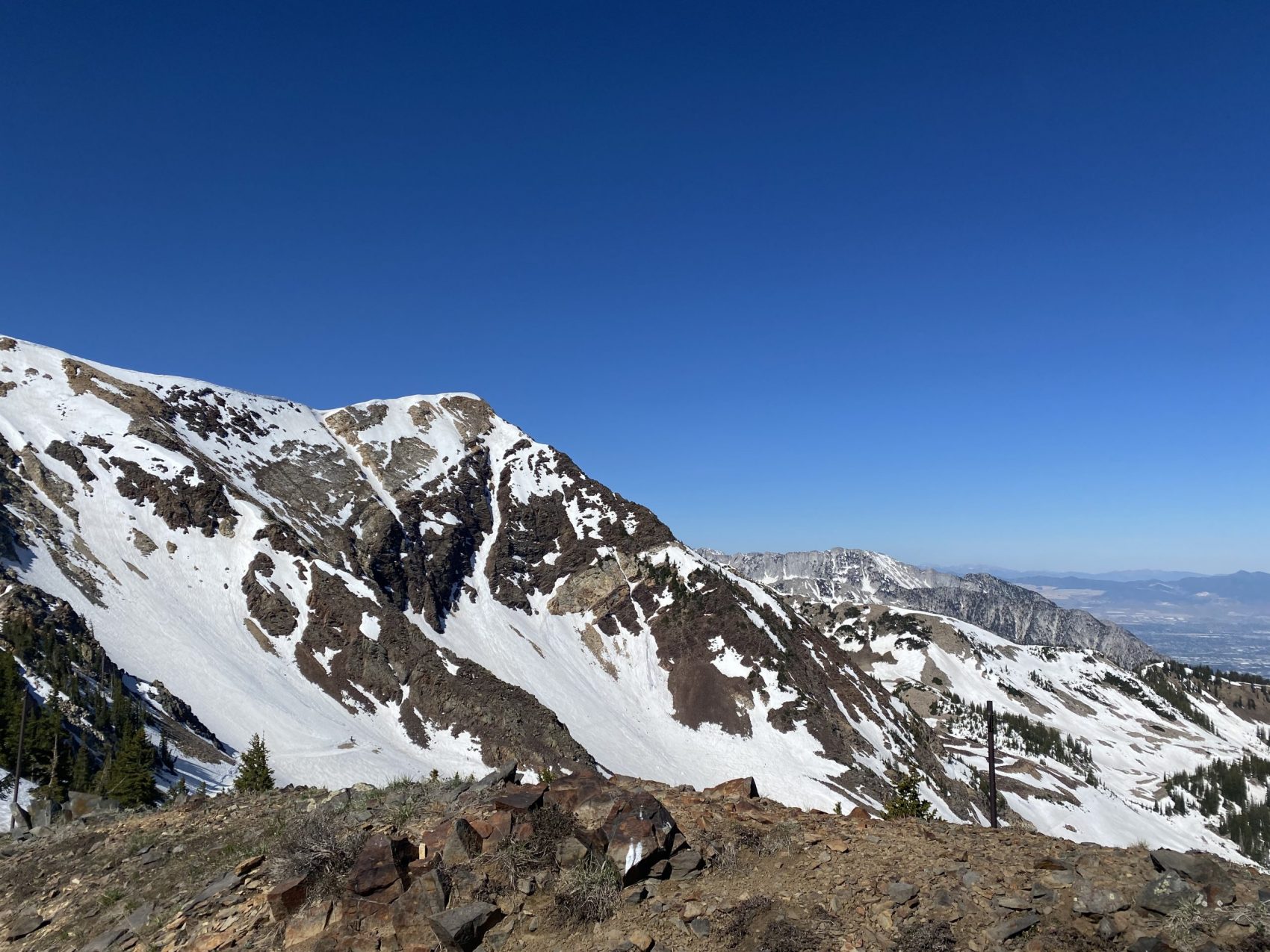 However, my determination to summit was wavering with every additional large rock I wrestled with. More than half of the ridge is a no-fall-zone.
As it got later than I wanted it to—hotter than I wanted it to—I looked up at Twin Peaks and saw I was well within my capabilities to make it to the summit-ridge and over to Pipeline, but I didn't really want to anymore. At this point, I was at the last section of the ridge that was next to snow I could still transition on and ski down, and it was looking pretty good right then.
The sun was hitting it and the snow was a decent softness—it was at that point right before it got too sticky and syrupy to make fair turns. Plus, the remaining scramble looked unsettling, steeper, and higher-consequence by the foot, and I was out of water. It was also getting hot and horse flies were buzzing around me as I sat there deciding on my next move.
"Don't get greedy," my father would always say.
I transitioned and skied the bowl above Mark Malu Fork. The snow was soft and playful, a little grabby but not too much so.
It was wonderful fun—great snow for carving fast, long, mellow turns. On one fragment of my descent, I traversed over to a steep, slim ribbon of snow in between large rocks and boulders that I initially peeped at on the tour up.
I took the ribbon at full speed and ripped steep and strong turns between the rocks on week-old mashed potato snow. Coming out of the ribbon, I bulleted over suncups and in between baby pine trees at a disturbing rate.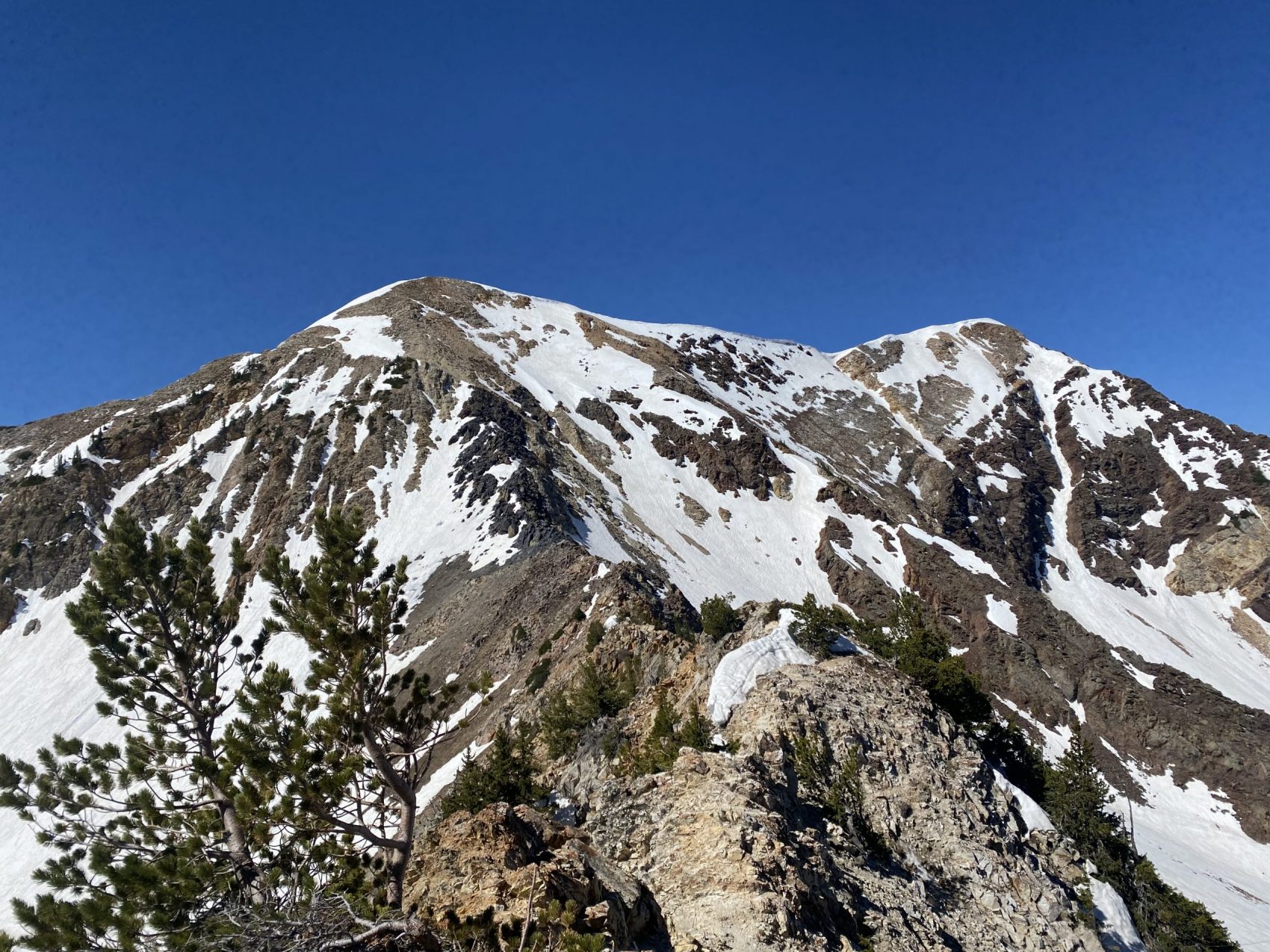 From there on out, it was a game of hopscotch with snow and dirt all the way down to the base via the Gad 2 side of Snowbird. On one part of the blotched ski down, I saw two portions of a ski run connected by a 10-foot patch of dirt which coaxed me into channeling my inner-Candide.
I straight-lined over it, as well as a couple more dirt and rock sections like it, clearing most of them and trying not to think about what my ski bases looked like now. Ironically, the lowest, last leg of the entire descent was the best: a steep, cut, uniform east-facing slope with perfect corn snow.
Here, I let my skis loose and just sat back and watched as they made long, effortless, arching turns in the best snow I had found all day.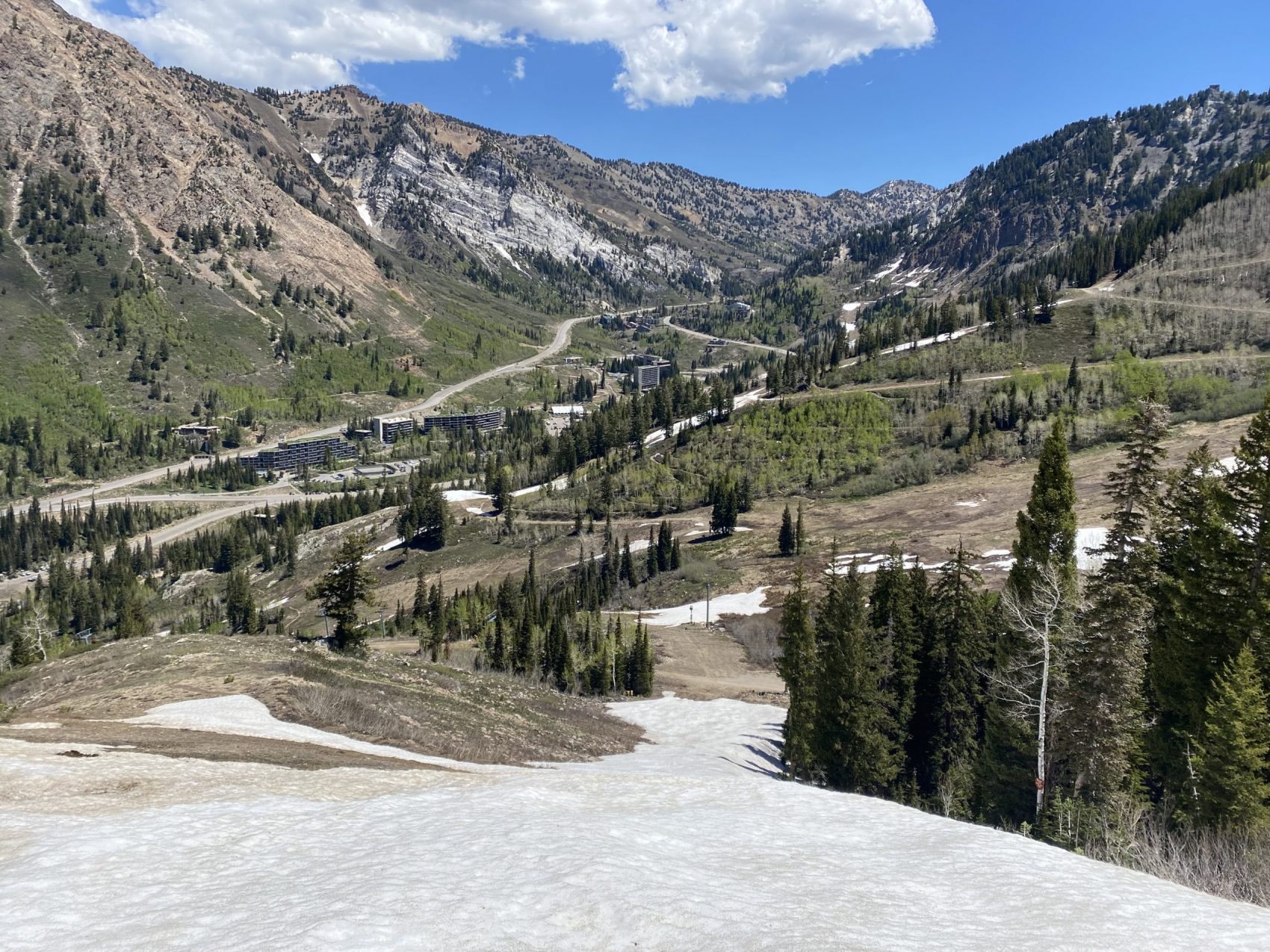 From there I put my water shoes back on and happily hiked down the hill back to my car. I had been gone five hours—much longer than I had hoped for what I ended up skiing.
It was 77ºF at my car in Snowbird's parking lot at noon and 93ºF at my house in the valley when I got home. It's June and we've now surpassed the "stubborn addict" phase of Spring skiing and transitioned into the "you're a snow-dependant lunatic" phase of summer.
And if you know where to look—and if you're willing to get your ski boots dirty—there's still plenty to be had.
Weather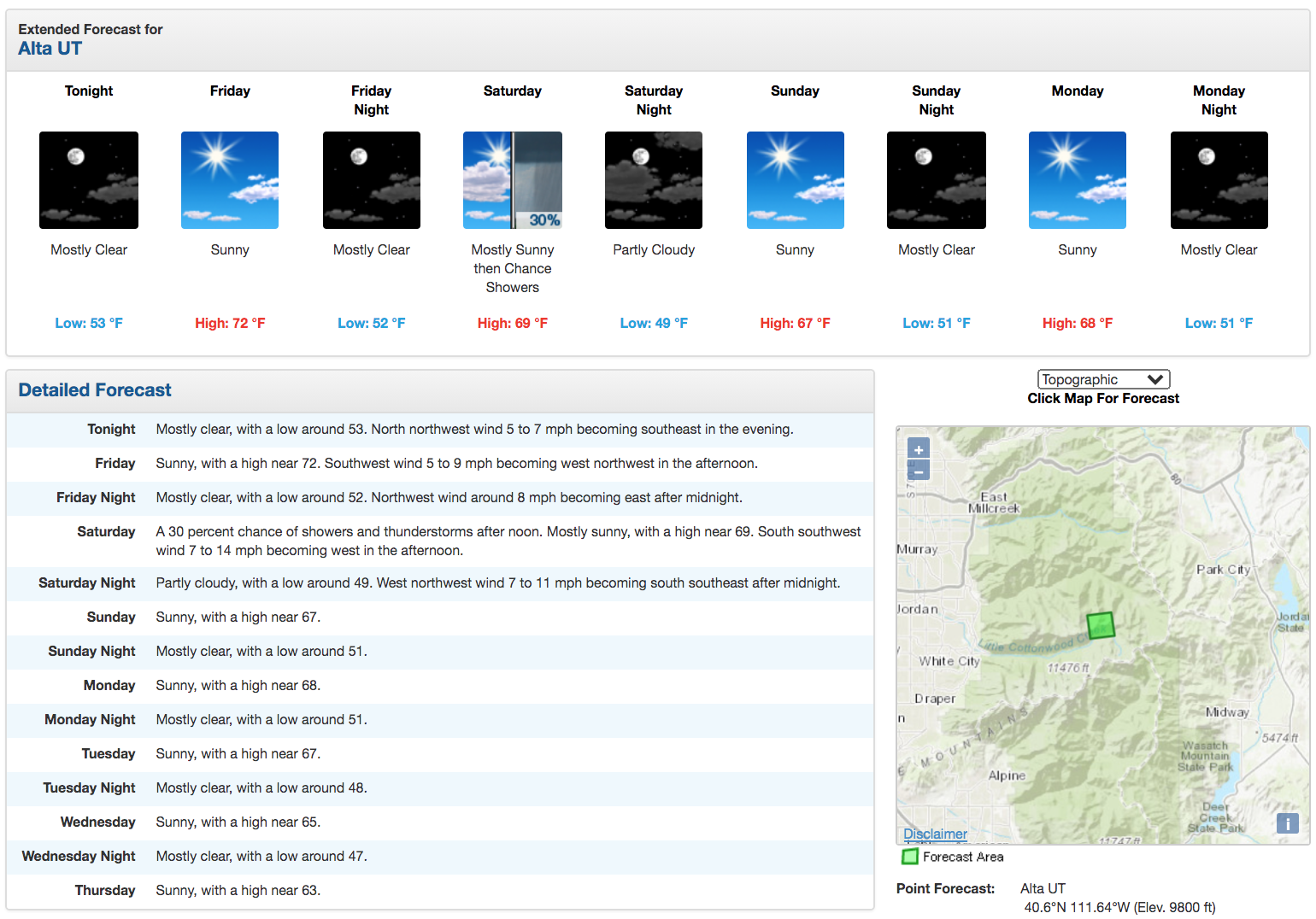 Photos