Most skiers and snowboarders have heard of Vail and understand they are not just another ski resort in Colorado. However, most people do not know that Vail is owned by Vail Resorts, Inc., which owns and operates 41 resorts worldwide, focusing on luxury accommodations, iconic destinations, and world-class guest services. In the ski industry, Vail Resorts is a juggernaut and a company with a massive amount of resources at its disposal, with its net worth at $18.05 billion as of April 07, 2023.
Recently, Vail Resorts held its Investors' Conference and outlined its business model, which consists of seven key components. It discussed how those components will enable it to grow and succeed. Because Vail Resorts is the biggest player in the ski industry, we took a closer look; its plans for the future will affect most, if not everyone, in the ski industry.
Importance of the Guest Experience
Skiing is all about the hospitality and service industry, and Vail understands that. Vail Resort's business model reveals it is not much different than other models within the hospitality and service industry. However, Vail Resorts has important objectives when looking at the future. It is focused on: retaining its current guests, providing them with the best guest services in the industry, creating and developing first-time-guest opportunities, mitigating waste and maximizing resources, setting objectives and goals for the future, ensuring profitability and return on investments, and investing in their guests, employees and resorts moving forward.
I had the opportunity to read its 98-page investors' report, which outlined its business model for the short term and also its long-term objectives for the future. Vail Resorts covered a lot of topics in its investors' conference. However, I found these eight topics were the most important subjects discussed:
The current state of the ski industry (favorable)
The power of an integrated marketing and commerce system (standardized operating procedures, technology, and POS)
Collecting data and statistics and accurately utilizing the information in the ski industry (guest information)
Importance of advanced commitments (season passes)
The importance of a free-cash-flow generation ($93 million in FY14 to approximately $530 million in FY23)
Phase-oriented growth (domestic and international)
Market growth and expansion through opportunistic acquisitions (purchasing new properties)
Investing in the future of the industry (guests, employees, and Vail Resorts-owned resorts)
The Current State of the Ski Industry
So, what does this all mean to Vail Resorts, what effect will it have on the ski industry moving forward, and most importantly, how will it affect individual skiers and riders? To answer that question, we must try to look at the ski industry through the eyes of Vail Resorts.
The first topic I thought was important from Vail Resorts' investors' report was "The current state of the ski industry."  Vail Resorts is a huge and successful company that relies heavily on numbers to make business decisions. One key number that stands out to Vail is zero; the number of new ski resorts opened in the U.S. since the 80s.
What does that mean to Vail Resorts? Through the eyes of Vail Resorts, it simply means there is no new competition. This means Vail Resorts looks at the current state of the ski industry as favorable because no other company has the purchasing power they have, which provides them the opportunity for growth in the ski industry.
Vail Resorts already considers itself the leader in the ski industry. It owns and operates world-class resorts worldwide and has five of North America's top most popular ski resorts. Vail Resorts has deep pockets, enabling it to make decisions within the industry to capitalize on the lack of new competition and formulate strategies to profit from it.
Capitalizing on the lack of new competition in the industry requires Vail Resorts to look at broader and better ways to enhance the leisure aspect and guest services within the ski industry. For skiers and riders, that equates to higher levels of guest services, better accommodations, and mountain reinvestment projects like new high-speed chairlifts.
Data Collection
Vail is a company that relies heavily on numbers and, more importantly, collecting data, analyzing data, and using that data to make informative and intelligent business decisions. Have you ever completed a guest survey at a resort and wondered if anyone looked at it?
Vail Resorts do, and it uses the data collected from its guests to formulate plans to enhance the guest's experiences, identify guests' preferences and tendencies, and develop new programs based on this data. Vail's model for the future uses the data they have collected to create multiple programs designed to provide more options to guests and will also help grow their clientele base.
Another number that has been exponentially increasing in the U.S. is the number of people prioritizing the importance of their quality of life versus their work life. This trend has been growing in recent years and is well-known throughout the business world regardless of the industry a person may work in.
However, it is uniquely different from the ski industry because Vail Resorts knows that skiers and riders go to ski resorts to enjoy their quality of life and free time. This data enables Vail Resorts to forecast higher levels of guests to frequent its resorts more often in the future and also gives Vail the ability to plan for it, but more importantly, to expect it.
Data, research, and analysis
The ski season on the east coast has just started to come to an end, and Vail Resorts has already begun promoting advertisements for what guests should be looking forward to next season at their resorts. In one of its advertisements, Vail Resorts is promoting its new "My Epic App" for next season, which will allow guests to use their smartphones to download their lift tickets and skip the ticket windows entirely. Vail Resorts also uses its vast network to promote and advertise other programs throughout the industry. Vail Resorts relies heavily on its data collection system but also depends on the research from that data to drive its integrated marketing and commerce systems across its 41 resorts.
Vail Resorts has a guest database of approximately 24 million marketable guests, which it utilizes frequently. One of Vail Resorts' priorities is promoting its famous Epic Pass, which allows skiers and riders to visit their resorts at a lower cost than buying daily individual-lift passes. Vail Resorts' Epic Pass has brand awareness with skiers and riders throughout the industry, and Vail Resorts need to capitalize on moving forward with its business model.
There are many reasons why the Epic Pass is vital to Vail Resorts as they implement their business plan for the future. Vail Resorts views its "Brand Awareness" of the Epic Pass as key, has analyzed the numbers in this area, and understands the importance of converting daily-lift-ticket purchases to season-pass holders.
As previously mentioned, Vail Resorts looks at numbers very closely, and they analyzed the data and determined that the Epic Pass provides what they call "Advanced Commitment."  This is important to Vail Resorts because its Epic Pass goes on sale months before the opening of each season, giving it guaranteed revenue.
This is important to Vail Resorts because it dramatically assists it with planning, operating, and providing the best guest services possible by knowing the number of season-pass holders it will have each year. In FY08, Vail Resorts saw $78 million in Advanced Commitment sales, increasing to $853 million in FY23. The Epic Pass revenue also provides Vail Resorts with a "Safety Net" of having the monetary resources to withstand industry challenges like extreme weather or other unforeseen events like COVID-19, which caused a massive decline in guest visits.
Advanced Commitment Revenue
It also evaluates the data from its Epic Pass (Advanced Commitment) sales correlating directly with guests' satisfaction being higher than non-pass holders. Vail Resorts generates about 61% of its lift revenue from the different options offered via the Epic Pass and 31% from daily lift ticket passes. That is a number that Vail wants to increase, and it would like to see Epic Passes contribute 80% in lift revenue in the future.
Vail Resorts will do this by decreasing the overall costs of its Epic Pass while increasing the price of a daily-lift ticket. This will drive skiers and riders to purchase one of its Epic Pass options while decreasing the number of daily lift ticket purchases, thus increasing the percentage of Advanced Commitment sales for Vail Resorts.
If Vail Resorts can accomplish increasing the sales of Epic Passes, it will enable them to forecast and allocate resources more effectively throughout the season. Vail Resorts will have the key data necessary to provide guests with higher-quality guest services, appropriately staff, and effectively utilize unused resources. Its mindset is that this will produce higher levels of guest satisfaction, providing stronger guest loyalty and higher guest-return rates. Those benefits will compound over time and offer higher levels of growth throughout the company.
Shift to an 'Access Economy'
Another data-driven feature Vail Resorts will offer its guests shortly is purchasing the "My Epic Gear" membership. This feature enhances guest services and will provide Vail Resorts additional "Advanced Commitment" sales revenue. The "My Epic Gear" program is based on the data collected throughout the industry, suggesting a shift in people owning their equipment to more people wanting to rent their equipment. Vail Resorts used this data in gear ownership versus rental users and saw an opportunity to provide its guests with a better option.
There was also a shift in the ski industry and a global change in recent trends of consumers moving away from ownership to more of an "Access Economy."  Vail Resorts cited other gaming, transportation, and lodging market trends where consumers were no longer buying things. Instead, they were renting or leasing them.
Consumers are more apt to rent or lease: video game consoles or video games in the gaming industry, vehicles in the automotive sector, and properties in the real estate industry. This was also true in the ski industry, where purchasing and owning ski or snowboard equipment is costly, and guests are looking at other options.
The long-time perception in the skiing industry was that renting equipment and gear was not desirable because the quality of the equipment and gear was not good. There was also that mindset that "real" skiers and riders owned their equipment and "weekend warriors" rented their equipment. Vail Resorts is trying to change the attitudes of guests in the industry by providing them with top-of-the-line equipment while adding additional steps of guest services.
The "My Epic Gear" option provides guests skis, snowboards, boots, and poles, with the initial season membership starting at $50. It promotes "My Epic Gear" as providing guests with: the newest skis/boards/boots, customized boot fittings, custom insoles for the boots, free delivery, and free-slope-slide pick up and drop off every day for guests. Vail Resorts claims this new option will eliminate the need for guests to step into a gear or rental shop again. After the $50 membership enrollment fee into the program, it will cost an additional $50 per day for guests to rent equipment. The program offers 15 of the top-of-the-line brands of skis/boards to choose from, with over 50 different models of those brands to choose from as well.
This is where Vail Resorts' sizeable integrated marketing and commerce systems enhance its ability to provide unmatched guest service in the industry. Vail Resorts will use the data and information collected from its guests to ensure each detail about a skiers/rider's preference in their skis, boards, and boots are saved to the guest's "personal settings" and is available at any resort owned by Vail throughout the world.
Vail Resorts will ensure its guests have their equipment ready for them when they arrive at whichever resort they choose, have it stored for free overnight, and their gear will be prepared for them when they hit the slopes the next day. Additionally, all of the guest's equipment will be professionally tuned and adjusted to their settings before their arrival, making it faster and more efficient for guests allowing them to spend more time on the slopes and less time in rental lines.
As stated earlier, Vail Resorts wants to convert daily lift ticket users to season pass holders but also intends to convert guests who own their equipment to guests who rent their equipment, mainly from Vail Resorts. Vail Resorts uses data to support and promote its "My Epic Gear" option by looking at the price points of the three options offered over four days. Comparative-price points support the "My Epic Gear" option as being less expensive than owning equipment or purchasing the traditional demo rentals. The average price points over four days were: owning your gear was $365, traditional demo rental was $330, and Vail Resort's "My Epic Gear" option was $250.
The importance of cash flow in any business can never be overlooked for how it can grow, cripple, or keep a business stagnant. Vail knows the importance of having a strong-free-cash flow and plans to focus on staying on budget, being consistent with reinvestments, and remaining committed to their core capital plan. Vail Resort's ability to successfully maintain a flexible capital structure will enable them to move forward with its long-term focus on opportunistic growth and network expansion.
What does Vail Resorts' long-term focus on opportunistic growth and network expansion mean for the rest of the ski industry? As stated earlier in this article, Vail views the current state of the ski industry as favorable. Simply put, Vail sees the current conditions in the market as an opportunity to expand domestically and internationally. However, they cannot purchase new properties or resorts if they do not have a strong cash flow to support them.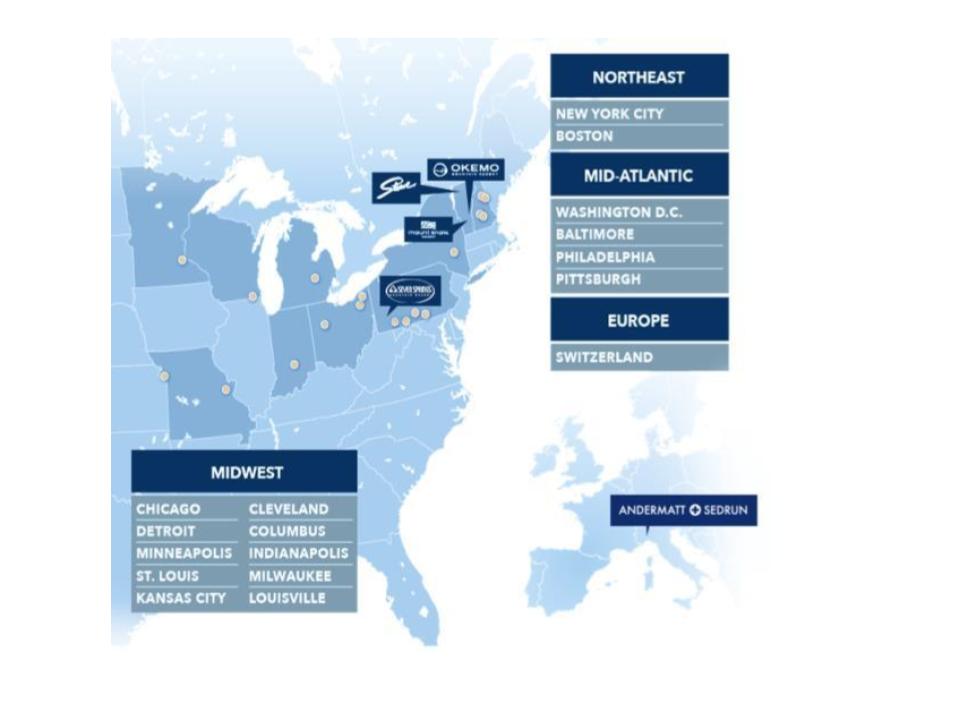 Plans for the Future – The East and Europe
So, what are Vail Resort's "Big plans for the future," and how will it affect the ski industry and the individuals in the industry as well? Vail Resort's investors' report outlined the east coast as a critical focus to expand domestically and continue growing. Vail Resorts already owns multiple ski resorts in the east and sees the region as an opportunity to acquire more resorts when the timing and circumstances are right. The eastern region of the U.S. sees over 35 million skier visits annually, with 65% staying and 35% choosing to ski outside the region.
Vail Resorts analyzed ten markets in the east, with NYC, Boston, Philadelphia, and Chicago being the largest cities in the region, and researched the data in those markets. It looked at the total industry skier visits within those ten markets versus the total Vail Resorts' skier visits, and it was not even close. The east is primarily a region with a much higher number of skiers who are daily-ticket purchasers compared to skiers located in the Rockies, who are mainly pass holders.
It was odd because out of all the graphs and diagrams in the investors' report, this was the only graph with no numbers or percentages on it. However, it was clear that skier visits in the east were primarily non-pass visits, which Vail Resorts wants to change and capitalize on moving forward.
Vail Resorts plans to target or "aggressively pursue" resorts near crucial metropolitan areas in the east and acquire them when the opportunity arises. The east is a massive platform for Vail Resorts to grow and switch the east from guests who are primarily daily-lift-ticket purchasers to guests who become future Epic Pass subscribers. It plans to leverage peak resorts and acquire them when conditions are favorable. It specifically mentioned the acquisition of Seven Springs outside of Pittsburgh and cited that after purchasing Seven Springs, Pass sales increased by 70% in that area in FY23.
Looking to the future of skiing and riding in the east means we have to look at Vail Resorts as a huge influence there, particularly in the northeast. The northeast, known for having smaller-independently-owned resorts, will be acquired by Vail Resorts when a favorable opportunity arises. A clear example of this is Vail's acquisition of eight resorts in Pennsylvania from 2019 to 2021: Roundtop, Whitetail, Liberty, Jack Frost, Big Boulder, Seven Springs, Laurel, and Hidden Valley.
These resorts are located relatively close to large metropolitan areas, including Pittsburgh, Washington D.C., Philadelphia, and NYC, which follow Vail Resort's business model. Vail Resorts will also increase the daily-lift-ticket prices throughout the region to drive guests to purchase season-pass options, which is also consistent with its business model.
Domestic growth within the U.S. and North America is not the only objective for Vail Resorts moving forward. Vail Resorts has a much larger goal where it envisions itself as the world's only premier ski company. Purchasing properties in the east, which Vail views as opportunistic acquisitions, is logically the first phase of domestic growth in the U.S.
The next phase in growing and expanding Vail Resort's reach is to look at global acquisitions worldwide and find resorts that fit into its business model. Numbers do not lie, and North America only represents the second largest demographic of skiers in the world, with approximately 70 million skier visits per year. Europe has the largest demographic of skiers in the world and registers over 200 million skier visits per year. Vail Resorts is acutely aware of its tremendous revenue potential and will attempt to acquire European ski resorts when the opportunity presents itself.
Vail Resorts has already purchased properties in Switzerland and plans to build a connected network of destination resorts throughout Europe. According to its investor's report, Switzerland is its first strategic investment in Europe. Vail Resorts wants to use that as a "proving ground" for success and acquiring future properties in Europe when favorable.
There have also been purchases of properties in Japan (2) and Australia (3) by Vail Resorts, which is actively searching for additional international resorts to acquire. With a population of over 1 billion, China is on Vail Resort's radar. However, that is a long-term objective, and it has the luxury to wait and evaluate the potential for market growth there.
Not all Doom and Gloom
So, is this all doom and gloom for the skiers and riders facing the reality of a future of a giant-conglomerate-run-ski industry? Perhaps not. There are some things that a larger corporation can achieve on levels that a smaller one could not. The environment, global warming, reducing fossil fuel emissions, and being energy efficient are all things the modern-day business has to consider. Vail Resorts wants to create long-term growth and provide sustainability in the ski industry and is planning to invest in four areas in the future to ensure this.
Vail Resort's first objective to accomplish this goal is "Commitment to Zero," which is achieving a zero net operating footprint by 2030. Thus far, Vail Resorts has completed: 100% renewable electricity in North America in FY22, a 53% reduction in market-based-greenhouse-gas emissions since FY17, and a 29% reduction in waste to landfill from baseline in FY22.
Vail Resorts understands its importance and responsibility to positively influence the local communities and the residents in which they operate. In FY22, Vail Resorts promoted health and sustainability in its resort communities by providing $10 million in grants and donations to local nonprofits. It also invested $12.9 million in its "Epic for Everyone" program, an inclusive access program geared towards youth in major cities close to properties owned by Vail. The "Epic for Everyone" program's goal is to make it more accessible and feasible for individuals to participate in skiing or riding who may not have had the opportunity to do so before.
Vail Resorts also wants to reinvest in their employees and staff and has an "Employee Foundation," which provides scholarships and grants to their employees. Last year, Vail Resorts invested $1.3 million in emergency relief funds and scholarships for its employees and dependents and an incremental $175 million annual investment into its employees. This allowed it to increase its employees' minimum hourly wage to $20/hr, which was an increase of $5 an hour but was still lower than the national average of $25/hour for employees working in the ski industry. Vail Resorts also increased its H.R. department by over 50% to assist its employees with finding affordable housing in expensive mountain resort areas.
Vail Resorts is implementing programs to improve and enhance diversity, equity, and inclusion. It plans on accomplishing this by continuing to be the leader in the industry by promoting gender diversity and also increasing BIPOC representation throughout all career levels at Vail Resorts. It has also provided access to over 8,000 youth from major cities while providing them with lift tickets, gear, and lessons to make it easier for these children to access this exclusive sport.
Whether you have a positive or negative opinion on the growth and emergence of Vail Resorts as the primary player in the ski industry does not matter. Vail will implement its business model and continue to acquire more resorts throughout North America and the world, whether we like it or not. Skiers and riders should fill out the guest surveys and let Vail Resorts know what they think because it will read them.