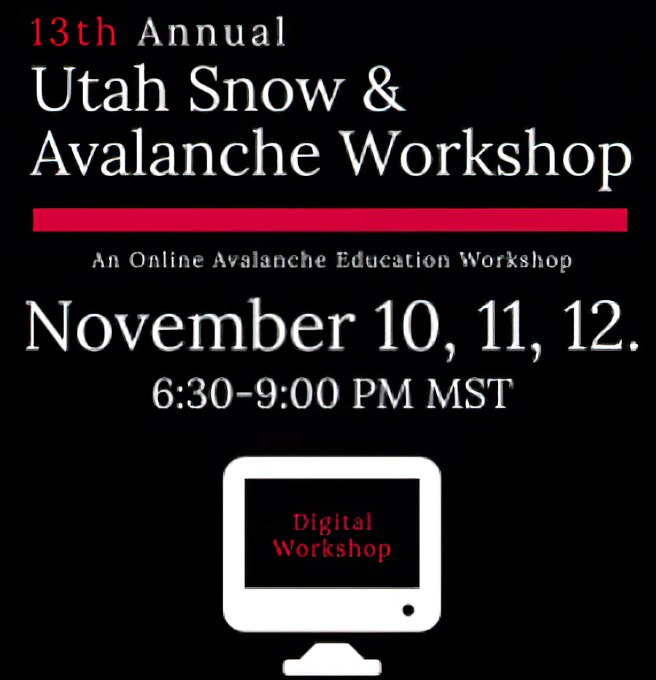 Winter's knocking—time to kick your avalanche brain into gear.
The Utah Avalanche Center will be holding a virtual snow and avalanche workshop next week from Tuesday, November 10 to Thursday, Nov. 10. Utah Snow and Avalanche WorkshopCheck out the details below courtesy of the UAC:
The first major storm of the season is quickly approaching and so is the Utah Snow and Avalanche Workshop. Our first winter-like storm will arrive this weekend with USAW following next Tuesday through Thursday. See the fantastic line up of talks below. You will learn from forecasters, patrollers, snow scientists, mountain guides, other backcountry riders, and more. Each presentation will be 15-minutes followed by Q&A. Details and registration available on the UAC Events Page. Tickets are $10/session or $25 for all 3 sessions.

We invite you to tune in for this year's USAW, streaming live November 10-12 from 6:30-9 pm. Each night will feature three distinct themes. If you can't make the sessions, we will make the recordings available to all ticket purchasers after the live-stream.
Program Details
The Ingredients Behind the Science and Avalanches – Tuesday, Nov 10th 
18:30-18:35 – Welcome. Craig Gordon, Utah Avalanche Center
18:40-19:00 – Take Me to Your Powder. The importance of tracking early-season weak layers… how long do they persist? Mark Staples, Utah Avalanche Center
19:05-19:25 – Leveraging Digital Mapping Tools for Planning and Communication. Using CalTopo for winter backcountry travel and avalanche forecasting. Meghan Twohig, CalTopo Training, and Support.
19:30-19:50 – Stepping In or Out of Avalanche Terrain. What information changes my game plan. Don Carpenter, American Avalanche Institute
19:55-20:25 – A Little Cottonwood Canyon Update. Reflections on a Historic Avalanche Cycle and Summer Projects Update. Damian Jackson, Utah Department of Transportation
20:30-20:50 – You Can't Always Get What You Want. Weather anomalies and the why behind a meteorologically twisted system. Glen Merrill, National Weather Service
20:55-21:15 – Can we talk? Establishing a Dedicated Regional Backcountry Radio Channel. Logan Cookler, Backcountry Access/Powderbird
Distraction and Consequences – Wednesday, Nov 11th 
18:30-18:35 – Welcome. Craig Gordon, Utah Avalanche Center
18:40-19:00 – Is 22 My (un)Lucky Number? One persistent slab, twenty-one prior tracks, and a thousand distractions – the high consequences of a "low" probability situation. John Climaco
19:05-19:25 – Strava Can't Keep Up with my Downtrack. Superior at 77 mph. Jared Inouye
19:30-20:00 – Decision Fatigue. What is really happening in our brains? Russ Costa Ph.D., Westminster College
20:05-20:25 – Developing Competence in an Ever-Changing Environment. Sarah Carpenter, American Avalanche Institute
20:30-20:50 – It's Dark and I'm Cold, Shivering, and Wet. What I carry in my ski pack… what I carry in my sled tunnel bag. Tyler St. Jeor, Canyons Village Ski Patrol/Wasatch County SAR/ Backcountry Institute
We're All in This Together – Thursday, Nov 12th 
18:30-18:35 – Welcome. Craig Gordon, Utah Avalanche Center
18:40-19:00 – Recreate Like a Pro. What information do I look for that allows me to recreate like a pro. Logan Cookler, Backcountry Access/Powderbirds
19:05-19:25 – And the Answer Is. What our community survey results say about us. Anna Keeling, IFMGA Mountain, and Ski Guide
19:30-19:50 – "That's just, like, your opinion, man". Reflections on the April 2020 avalanche cycle. Tips for using a systems-based approach to avoid the subjective traps that affect our decision making. Jenna Malone, Alta/Powderbirds
19:55-20:25 – Putting it All Together and Creating YOURCAST. Using the local avalanche forecast as part of an avalanche matrix in decision making. Jim Conway, Glisse Media/TGR Safety Consultant
20:30-20:50 – Recess is Over. How and why our collective, community skin-in-the-game differs from keyboard high-fives. Craig Gordon, Utah Avalanche Center