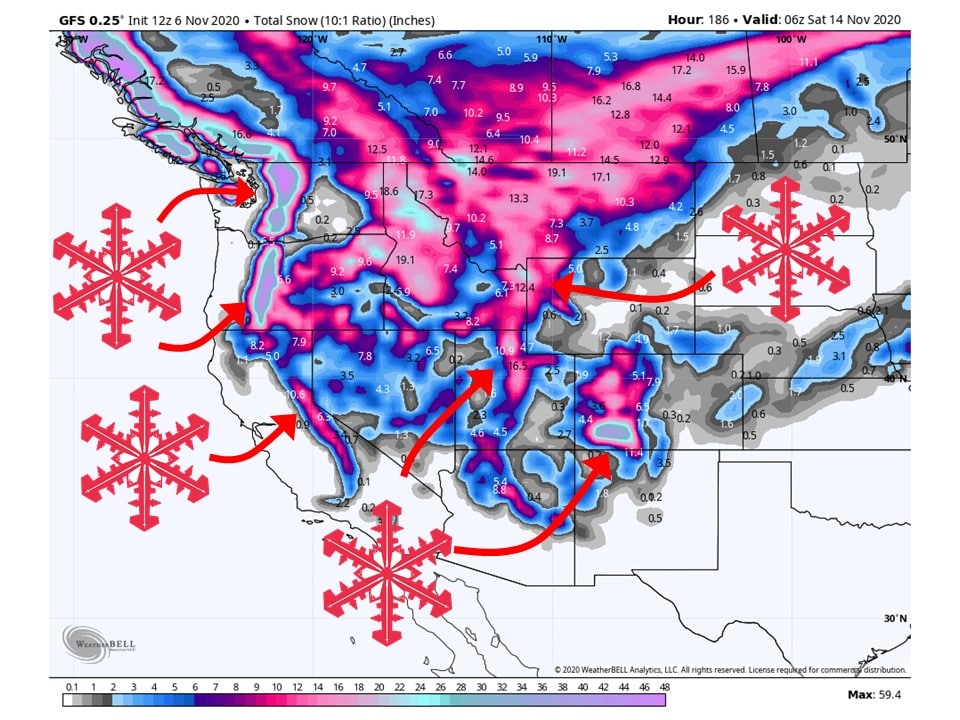 Forecast By SnowBrains Meteorologist – Eric McNamee
11/6/2020 12:50 PM MST
Forecast Summary:
FEET of snow is expected across the western US over the next week as a major pattern change takes place.
A longwave troughing pattern will develop over the western US, allowing for potent shortwave troughs to propagate around the mean circulation. 
Different regions of the west will see rounds of snow at different times. 
Short-Term Forecast:
Friday-Sunday:
This pattern will start by dropping around 8-12″ of snow to the Sierras as the initial trough begins to dig down the US west coast.
As this trough continues to deepen and amplify, high amounts of moisture will be transported in the southwestern US and bring high amounts of precipitation.
In particular, the San Juan Mountains of Colorado will get pounded with 2-4 FEET of snow as extremely moist air slams into the mountain range. 
As this is happening, cyclogenesis will be underway in the Great Basin, bringing widespread precipitation to Utah. 
Around 8-12″ of snow is expected along the Wasatch Mountains of Utah through Sunday night. 
The Tetons look to get about 8-12″ of snow as well. 
Long-Term Forecast:
Monday-Thursday:
Through the first half of next week, the Cascades of Oregon and Washington look to get pounded with 12-18″ of snow as the next shortwave trough digs into the western US.  
Not only that, but the Tetons and Wasatch Mountains look to see another round of additional 12-18″ of snow.
There has been consistent agreement between major global ensembles for the positioning and timing of this trough over the last few days, indicating the likelihood of this playing out is high. 
Extended Forecast:
Friday and Beyond:
Global Ensembles have been indicating over the past week this longwave troughing pattern to continue for long period.
Today's model runs continue to show that with troughing over the western US over a week out.
This means snowfall will continue over the western US for the foreseeable future. 
California:
8-12″ of snow is expected across the Sierra's through Sunday as the initial trough digs down the west coast.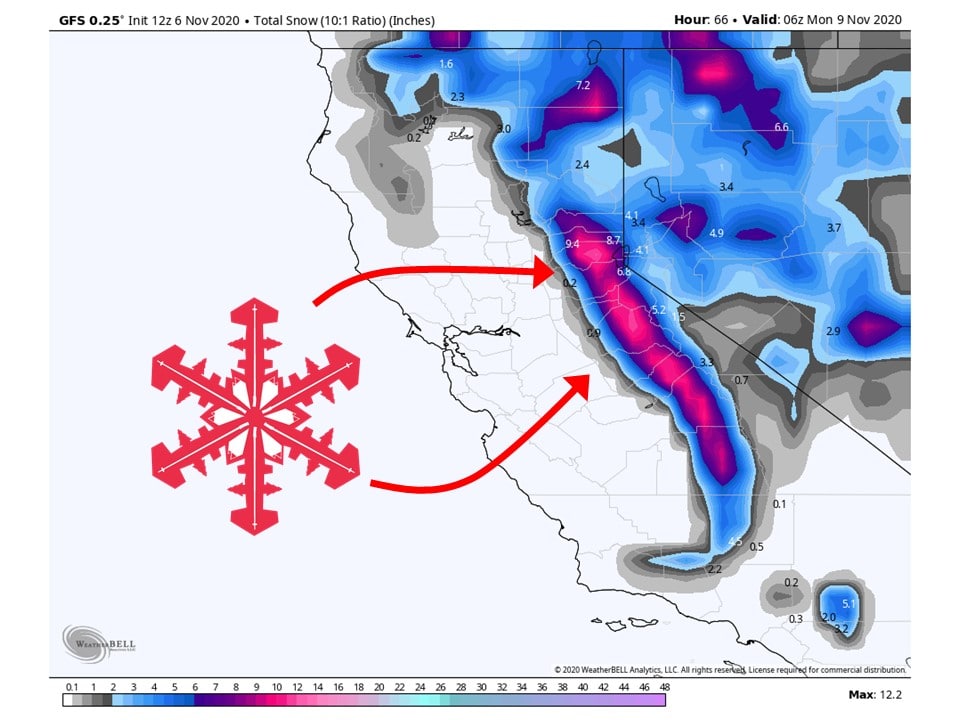 Colorado:
The San Juan Mountains of southwest Colorado are going to get HAMMERED with 2-4 FEET of snow through Sunday night as extremely moist air slams into the mountain range.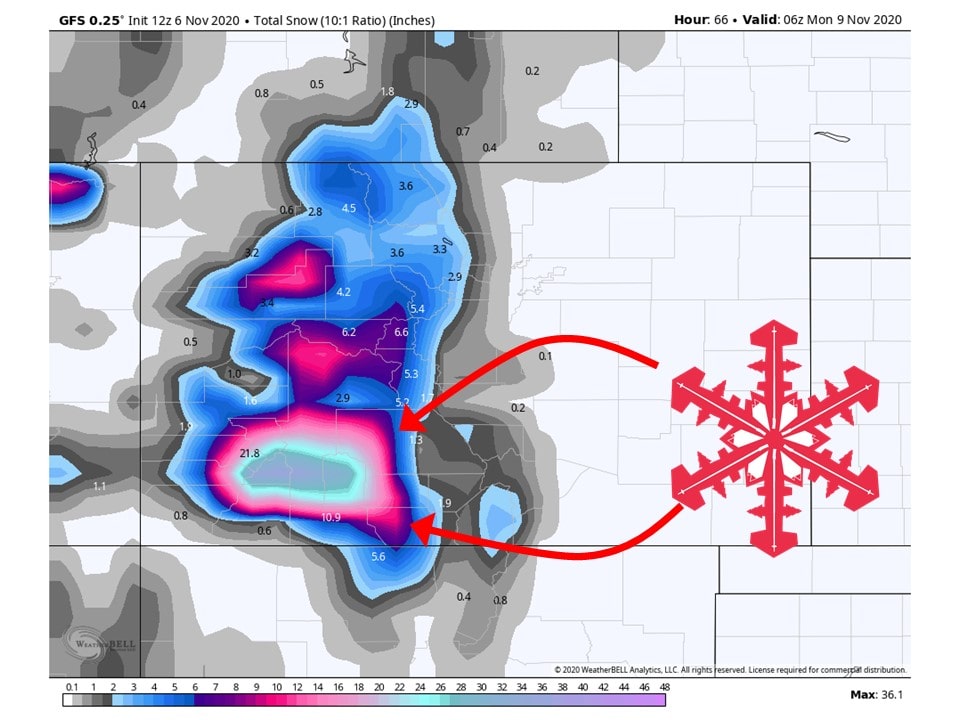 Utah:
Utah will see a decent amount of snowfall this weekend with 8-12″ of snow expected along the Wasatch mountains.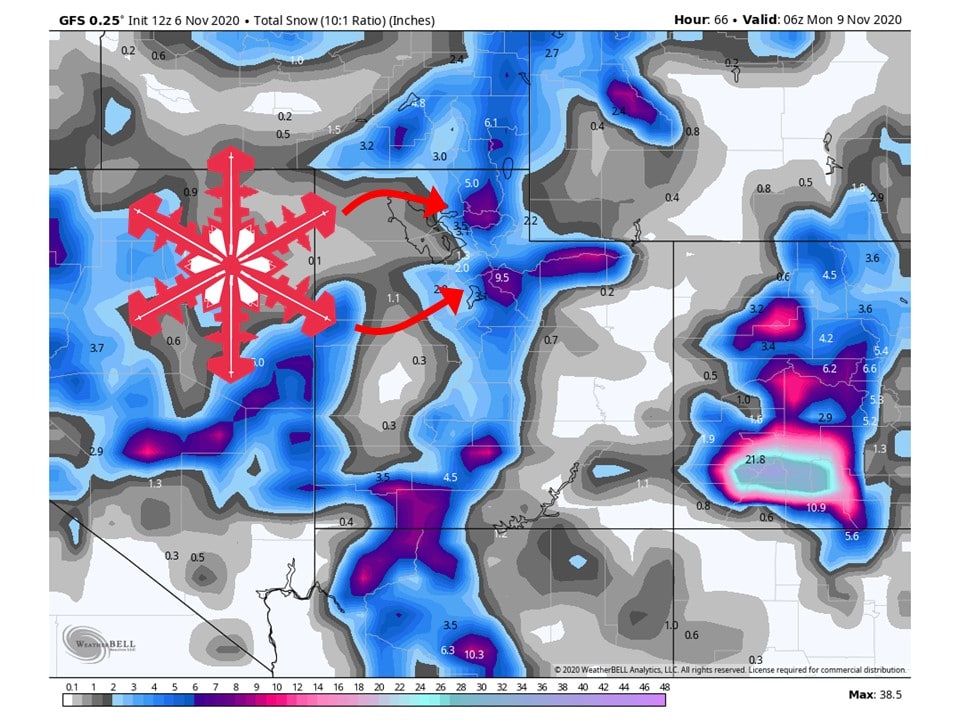 Idaho:
Idaho will see their fair share, with the highest amounts falling in the Tetons, with 12-18″ of snow.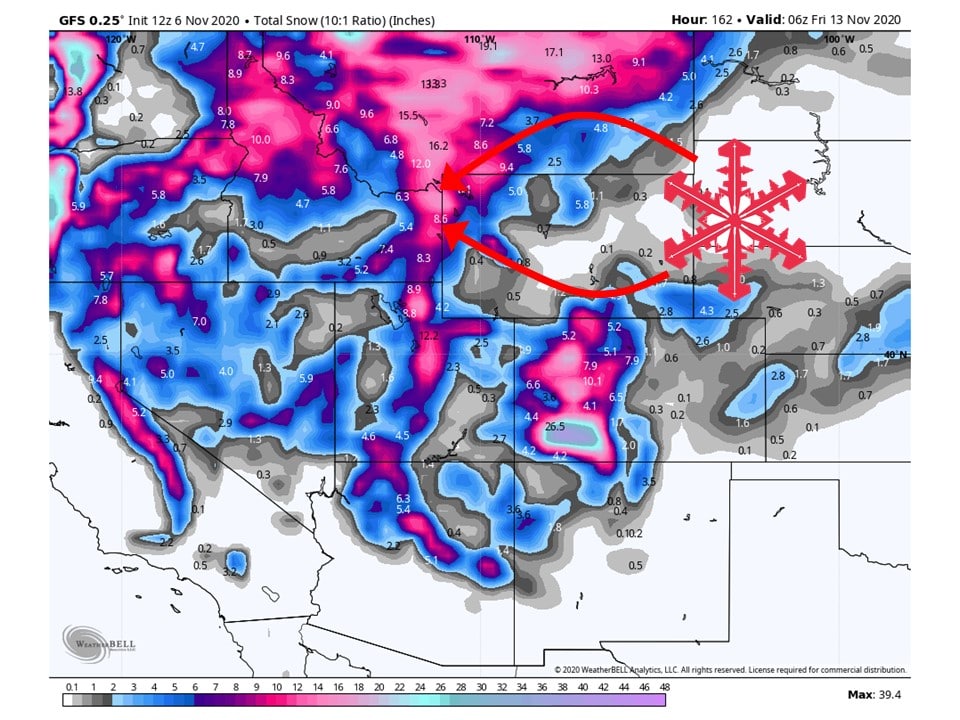 Pacific Northwest:
The bulk of the snow that will be seen in the Pacific Northwest will take place next week as they will see 12-18″ of snowfall along the Cascades.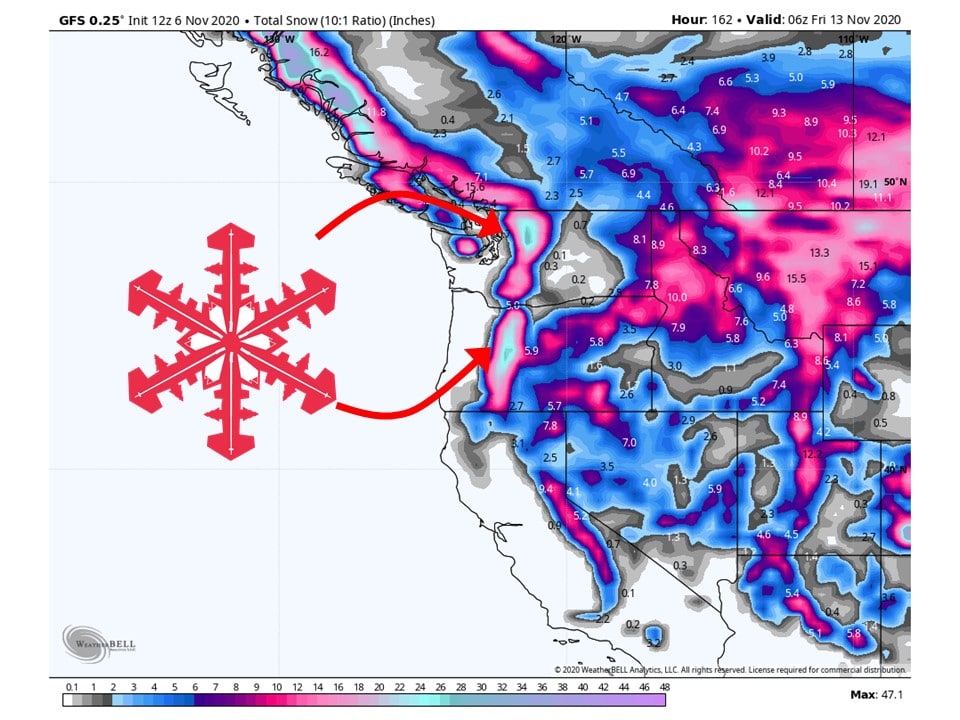 USA:
Prolonged periods of above-average precipitation and below-average temperatures are expected across the western US over the next 6-10 days.