Lifts can provide the public access to terrain that might not be advisable for the majority. While there are hundreds of locations around the globe with obvious dangers, here are a few examples that stand out among the rest.
La Grave, France

Made famous in the US in the 90s by the likes of Doug Coombs (who met his untimely death there), La Grave is known for its one-of-a-kind gondola that provides access to 7,500 uninterrupted vertical feet that is essentially 100% off-piste. While there are suggested downhill routes, one can easily venture in the wrong direction and end up in a couloir with a mandatory rappel or onto glaciers with the danger of open crevasses and tumbling seracs. While the La Grave of today is often tracked out, with couloirs like "La Voute" filled with moguls, it is advised to hire a guide to safely experience the spectacular terrain.
Les Grands Montets and Aiguille du Midi, Chamonix, France

Chamonix is comprised of many ski areas. Les Grands Montets and Aiguille du Midi are the most famous and the most dangerous (though Chamonix's Brévent/ Flégère could also make this list). While the lower terminal of the upper tram at Les Grands Montets burned down many years ago and has yet to be replaced, the area is still dangerous for its access to high alpine glaciers and no-fall couloirs.
Meanwhile, Aiguille du Midi is famous for its access to the Vallée Blanche and big mountain lines such as Couloir des Cosmiques and Mallory. The majority will ski the safest route down the Vallée Blanche – even so, the various runs start with an intimidating boot pack down an exposed ridge. Turn the wrong way, and you could end up on a slide for life in any direction. Note: Les Grands Montets area has marked and groomed pistes, while Aiguille du Midi does not.
Gulmarg, Kashmir
Since its gondola's completion in 2005, Gulmarg has been marred by avalanche deaths. That is not to say one can't have a safe experience. The resort is praised for its terrain and unique experience; however, one must exercise extreme caution before leaping into the steep bowls immediately off the gondola. This SnowBrains article provides information about a more recent incident at the resort.
Courmayeur/Skyway Monte Bianco, Italy

On the Italian side of Mont Blanc, the rotating cable car called Skyway Monte Bianco is a relatively new lift built as a tourist attraction to compete with the French side. The recent upgrade replaced the antiquated Hellbronner cable cars.
The terrain off of Skyway Monte Bianco is spectacular, steep, and exposed, with no marked pistes. While it may share similarities with Aiguille du Midi/Vallée Blanche (it also provides access to the Vallee Blanche), the terrain on the Italian side has one bigger risk factor: entirely south-facing terrain that makes it more prone to avalanches.
Hunter Mountain, NY, USA

While Hunter Mountain has some of the best terrain south of the Greens/Whites/Adirondacks, the resort attracts many unskilled skiers. Racer's Edge, a double black in view from the base area, is notorious for sliding (and likely intoxicated) skiers who have no business being on the run. It is possible to witness multiple skiers with open beers in the lift line at 10 AM.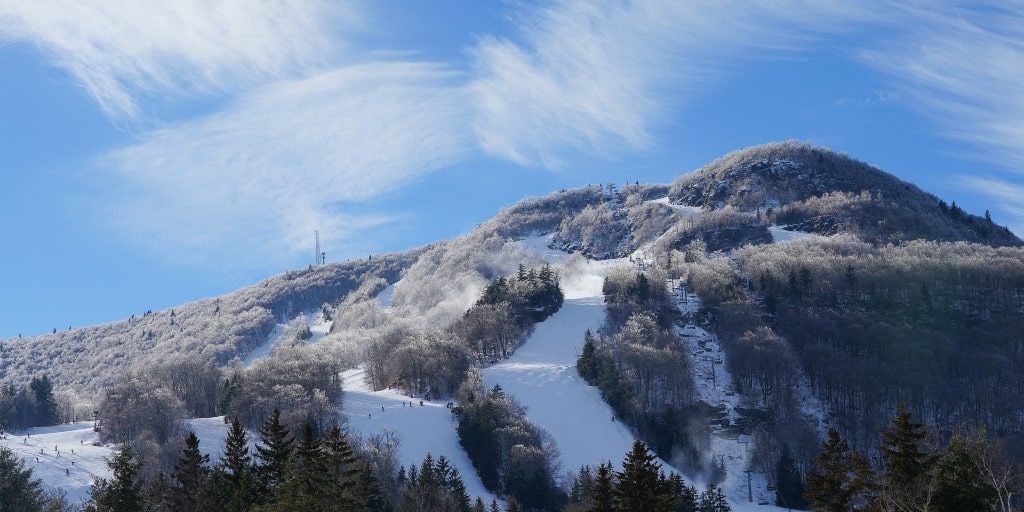 Honorable mentions:
Unguided at Silverton (100% off-piste). Most ski areas in the Alps. With freeriding increasing in popularity, it's best not to fall for powder panic, especially in the Alps. I am hearing more and more stories of skiers triggering avalanches on top of skiers far below. Advice: hire a guide, know the avalanche conditions, and avoid popular zones until you know it's safe. All ski areas have some level of risk; however, not all give skiers direct access to unmanaged and risky terrain. The particular resorts on this list perhaps give the most direct access, where a wrong turn could result in disaster.