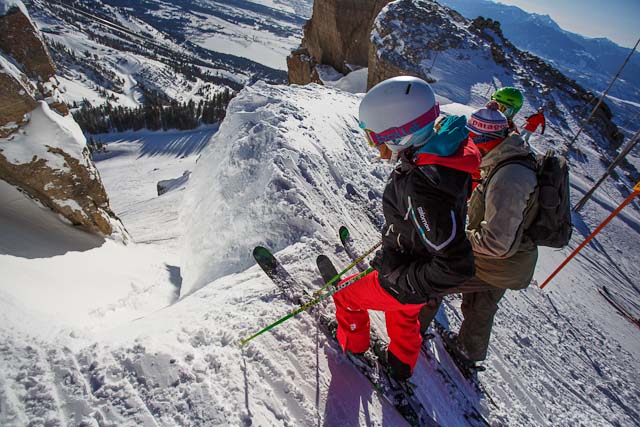 There is a whole lot about skiing that causes it to be considered a dangerous sport. People ski on crazy terrain, in less than ideal conditions, and most tend to be doing this at high speeds. Although many people think skiing and riding is a little too extreme, most of us who do it know it is worth all the risk.
Below are some of the most dangerous ski slopes in the world. This list factors in steeps, bumps, obstacles, narrow chutes and everything else that makes a ski run dangerous or a little bit scary.
The Streif – Kitzbuhel, Austria
Considered one of the most dangerous downhill courses in the world, The Streif has claimed several ski race wipeouts. This course is on Mount Hahnenkamm in the Kitzbuhel Alps of Austria. It's a place where racers ski multiple steep gradients at 90 miles per hour and hit 260-foot jumps.
Great Scott – Snowbird, Utah
Great Scott may not be the longest or steepest run on this list, but it sure is a thrill ride. The challenging part of this slope comes from the large rocks scattered all over the run. A lot of these obstacles are covered in that fluffy Utah snow, so they may pop up unexpectedly. The consistent pitch and rocky knuckles of Great Scott make for an exhilarating run.
 Harakiri – Mayrhofen, Austria
The 78 percent gradient of Harakiri makes it the steepest groomed run in the world. One slip on this icy groomer would most likely send a skier tumbling down the length of the run. Harakiri, the Japanese term for ritual suicide, is a fitting name for the Austrian slope.
Black Hole – Smugglers' Notch, Vermont
The Black Hole offers some of the Eastern United States' most intense glade skiing. Its 53-degree pitch is scattered with bumps, trees, and rocky outcroppings. Skiing down this run may give you a similar feeling of being sucked into a Black Hole.
Corbet's Couloir – Jackson Hole, Wyoming
Jackson Hole's legendary couloir has been listed in almost every challenging ski slope ranking out there. Corbet's is known for its mandatory cornice drop ranging from 10 to 20 feet. After the freefall from the cornice, skiers plunge into a tight chute with large rock walls on either side.
Paradise – Mad River Glen, Vermont
Paradise, one of Mad River Glen's infamous ski runs, is an off-piste trail full of natural obstacles. It is filled with cliff bands, rock outcroppings, tight trees, and a frozen waterfall. The multiple line choices within Paradise allow for a new and exciting experience every time it is skied.
Delirium Dive – Sunshine Village, Banff, Canada
Sunshine Village Resort requires everyone who skis Delirium Dive to bring a beacon, shovel, probe, and ski buddy. The resort also offers a ski clinic devoted to the hazardous conditions of this area. The slope is full of tight chutes, rugged rocks, and inclines up to 60 degrees.
Al's Run – Taos Ski Valley, New Mexico
Al's Run has gained a reputation because of its giant moguls and its length of 1,800 vertical feet. This "famously difficult run" is located directly under Lift 1. It is part of Ski Magazine's Top 10: Bumps and Travel + Leisure's World's Scariest Ski Slopes.
La Chavanette – Avoriaz, France
La Chavanette, also known as the Swiss Wall, is located on the border of Switzerland and France, in the Portes du Soleil ski area. The incline from the top is so steep that the rest of the run cannot be seen. This difficult piste is often heavily moguled and contains icy conditions.