Brought to you by Visit Idaho and Ski Idaho
I was shown a lifetime's worth of skiing by Doug Bernard, my guide for the day with Sawtooth Mountain Guides, Idaho's premier backcountry skiing outfitters since 1985. In early March 2021, Doug took me on a professionally guided tour in the Sawtooth Recreation Area, located right in the heart of five separate Idaho mountain ranges—the Pioneers, the White Clouds, the Boulders, the Smokys, and the Sawtooths. The remoteness of the area—the vastness of the terrain just outside of Sun Valley, the scenery; it all blew me away. I was in awe for it seemed as though there really was a lifetime of skiing out here—and a meaningful one at that. And it's as if Sawtooth Mountain Guides knew all the spots…
"The unique nature of the skiing in this area is its diversity of terrain," Doug said. "There's a little bit of something for everybody—low angle or big objective. Whether you're human-powered or sled-powered there's room for everybody out here. There's so much skiing."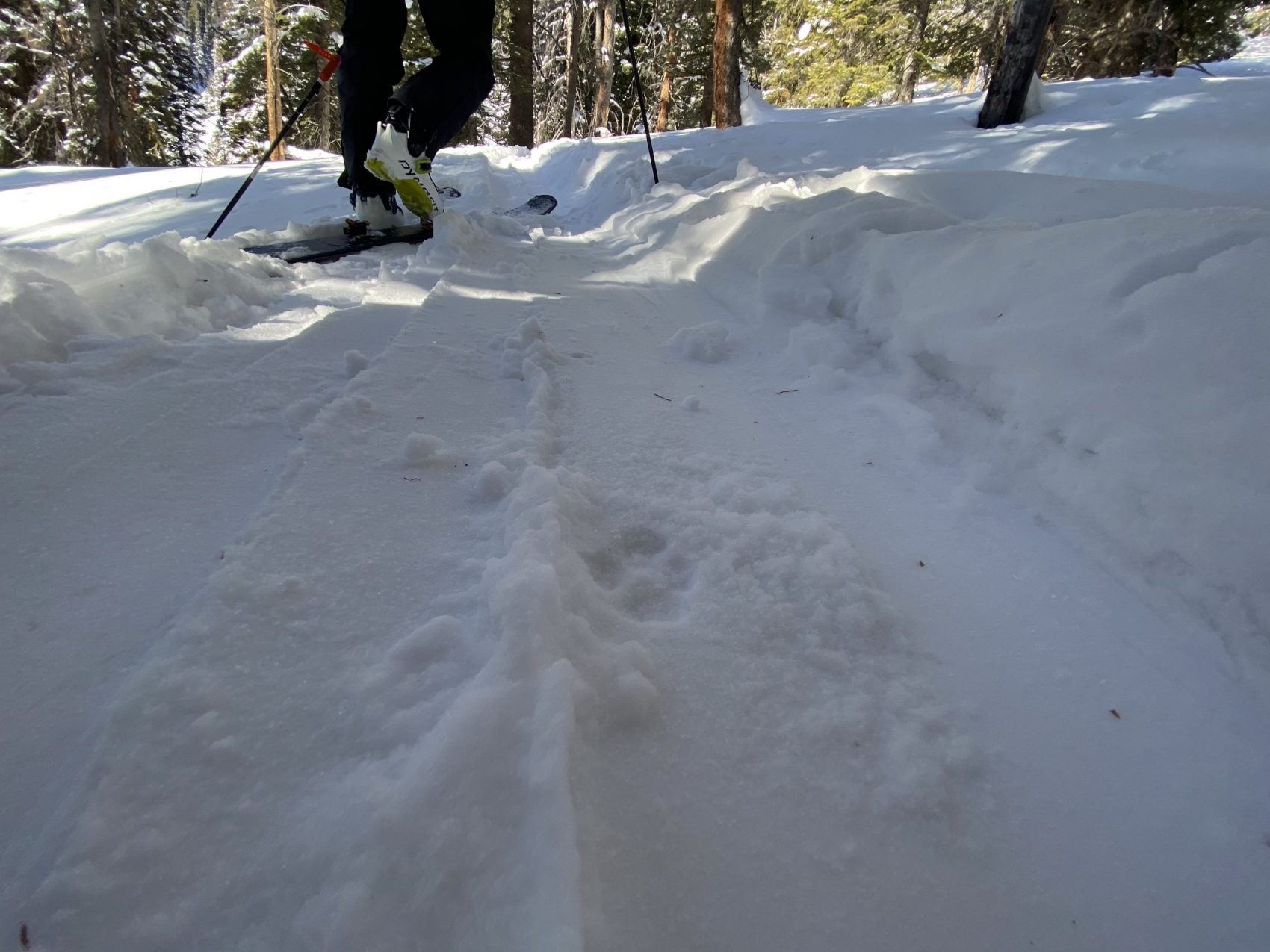 At 9:15 in the morning, Doug and I climbed up the snowbank directly adjacent to Highway 75 and started walking. It was painfully cold and intensely sunny—perfect weather for a backcountry outing.  We took a lonesome skin track through the old-growth forest, earning more solitude with every foot of elevation we gained. Apart from a bobcat print on the skin track and the distant screeches from birds of prey, we felt completely and utterly alone out here.
At the top of a mid-elevation, rounded knob which would be the starting point for the first of four ski descents, Doug and I admired the views. The sharp, jagged Sawtooth Mountains to the West, the smooth, aesthetic White Cloud Mountains to the North, the tall and powerful Boulder Mountains back towards Ketchum—the panorama was almost too much to take in. I felt like a fleshy computer drive not equipped to take on this much raw data through my meager eyeballs.  
After realizing that Idaho has so much more to offer than I initially thought, Doug and I skied a low-angle, east-facing, powder field down to the treeline for our first lap. Because the avalanche danger for the day was rated as 'considerable' at upper elevations and 'moderate' at mid to lower elevations, we ended up keeping the skiing fairly mellow as a deep, persistent weak layer lingered throughout these mountains. But we weren't sad about it because the snow was phenomenal, the terrain was beautiful, and we were the only souls for what felt like miles. The entire day we didn't cross a single ski track other than our own, and, coming from a place like the Wasatch where you often have to race for first turns down a popular backcountry line, this really meant a lot to me. 
As soon as we skied our first line we transitioned and started walking back up the hill. This time around, we were going to descend down the other side of the knob on a west-facing line. The run started out with a rocky outcropping up top that gave way to another open powder field below. The open terrain shot you out through a tree section of ancient, old-growth whitebark pine trees before flattening out into thick forest. I had a lot of fun ripping untracked turns in soft, smooth, sometimes chunky powder and blazing past the red and orange whitebark pines into a forest that felt older than time immemorial. It was like Jurassic Park on ice. 
Wind was minimal and it was often silent as we skinned through the forest, hearing only our skis slap against the snow with each step. We talked a lot about life, love, snowpack, and skiing, and Doug even framed for me an interesting way to think about avalanche terrain.
"It's like going into a bar in a bad part of town," Doug said. "If there was a 'considerable' chance that you would get beaten up or killed walking into that bar—would you still go?" 
This is why we were drinking at the friendly, low-angle powder-skiing bar today. After another pleasant jaunt through the woods, we came upon a peak named '9130' in a wide-open bowl surrounded by pillowed cliffs that shined brilliantly in the alpine sun. A beautiful peak, wide-open bowl skiing, no tracks—I couldn't take my eyes off this area from the moment it came into view on the skin track. I spotted giant cliffs with perfect, deep-powder landings that I imagined hucking off of on a future adventure. A quick water break and we were shortly arcing smooth, satisfying turns down that bowl. With every lap we got a little more fatigued but also a little more stoked.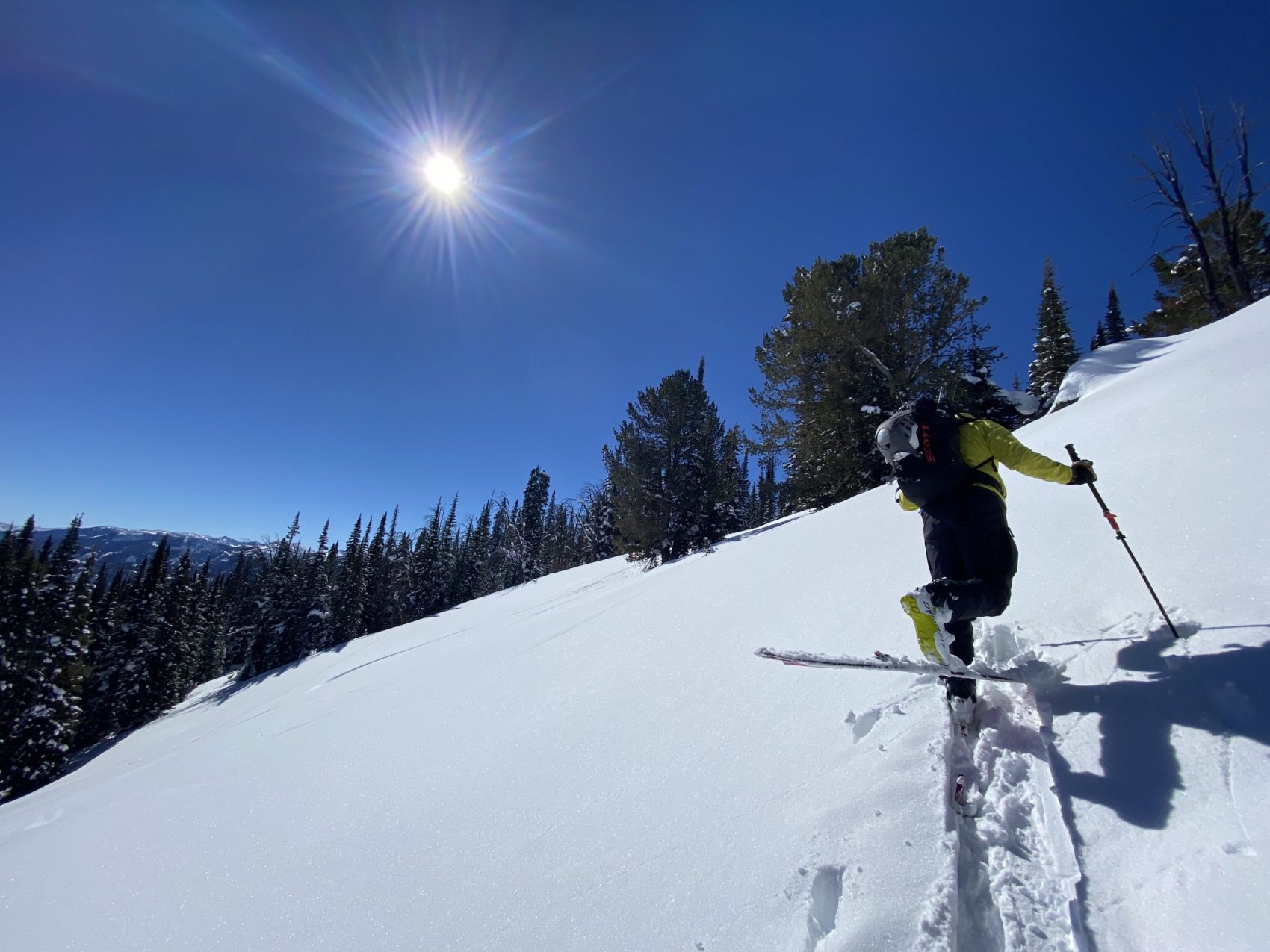 Back on the skin track again, we set back for our vehicles—but we weren't done skiing just yet. We got to hit one more fun, flowy lap all the way back to the highway. At the start of the fourth and final descent, it was fairly open and I sent a little powder knoll that granted me some air. About halfway back to the car, we reentered the primordial forest and skied soft, shaded powder in the trees. The descent shot us right back on the highway where crossing the road ended up being the most dangerous part of the day. 
I would 100% ski with Sawtooth Mountain Guides again and that's not paid advertising talk. I actually thoroughly enjoyed backcountry skiing with them, I learned a ton, and I've found that they really have a strong sense of community within their company. Sawtooth Mountain Guides is constantly striving to make everyone better—the guides and also the guests. They have a strong sort of tribal bond where they want to see all of their guides ascend—to better themselves as much as they can in as many professional ways as possible, from analyzing avalanche problems to becoming stronger climbing guides and brand ambassadors. But it's not just their guides they want to improve—it's also their guests. The people who pay their salaries.
Sawtooth Mountain Guides is incredibly knowledgeable about backcountry skiing and they aren't stingy about that knowledge. They share it with their guests, answering questions and offering tidbits of advice and personal anecdotes to better their guests' experience, to further their backcountry knowledge, and hell, to even make them better skiers and snowboarders, on the uphill and the down. This, to me, is more valuable than gold, and this—to me—is why I will always give SMG a ring on the telephone when I'm back in their area.