The Cambridge English Dictionary defines "marketing" as a job that involves encouraging people to buy a product or service. It comes from the derivation of the Latin word "Mercatus," meaning marketplace or merchant. There are many different types of positions and jobs within the marketing profession ranging from specialists to directors. Their job duties can consist of constructing newsletters, email correspondence, photo and video specialization, and social media management. 
However, the ski industry provides marketing personnel and the influencer culture with a unique range of services and products intended for the public. It is up to the marketing department or the influencer to showcase what products they have to offer to the public in a manner that differentiates itself from the competition. So, how exactly does a marketing team at a ski area approach promoting their products and services to the public? Especially when all other ski areas are marketing the same thing: deep powder snow.
Brandon Ott has been the Director of Marketing at Alta Ski Area in Utah for six winters. Ott has held a wide variety of positions within the ski industry throughout his career before ultimately settling at Alta, which is a big-time ski resort and is known throughout the world for having the best powder on the planet, There is something special about the mountain and locals call it "Alta Magic."
"The environment at Alta makes this a place a mountain that really stands out from the rest," Ott said over the phone. "People come here for the skiing. The quality of our product. People are here for the snow, we just need to get out of the way. We want them (guests) on the mountain and experience something they'll never forget."
Marketing at a ski resort is different and unique to other businesses due to its reliability on the weather providing great snow conditions. Ott understands this well. "The first thing that comes to mind is the intense seasonality," he said. "Other industries are not at the beck-n-call of just snowfall, especially at Alta, because we haven't monetized summer. There's only 3% of the U.S. population that skis, and all of us are trying to get that."
There are always challenges in marketing regardless of what your profession is, and perhaps climate change is the biggest challenge facing the ski industry now. Even though the western U.S. set records for snowpack this year, there is still strong industry concern with the changing environment. "The change in climate is wreaking havoc on everyone with snow coming at all different times," Ott said. "Sometimes we had too much snow because there's only one way into [Alta]." However, not all resorts have it as easy as a resort as world famous for its snow as Alta when it comes to marketing the best snow.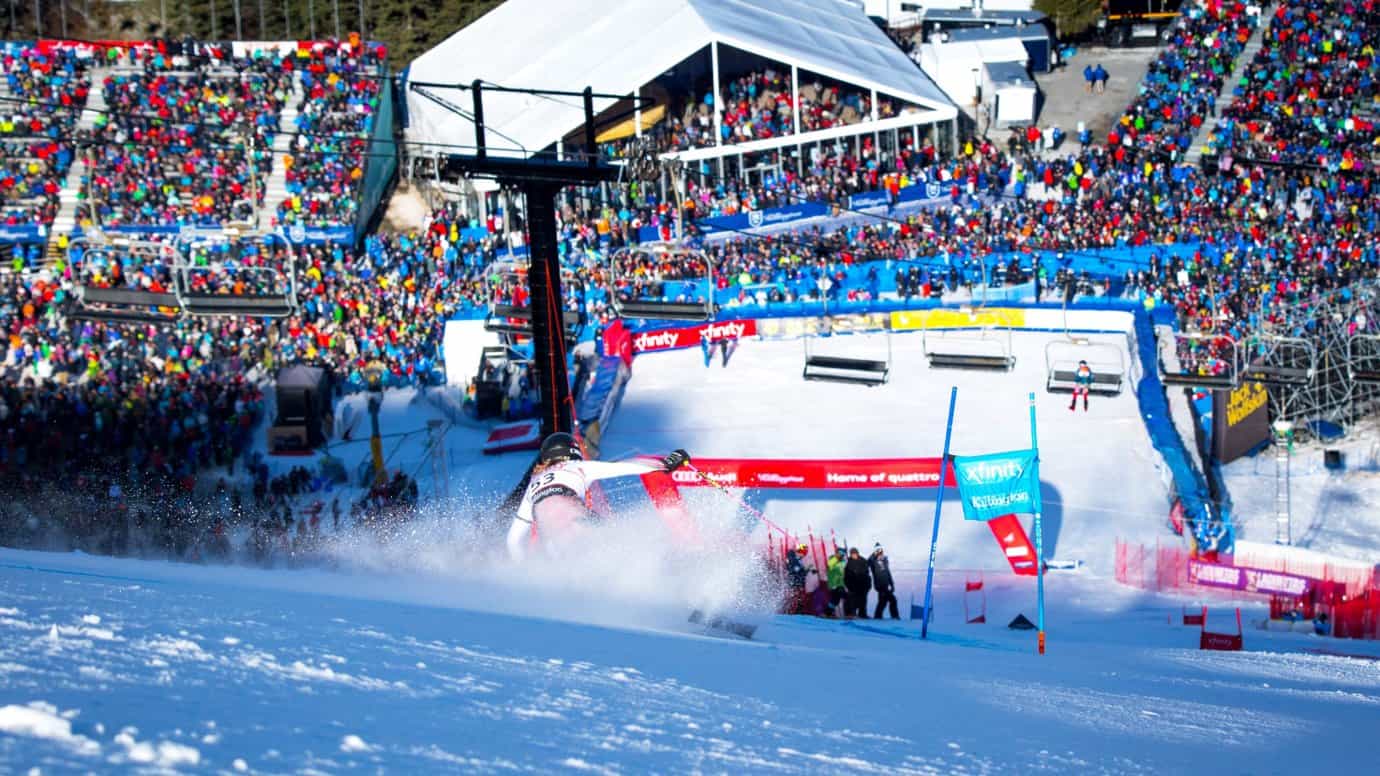 Killington Resort in Vermont is the largest ski resort on the East Coast and attracts visitors from all over the world. Every November, it hosts the Killington Cup, which attracts the largest World Cup crowds in the world. Kristal Killary has been the Brand Marketing & Communications Manager at Killington for three years. Killington is a special place and is usually the first resort to open and the last one to close in the east every year. "Our snowmaking capability enables us to open early and stay open until June. This, combined with being the largest resort in the East, has given us the title of 'The Beast of the East,'" Killary said in a phone interview.
Every ski resort faces the challenges of finding new customers and attracting new skiers and riders who have never done it before. "A lot of people would say cost, but it's also finding ways to market to people who aren't skiing families and communicating that it is a sport you can learn at any age with lessons," Killary said. "Most people, when asked how or why they started skiing or riding, say it's because their parents took them as kids or a friend took them. But how do we market to the people whose parents or friends aren't skiers?"
There are many different ways ski resorts try and target their audiences through advertisements on social media platforms like Instagram and Facebook, but what is the most effective way? Ott said that Alta handles it in a hybrid approach and that social media is very powerful; you can target the exact audiences you want to reach. Killary shared that Killington's approach is utilizing social media, email, and the web, but it does very little radio and no TV advertising. But what about those individuals who market skiing and snowboarding on their own?
Julian Carr is a professional freeskier who received the 2021 George Mallory Lifetime Achievement Award, the 'Photo of the Year' award from Powder Magazine, the prestigious Sickbird Award on the Freeskiing World Tour, along with being an X-Games Gold Medalist who has been awarded many other skiing-related accomplishments throughout his career. He is a huge influencer within the ski industry and the founder of the Cirque Series mountain races, mountain wear clothing company Discrete, and Blake Bronco, which restores classic 1978/1979 Ford Broncos. He is a legend in the ski world for catching the biggest airs on the planet and holds the world record for the highest cliff jump invert at 220 feet. Carr told me on a phone call about the importance of social media within the ski industry because, according to him, we all love watching videos of skiers or snowboarders hitting big air and bumps. "Excellent video productions never go out of style," Carr said. "There is a reason why Banff Film Fest, viral videos, and well-done productions are incredible & excellent vessels to reach core audiences."
Carr said that marketing and brand partnerships can be very important in the ski industry, and it's interesting to see how they actually work. "It's definitely an 'I'll scratch your back if you scratch mine' type of situation," he told me. "As an athlete, I have a Signature glove with Gordini. I have signature boots with Daleboot. From a brand position, we've generated dozens of giveaways with dozens of  [other] brands to drive email lists, although I believe email marketing has severely fatigued in recent years." Killary echoed Carr's response by saying, "We have really strong partnerships at Killington that are mutually beneficial to both parties."
Because Carr is a long-time professional skier who does his own marketing, he's seen how influencer culture has emerged and how it affects the ski industry. "I think it's great that athletes don't need to fit into a traditional marketing model anymore," he said. "These people can build an audience, have a voice, and attract a group of followers that resonate with them. That's amazing. Hence, they're now valuable as a middle-man to reach their audience." As an athlete and an influencer, Carr said competing is purely physical and being an influencer requires professionalism to a degree, regardless of one's skill level in their sport. 
Currently moving at 200mph riding the Shinkansen, Japan's electric Bullet train, and wondering why we don't have a similar system in the USA.

Found it, we can blame the fossil fuel industry for buying up rail and streetcar lines to keep us dependent on automobiles and fossil… pic.twitter.com/b8Ef0ai2qX

— Caroline Gleich (@carolinegleich) July 20, 2023
There are a lot of incredible influencers within the ski industry who do amazing things promoting the environment, gender equality, and sustainability, along with many other relevant topics. Ott said that one of the persons he looks to within the industry is Caroline Gleich, who has been on the cover of seemingly every major ski magazine, in award-winning films, and has climbed some of the highest peaks in the world, including Everest, all while being an activist for social and environmental issues. "Caroline Gleich has done some pretty amazing stuff. She continues to ski, she works hard, and makes the ski industry a more inclusive place; she really stands out to me," Ott said. 
Ott, Killary, and Carr all gave fascinating insights into how marketing and influencers inside the ski industry work. They all agreed on three things: the significance of climate change and how it is affecting snowpack; the power of social media, with Instagram as the big winner in that category; and they all understood the importance of the weather, climate, and snowpack within the industry and the dramatic effects it can have on it. 
As our interview was concluding, Ott wanted to finish by reminding us of something that we should all be grateful for, regardless of our positions within the ski industry:
"The coolest thing about our industry and our obsession with skiing is how much fun it is. To glide down a mountain on snow. It is a pretty cool thing we do every day, to click into a pair of skis."