words and photos by Andrew McLean.  
Check out more of Andrew's impressive adventures here:
I know… it just seems like the snow has just melted and now next season is already sneaking up. Or in the case of Antarctica, the 2014 ski season is finally catching up to the northern hemisphere. November in Antarctica is like April in Utah – the days are getting longer, the temperatures are warming up,  the snowpack is full, generally stable and very skiable. But no matter how long you wait in the Wasatch, it's going to be a long time before you're sharing trailheads with Orca, penguins, Leopard Seals. skus and albatross.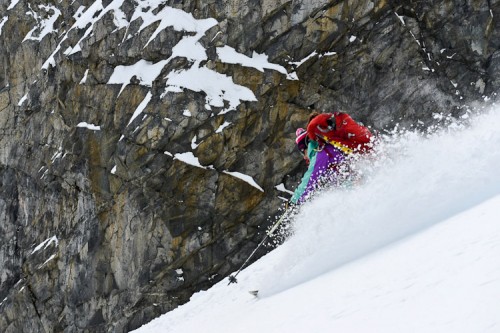 Kim-Chi Havell unravels some Antarctic powder.
Unlike in years past where Ice Axe Expeditions has held their fabled Antarctic Ski Cruise every other year, in 2014 it is being offered as an annual event.  This year will be the third official time this trip has happened, and by now it has become legendary in ski films, magazines and on websites.  The basic idea is to get 120 like-minded individuals together, charter an entire cruise ship, cross the Drake Passage from Argentina and go backcountry skiing on the Antarctic peninsula for seven or so days before heading back across the Drake.  As adventures go, it is outstanding and is easily one of my all time favorite trips.  You go for the skiing, but as anyone who has been there will attest, you get so, so much more.
The Dav in his element – on location.
For continent collectors, this trip offers up a two-fer deal as we usually get the opportunity to ski for a day either before or after Antarctica in the southern most city in the world, Ushuaia, Argentina. Ushuaia is a very sports oriented community and has all sorts of skiing, fishing and travel options around the Tierra del Fuego/Patagonia area, including a national park.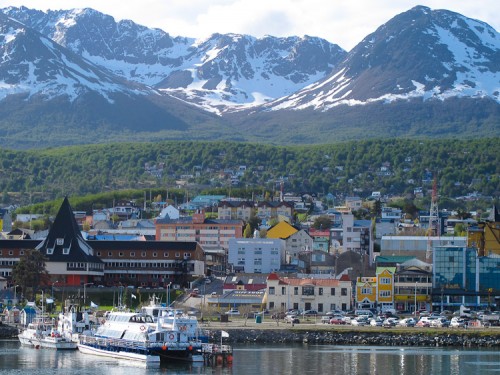 Ushuaia – the southern most city in the world and starting point for the Ice Axe trip.
The skiing itself on this trip is almost anything you want, from spending the day doing a little snowshoeing to going on big tours day after day.  The core nucleus of the Ice Axe trip is a team of four with one guide – two of these groups, plus a driver make up a full Zodiac boat, which is how we get from the main cruise ship to the land.  These groups of four often morph throughout the trip if people decide they want rest days or to ski with a new friend, or old spouse.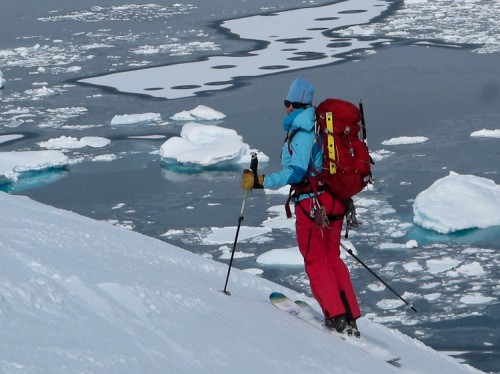 Havell.  When she's not stealing my seat, she's poaching my lines. See ya sucka…
It's ideal to come down with a group of four who all want to ski together and share the same goals and abilities as you can then hit the continent skinning and make the most out of your time.  But, coming down solo or with a partner also works out fine.  In 2013 I had a preassembled group of vert snarfing die-hards which was a blast, but with 20 different ski guides on the trip, plus numerous other guides aboard the ship for bird watching, trekking or wildlife viewing, there is something for everyone.  
The 2013 Ice Axe Expeditions mountain guide staff.  20 pros and myself.
Each of the ski guides has their own style and over the years the group has consolidated into a very high caliber international mix.  There are guides from Sweden, France, Russia, Argentina and the US, and they are all there for the same reason – to go skiing in such an incredible place with a fun group of people  I differentiate my guiding services with such nice personal touches as leisurely 2-3 minute lunches every other day, minimal small talk (or talk in general), a tight rope, occasional water stops, first tracks and as much vertical as possible in a day.  If you are concerned about making the most of your ski time in Antarctica and are an experienced tourer, I'm your man.   But that said, I'm also happy to take a more leisurely pace and enjoy the overwhelming experience of skiing in Antarctica.  It all depends on the group.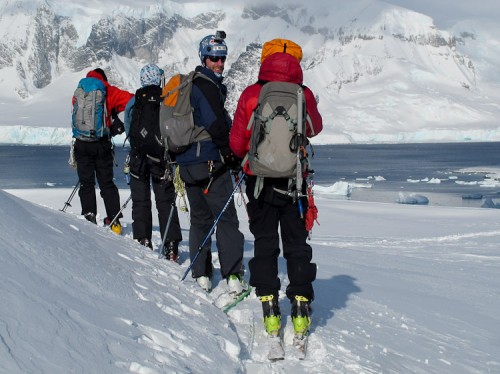 My ski group from 2013.  They all lived.
Space on the boat is filling up and the price options depend on the level of cabin comfort you are looking for.  The less expensive lower level berths often sell out first, although with daily maid service and three delicious meals served per day, even those are hardly roughing it.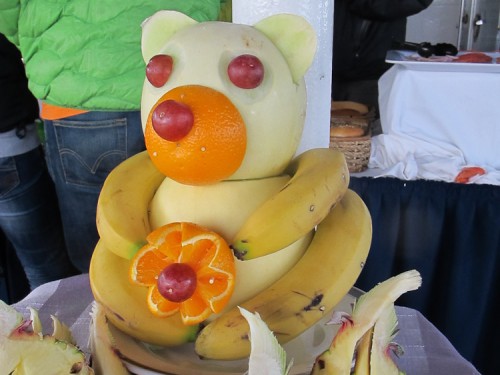 You don't need to bring pepper spray or guns for bears in Antarctica – just knives and forks.
This year the dates are November 5-17, 2014.  For more information check out the Ice Axe Expeditionswebsite, or contact the Queen of the White Continent, Karyn Stanley at 530 582 1246.  For specific skiing, group organizing or gear questions, please feel free to drop me a line.
It's a blast!
If interested in this trip or any other ski trip, please check out our Guiding webpage: