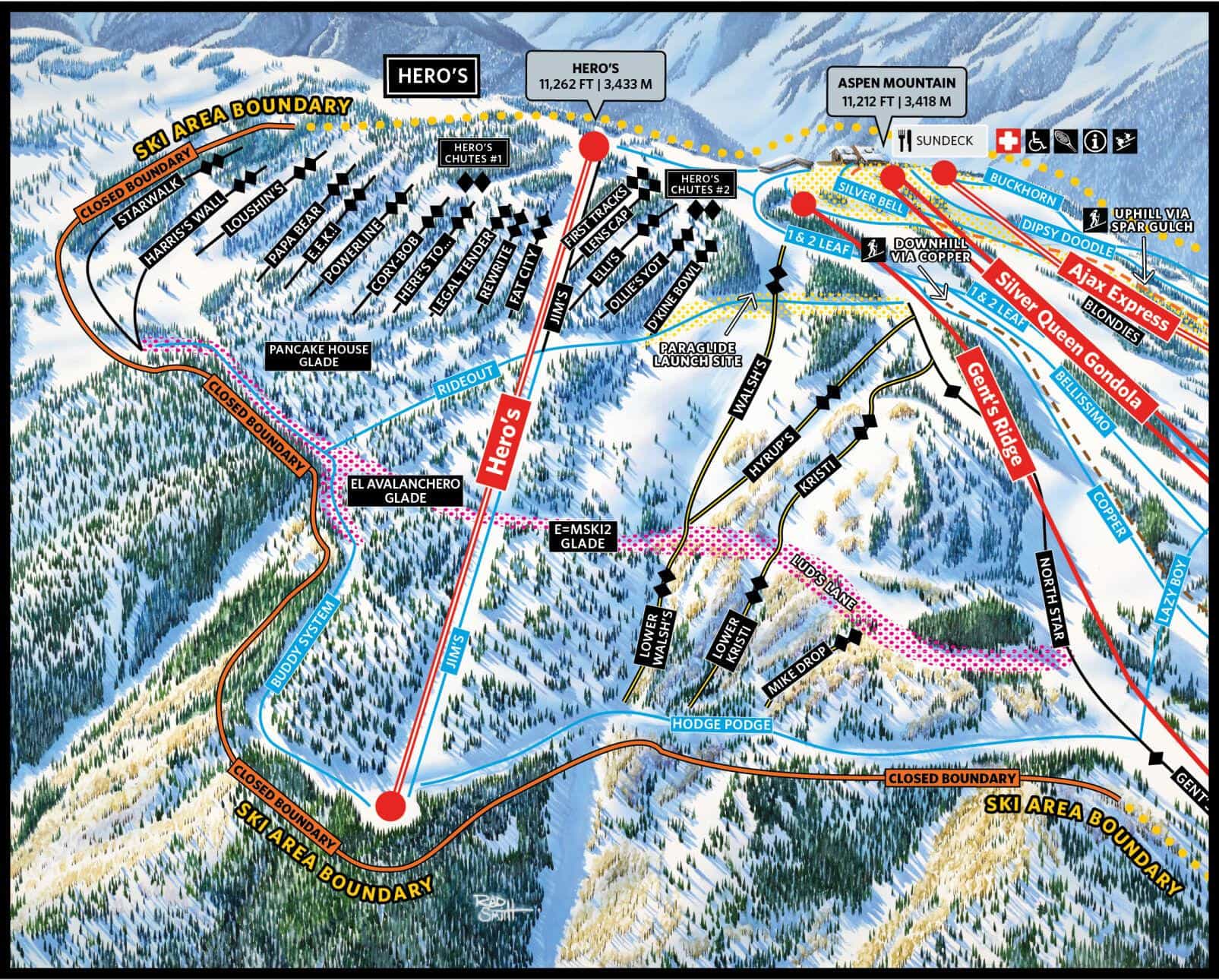 Yesterday, Aspen Skiing Co. officials announced that the much-anticipated terrain expansion at Aspen Mountain, CO, will be called "Hero's" instead of the previously-considered "Pandora." The renaming is a tribute to individuals who have made significant contributions to Aspen as both a mountain community and a skiing destination.
"Hero's" will span 153-acres and includes a new high-speed quad chairlift. Individual trails within the terrain will be named in honor of specific community figures, including Aspen Skiing Co.'s late managing partner, Jim Crown, who died earlier this year in a motorsport accident.
The Hero's area of Aspen Mountain is popular among side country users. The expansion offers 1,220 vertical feet of skiing, 153 more acres, and 15 cut and gladed runs. Skico has installed a 4,191-foot high-speed quad to access the terrain. About 75% of the terrain is expert, and 25% is intermediate. The terrain choice, accompanied by a reliable 10,000-foot northeast aspect, would give it excellent conditions throughout the winter.
According to Aspen Skiing Co. CEO Geoff Buchheister, the area is a homage to people who "have gone above and beyond to contribute, to lead, to make these mountains what they are."
Among the names adorning the new trails are "Jim's," named for Crown, and "Mike Drop," in honor of recently-retired CEO Mike Kaplan. Other runs will pay homage to historical figures, including 10th Mountain Division soldier Percy Rideout and Aspen's first female ski instructor, Elli Iselin.
The expansion was a topic of debate among skiers and Pitkin County Commissioners when originally proposed in 2021. Nevertheless, the new terrain is slated to open for the 2023-24 ski season, marking Aspen Mountain's first significant addition since the Silver Queen Gondola debuted in 1985.
The new terrain is strategically north-facing and located at a high elevation, making it ideal for holding snow in seasons with less natural snowfall. This adds a functional layer to the expansion, acting as a hedge against future climate-challenged ski seasons.
According to a press release from Aspen Skiing Co., Hero's will increase Aspen Mountain's skiable terrain by more than 20% and is expected to open this winter, conditions permitting.