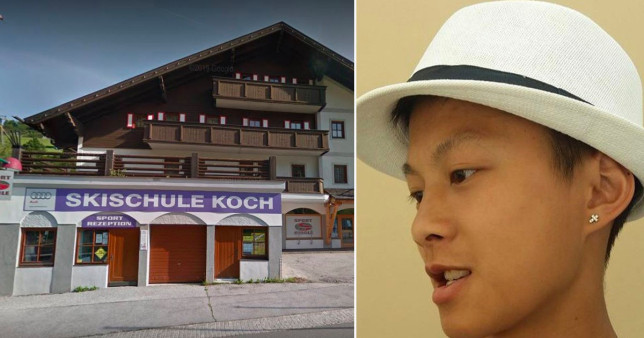 A schoolboy on only his second ski trip in six years tried to pull off a 180-degree turn in mid-air and ended up landing on his head and breaking his back, leaving him paralyzed. He is now suing the tour operator for £5-million ($7-million), blaming the ski school and the instructor for his life-changing accident.
Dillon Fung, 17-years-old at the time, was on a 2016 school ski trip to Obertauern, Austria. His only other skiing experience had been as an eleven-year-old. On the fourth day of the school trip, his instructor took the group to an area called the Fun Park, which had a roller at the bottom. After two unsuccessful attempts to perform the 180 on the roller, he asked the teacher if he could try again from a more 'challenging' angle, to which the teacher replied, "…yes, but don't be stupid, you don't have to do it if you don't want to, don't hurt yourself."
On this third attempt, Fung lost control and broke his back after landing upside down on his head. Now 22-years-old, he is suing PGL Travel Ltd., the company through which the school had booked the trip. It is being alleged that the travel company is at fault as they should be held liable for the actions of the ski school.
Fung's lawyer claims that his client should have been warned of the need to control his speed coming from the more challenging angle and that he shouldn't have been allowed to go down the slope. Due to the 'unexpected steeper gradient' and his inexperience, Mr. Fung could not slow down as he approached the jump. Once mid-air, he realized the seriousness of his situation and unsuccessfully tried to adjust in the air to prevent from landing on his back. Fung broke his spine and was left with a bleed on the brain, a lacerated spleen, and a broken shoulder and ribs. He has complete paralysis in his lower limbs.
Defense lawyers for PGL Travel Ltd. say he caused his own injury through a 'deliberate attempt to perform a trick which was beyond his ability.' The company denies fault on the part of the ski school or instructor, claiming Fung had been warned not to go too fast and that pupils have been told to descend the easier approach to the jump. The claimant suffered his accident because he 'ignored all the instructions that had been given.'
The instructor claims that Fung had demonstrated sufficient ability to check and control his speed throughout the week, suggesting he had deliberately approached the roller with more speed.
Earlier this month, the case came to court ahead of a full trial of the claim, provisionally scheduled for fall 2022.