The top of Peak 10 at Breckenridge, CO, commonly referred to as the 4th of July Bowl, is a great place to get away from the masses during the 4th of July. For the past 3 years, I have made the pilgrimage from town to the top for some summer skiing instead of spending my time in town.
This year was obviously a different situation as COVID-19 has already hit hard in Summit County. Expecting large crowds to make their way up to 4th of July Bowl, we decided to hold off until the 5th to get our summer turns in. We drove up to the top of E chair, dropped off our car, and started to hike up. Luckily, a passing Jeep allowed us to hop in his bed to take us to the base of the bowl!
As we pulled up I was happy to see a lack of people up there. Only about 6 cars at the base and a couple of people hiking up ensured we made the correct decision.
Even better, there was a wiggle…and was it a glorious wiggle. For those who do not know the term, a wiggle is like a banked slalom course that is carved out by multiple skiers following the same line. After a while, it starts to look like a snake coming down the snow.
After setting up our packs we set off up the trail to the top. The top of Peak 10 is 13,640 feet and the elevation gets to you. We took no shame in taking a few breaks on our way up. Once we got to the top the views were phenomenal. We could see the backside of Vail, Copper, Keystone, the Gore Range, Mount of the Holy Cross, and Mount Quandary.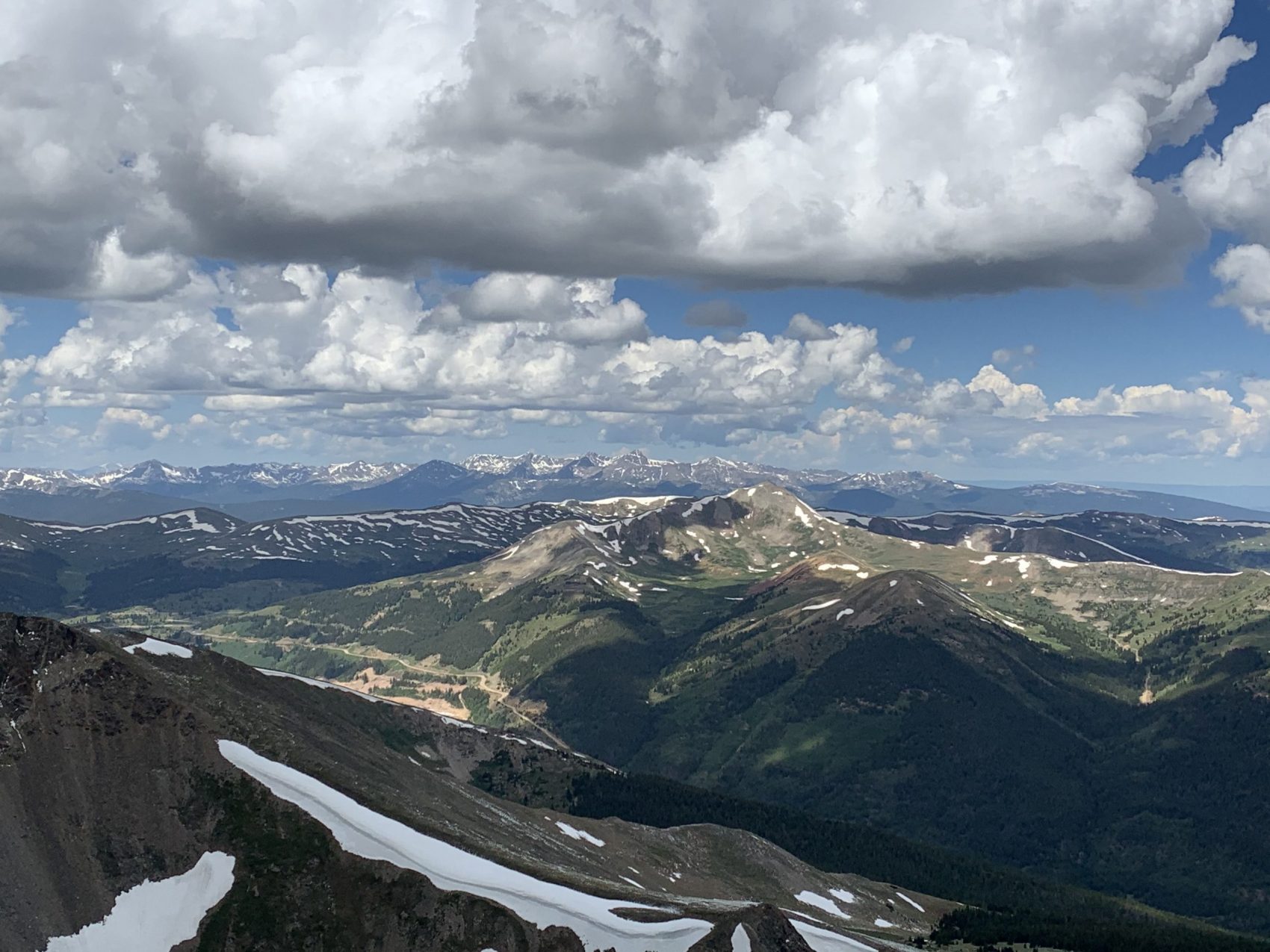 After about a half-hour of socializing at the top, we decided that indeed we did come all the way up to ski down. The snow was at peak corn harvesting levels and made for a smooth ride down. Our line took us to the top of the wiggle where we got loose and sprayed lots of snow. Awesome ride down only lasted about 2 minutes, but it was fully worth it.
For those traveling to the mountains, please try to avoid crowds. Go on days that you think there will be fewer people. As much as it was a disappointment not to ski on the 4th of July, we had just as good of a time on the 5th. Summit County has been hit hard by this pandemic and limiting contact as much as possible is key right now. For those getting your summer turns in, be safe, socially distance, and have a great time.