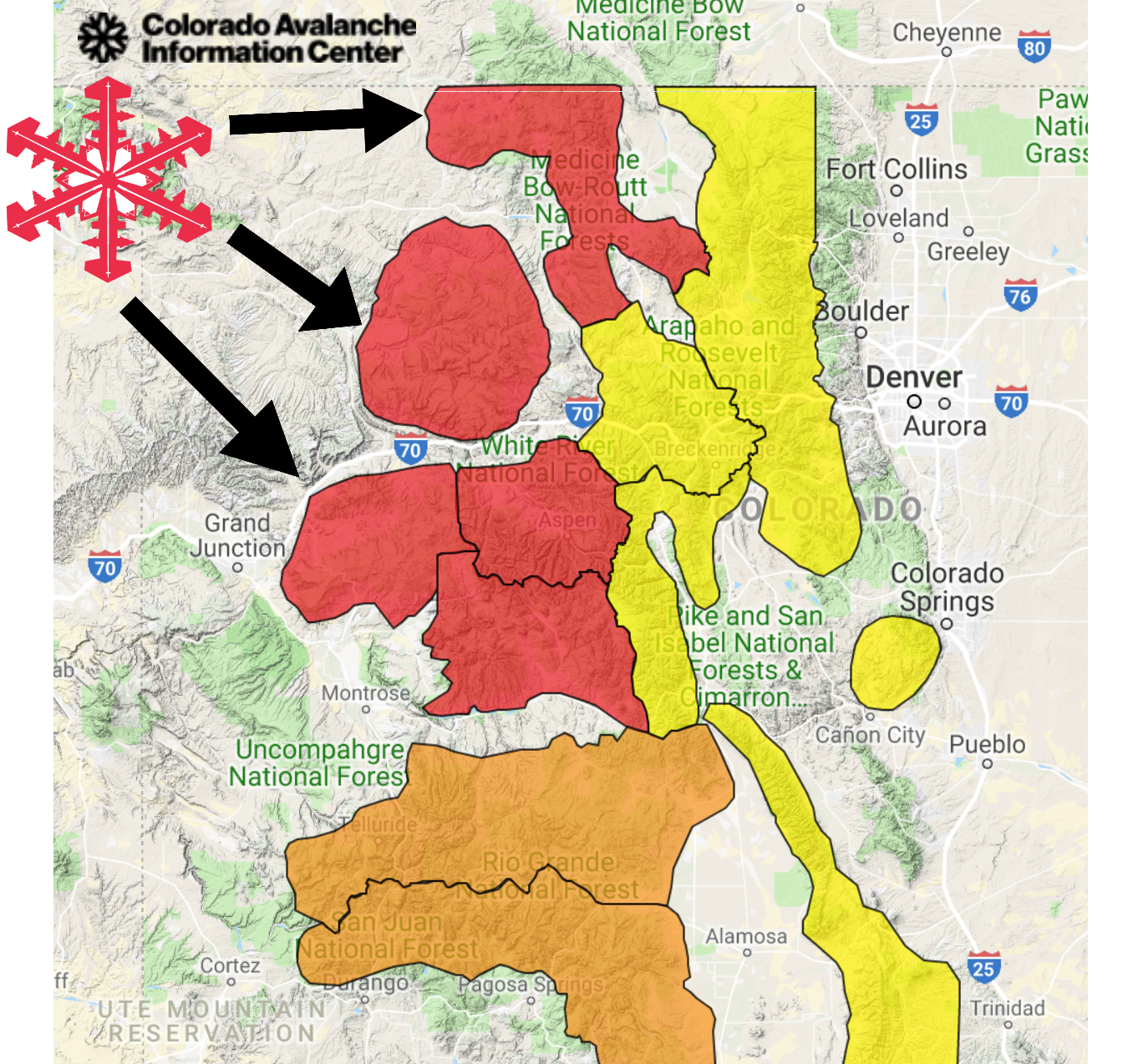 The Colorado Avalanche Information Center has issued an Avalanche Warning for Colorado. The Steamboat, Grand Mesa, Aspen, and Gunnison zones are currently experiencing high avalanche danger. Recent snowfall and drifting snow on top of a weak snowpack is the reasoning behind the warning.
Timing:
6:00am 01/07/19 – 8:00am 01/08/19
Zones:
Steamboat

Grand Mesa

Aspen
Gunnison
Danger:
Avalanche Warning:
BULLETIN - IMMEDIATE BROADCAST REQUESTED
AVALANCHE WARNING
COLORADO AVALANCHE INFORMATION CENTER
RELAYED BY NATIONAL WEATHER SERVICE DENVER/BOULDER CO
651 AM MST MON JAN 07 2019

THE FOLLOWING MESSAGE IS TRANSMITTED AT THE REQUEST OF THE
COLORADO AVALANCHE INFORMATION CENTER.

Avalanche Warning for the 

Steamboat, Grand Mesa, Aspen,

 and 

Gunnison


zones.

* TIMING...Warning is in effect from 6 AM January 7, 2018 to 8 AM
  January 8, 2019.

* AFFECTED AREAS...The Park Range, Elk Head Mountains, Flat Top
  Mountains, Elk Mountains, West Elk Mountains, Ruby Range, and
  Grand Mesa.

* AVALANCHE DANGER...

The avalanche danger is HIGH (Level 4 of 5).


  Backcountry avalanche conditions are very dangerous. Natural and
  triggered avalanches are likely.

* REASON...

Significant snowfall and drifting snow is overloading a
  weak snowpack.

 Large and dangerous avalanches are likely.
  Avalanches may break in or at the bottom of the new snow, or in
  old snow layers.

* PRECAUTIONARY/PREPAREDNESS ACTIONS...

Backcountry travel on or
  beneath avalanche terrain is not recommended.

 Natural avalanches
  are likely to release and run long distances.