Brought to you by Black Ops Valdez
Tabatha Swierk isn't your typical Heliski Operation owner. Tabatha started and runs Black Ops Valdez, one of the premier Alaskan heliski operations. Not only is she responsible for reservations, answering phone calls and emails along with other daily business operations, she's also one of those people that will jump in wherever needed. You might see her fueling the BOV shuttle bus, taking clients on tours of the Valdez Ice Caves on down days, or picking up and dropping off clients at the airport.
A wife, and mother of two daughters, she has carved out her niche in the Alaskan heliski market after years of hard work. Tabatha often jokes, "I never really wanted to run a heli op, it just kind of evolved.  I'd say Josh was more of a push for that." Tabatha Swierk has built a successful heliski operation, along with her husband Josh and partner Aaron Ollivier.
Growing up in a small town in Maine, she has been skiing since she was 5 years old. Her late father, one of 5 siblings in a very ski cultured family, had the biggest influence in her now, ski industry career. Her parents divorced when she was a young girl and money was tight.  Her father scraped by, doing what he could to get used gear at ski swaps to keep Tabatha and her sister on skis. The girls would sell candy bars door to door in their neighborhood for the school ski club to earn discounted or free ski passes. Their dad entered them in local mountain contests, like the Saddleback Mountain Bronco Buster Challenge, to win ski tickets, just so they could ski the next season.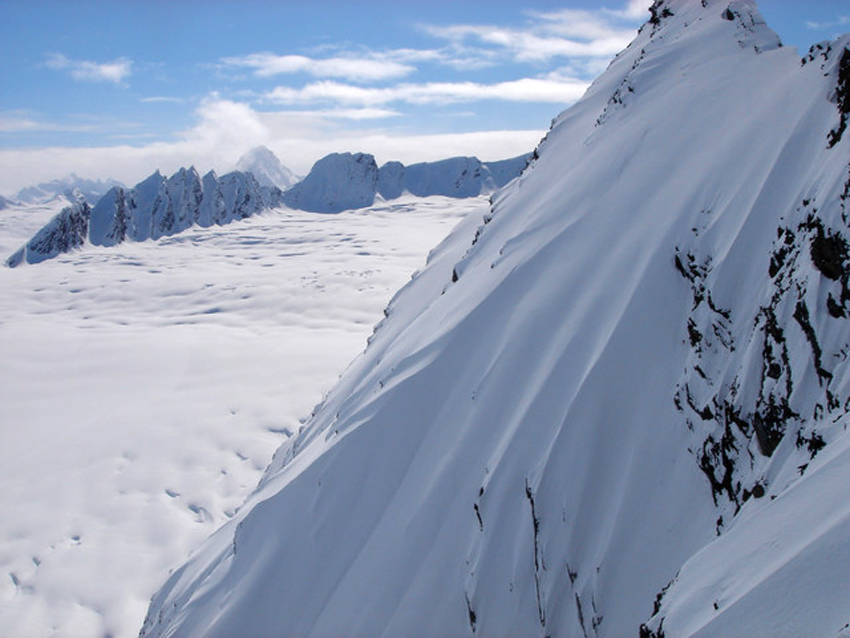 They would ski whenever and wherever they could afford, but her home mountain was Sugarloaf, called Sugarloaf USA back in the day. Later, and into her teen years, her dad would save every penny to take them on bi-annual ski trips out west.
Skiing was always a family tradition. She now reconnects with aunts, uncles, cousins, and friends at Sugarloaf when back in Maine visiting. Taking a break from college, where she earned her Bachelor's in Food Science and Human Nutrition from the University of Maine at Orono, she and her future husband had spent time in Idaho/Wyoming skiing and working at Grand Targhee, which is now one of their favorite mountains. One of her uncles had lived nearby in Idaho Falls for many years, and they often returned to visit and ski together at the resort. That tradition continues today with early season trips to the Tetons to ride chairlifts before heading back north for the spring Alaska heli season.
Today the family tradition carries into the next generation with her two daughters. Both have been skiing since they were 3, Rachel and Alana, now 7 and 9, have more heli runs under their belts than most adults. They first skied out of the helicopter at ages 3 and 5.  They have even heliskied from a heli-ski yacht out of Prince William Sound. "Not too many kids their age have been heliskiing, never mind off a boat off the coast of Alaska. I hope we aren't setting unrealistic life expectations for our girls!", Tabatha laughs. Although the kids don't heliski all that many days each year, they do ski a bunch from the snowcats and snowmachines that Black Ops also runs.
Her first winter in Alaska, she got a job managing the "original" Tsaina Lodge for Scott Raynor, then owner of Valdez Heli Ski Guides, the company founded by Doug and Emily Coombs. "It was just a winter job our first season in Alaska. I never thought we would end up starting our own operation just a handful of years later."
For years, she continually worked three jobs non-stop. She and her husband, a builder by trade, developed and built the Robe Lake Lodge. She would go in to her 9-5 job for the City of Valdez, then drive down the hill to the Totem Inn and Restaurant, change in the car, and pull a full dinner shift. Serving and bartending, and sometimes managing the restaurant until the early morning hours. The next day she'd return to her 9-5 and start the cycle over again, on repeat. Along with these two full time jobs, she was working catering jobs on the side and picking up any other work she could find. Now, juggling a full helicopter skiing operation with helis, snowcats and many other aspects including running their Robe Lake Lodge, along with homeschooling the girls part time when outside of Alaska, Tabatha stays beyond busy.
Obviously, no stranger to hard work, she has helped to build her heli ski business into what it is today. Along with the lodge, heli and snowcat operations, she and her husband now have several rental properties and cabins in both Alaska and Hawaii, and an off-road ATV/UTV summer tour company in Valdez. In 2017 she and her family moved to the Big Island of Hawaii where they spent the winter building a new home, only for it to be taken by lava just months later in the unprecedented 2018 eruption of Kilauea. They returned the next year to rebuild just down the road from where their first home was lost, just below where the lava had stopped, just feet from the back of their new property. They plan to farm pineapple and have some ideas for a couple of other small businesses to start there now that they are settled again.
"We always knew we were building on an active volcano…the most active on the planet they say, and that we could lose whatever we did there, but it still seems surreal. Looking back, I don't think we would have done anything different…I know Josh wouldn't have!"
This summer she has more plans in the works. Along with some unrelated business ideas, she and her husband have also acquired waterfront commercial property in front of the Robe Lake Lodge in Valdez, and have plans to build a newer, bigger lodge, and add a full float plane base and commercial flight service on Robe Lake.
Tabatha is an inspirational example of what hard work and dedication can accomplish, even through the good and bad that life throws at you.