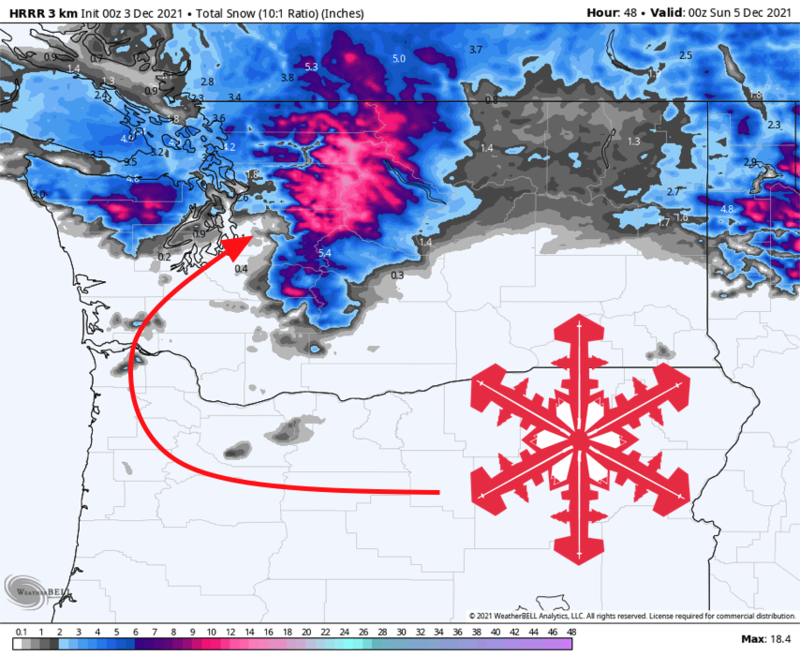 Forecast By SnowBrains Meteorologist Nathan Tarino
UPDATED: 7:00 PM MST 12/3/21
Forecast Summary
Recently, a warm and wet pattern has steadily eaten away at the snowpack in the Northern Cascades. Despite massive rainfall in the lowlands, resorts have been forced to delay opening dates as snow levels have retreated to the highest elevations.
Fortunately, cooler weather is finally in the forecast. A quick-hitting storm will bring snow to all Washington resorts through the day Saturday, generally accompanied by snow totals in the 5-10″ range.
A snowier pattern looks to settle in for the first half of December. Additional chances for accumulating snow will come Monday and again by the middle of next week.
Short Term Forecast:
A strong ridge dominated weather patterns across the American West through most of November. Unusually warm conditions persisted across the West and decimated the snowpack left behind by a cool and stormy October. As a result, we're stuck with the saddest snowpack charts I have ever seen:
Luckily, the ridge is finally loosening its grip on the West, and snow is coming. The first storm is somewhat weak and will arrive early Saturday morning, bringing snow across Washington's mountains through the evening.
By Saturday night, expect 5-10″ of snow at Stevens and the Snoqualmie Pass areas.  Mt. Baker is looking at 4-8″.  Shadowing effects from Mt. Rainier make the Crystal Mountain forecast tricky, but I expect 3-8″ there. Crystal plans to open up with limited terrain this weekend, so the snow will come just in time to be enjoyed. 
Sunday will be quiet before another storm rolls in on Monday. There are still a couple of details to iron out, but this storm looks to produce some decent (6″+) snow totals across the Cascades. 
Medium Range and Beyond
Another storm will arrive midweek. High elevation snow will start up again on Wednesday, lasting into the evening. Yet another round of moderate snowfall looks probable for each of Washington's resorts.
Cool and unsettled weather looks to continue into the extended forecast as well. The ridge that made for the warm November weather is expected to retreat westward over the Pacific, allowing colder storms to drop into the West.
In response, the CPC extended outlooks inspire optimism, calling for cool and unsettled weather across Washington through the first half of December: