Report from August 26th, 2019
Brought to you by Chapelco Ski Resort
The weather wheel keeps rollin' over lakeside ski town, San Martin de Los Andes and its award-winning ski destination, Chapelco. Weekly fronts, delivering every condition imaginable, have arrived like clockwork to keep skiers both eager and on their edges.
La nieve sigue llegando sobre la ciudad de San Martín de Los Andes y su galardonado destino de esquí, Chapelco. Los frentes semanales, que ofrecen todas las condiciones imaginables, han llegado como un reloj para mantener a los esquiadores felices y esquiando "al límite".
Predicted freshies turned up as promised.  However the exhilaration of those laps came at cost of brashly skiing into zero-visibility. Fortunately, Chapelco patrollers can be counted upon to fog dot all in-bounds areas, and there's always the option of befriending locals who know primo lines.
La nieve fresca pronosticada cayó según lo prometido. Sin embargo, el regocijo de esas vueltas tuvo el costo de esquiar descaradamente en cero visibilidad. Afortunadamente, se puede contar con los pisteros de Chapelco para marcar todas las áreas dentro de los límites, y siempre existe la opción de hacerse amigo de un local que conoce las mejores bajadas.
All three cerros were heavily wind affected, yet Del Mocho retained a cache westerly accumulated powder snow. Depending on time of day, trees skied either pinball fast or gumshoe slow while piste proved the most accommodating option overall. Mid-elevation runs–mountain-wide–offered smooth cream corn skiing, and added assurance of even terrain.
Los tres cerros fueron muy afectados por el viento, sin embargo, Del Mocho retuvo la nieve polvo acumulada al oeste. Dependiendo de la hora del día, entre los árboles podia esquiarse a gusto, pero la pista resultó ser la opción más complaciente. Las pistas en la elevación media ofrecieron un esquí suave y la seguridad de que los acantilados ocultos no acechaban adelante.
The same forceful winds which brought clouds (and occasional rain) then helpfully moved them on. This was, in fact, a happy climatic coincidence as skies cleared for start of Chapelco Ski Resort's 33rd annual Tetrathalon.
Los mismos vientos fuertes que trajeron las nubes (y lluvia ocasional) pasaron rápidamente. Esto fue, de hecho, una feliz coincidencia climática cuando los cielos se despejaron justo para el comienzo del Tetratlon anual de Chapelco Ski Resort.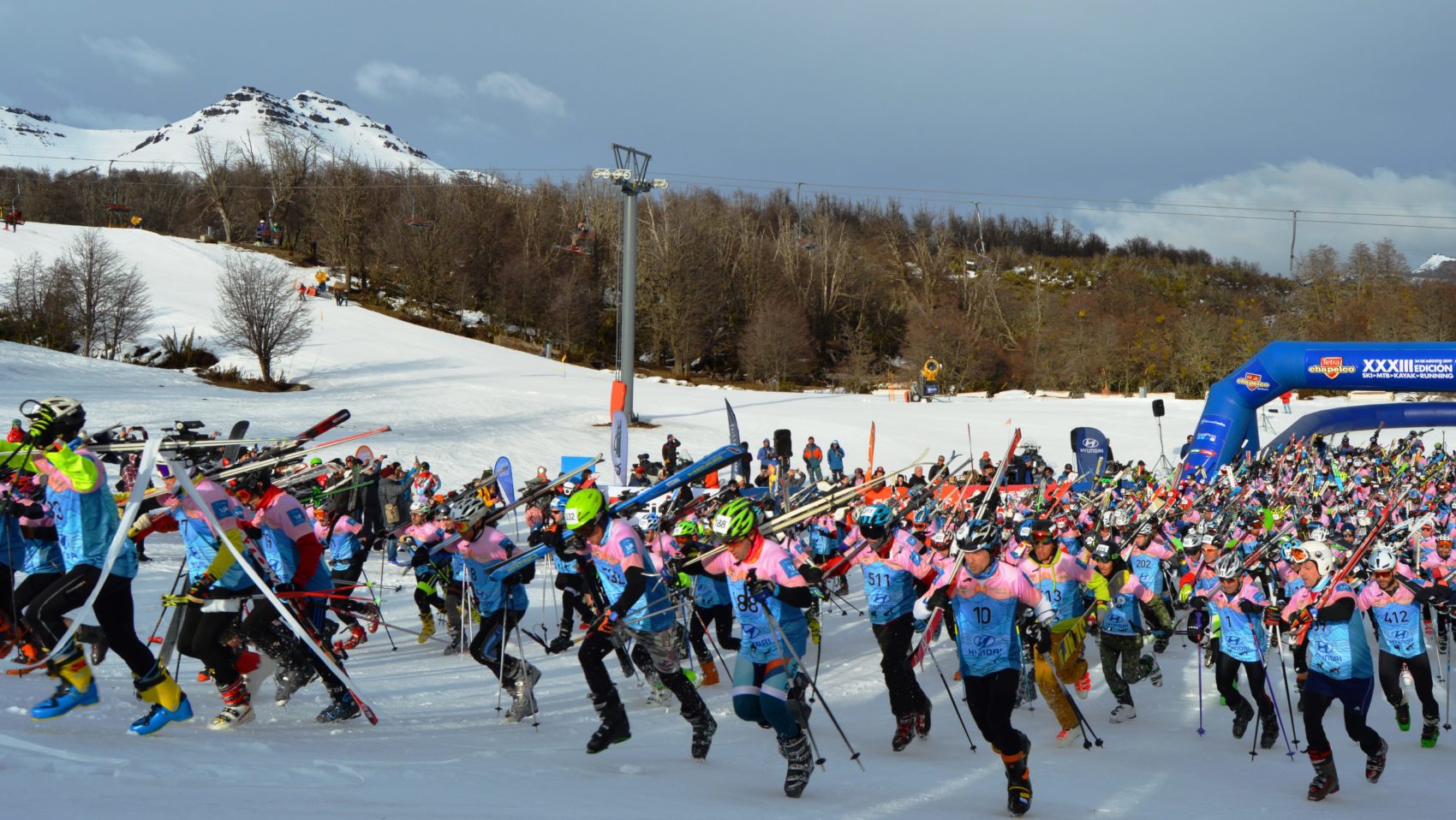 Cheering crowds and 440 multi-national racers joined the day's regular skiing public. Competing athletes first ran up the resort then skied it down, before biking to town to kayak its lake—and all of this under an emerging Andean sun that phased early POW to corn harvest in a span of hours.
Multitudes alientan y 440 de corredores se unen al público habitual. Los competidores primero corrieron cuesta arriba para luego descender esquiando, más tarde subieron a sus bicicleta para llegar a la ciudad donde cruzaron una parte del lago en kayak, y todo esto mientras la nieve en Chalpelco se volvía óptima bajo el sol andino.
Voted Argentina's Best Ski Resort three of the last four years by World Ski Awards, Chapelco Ski Resort is building a strong case for the same honor in 2019.
Nombrado mejor centro de esquí de Argentina tres de los últimos cuatro años por el World Ski Awards, Chapelco Ski Resort sigue construyendo otra gran temporada 2019.

Snow Numbers:
5-Day Forecast: