[Sponsored by Copper Mountain]
If you haven't heard about it already, Copper Mountain has completely elevated the dining experience. Newly remodeled establishments around the village easily catch the eye's attention while overhauled menu items, which are locally sourced from Colorado, catch the stomach's attention.
Looking to start a big day on the mountain properly? Head over to Toast & Co. where you can "toast" to your friends over some craft breakfast. Menu items can accommodate any palate, whether sweet, traditional, or delicate. Got a sweet tooth? Imagine homemade banana bread dipped in custard and topped with candied pecans. Eggs and accouterments more your thing? How does three fresh cage-free scrambled eggs with your choice of up to three toppings: chorizo, bacon, smoked salmon, roasted tomatoes, poblano peppers, caramelized onions, house beans, cotija cheese, white cheddar cheese, mushrooms, spinach, or avocado? More of a millennial? 7 Grain toast smeared with fresh avocado and topped with English cucumber, pickled red onion, microgreens will satisfy. Don't believe me? Once off the slopes, come "toast" to your friends over some boozy craft cocktails. The vibe is a comfy cozy rustic establishment that is perfect for starting or ending your adventure on the hill. 
If you like more of a warm welcoming bar scene, the Ten Mile Tavern can't be beaten. The menu is perfect comfort food; large plate appetizers like chorizo beef nachos, warm hearty soups & savory salads, customizable burgers with any toppings you can imagine, or knock out entrees like braised short rib or Colorado striped bass. Not only is the food menu extensive, but with twenty (that's right, 20!) draft beers there is a perfect suds pairing for any meal. The staff at the Ten Mile Tavern is also incredibly knowledgeable about all things beer. So whether you pay attention to IBU's, SRM's, or ABV's this place can answer all the nitty gritty beer questions. The bar is a mixed inside/outside venue, with fireplaces in both, it is a perfect spot for any weather apres. Best of all, it has loads of TV screens if you are trying to catch a game (or two)!
Ready to call it or want a good place to get a cocktail, then Downhill Duke's is THE outdoor apres ski spot. Right at the base of the brand new American Eagle lift and with stunning views of the mountains, you could not end your day at a better location. The outside bar has heaters for people that get cold easily and warmer-upper craft cocktails for those who prefer to get warm using alternative methods… Downhill Duke's makes for the ultimate convenience; you can ski up, unclick, and have a drink or food in seconds. The menu is traditional but has great diversity, perfect for apres snacking! From artisan meat & cheese plate, smoked salmon flatbread, loaded nachos & street tacos, seared Mahi or short rib entrees, there is something for anyone. One feature that any apres spot must have is live music and there is always someone performing at this spot. This spot is fresh air, craft drinks, live tunes, and stunning views.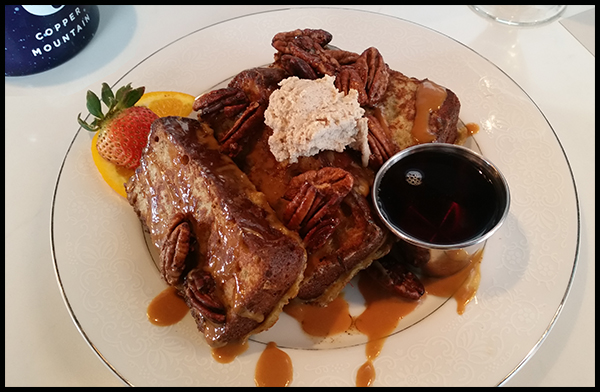 Copper's food game is a standout this year, there is no denying it. Whether you want to toast your friends in the morning and get a craft breakfast at Toast & Co., catch that game at Ten Mile Tavern with any beer imaginable, or watch the sunset at Downhill Dukes with live music and craft cocktails. You can't go wrong at any of these places and there is something for everyone on the menu.