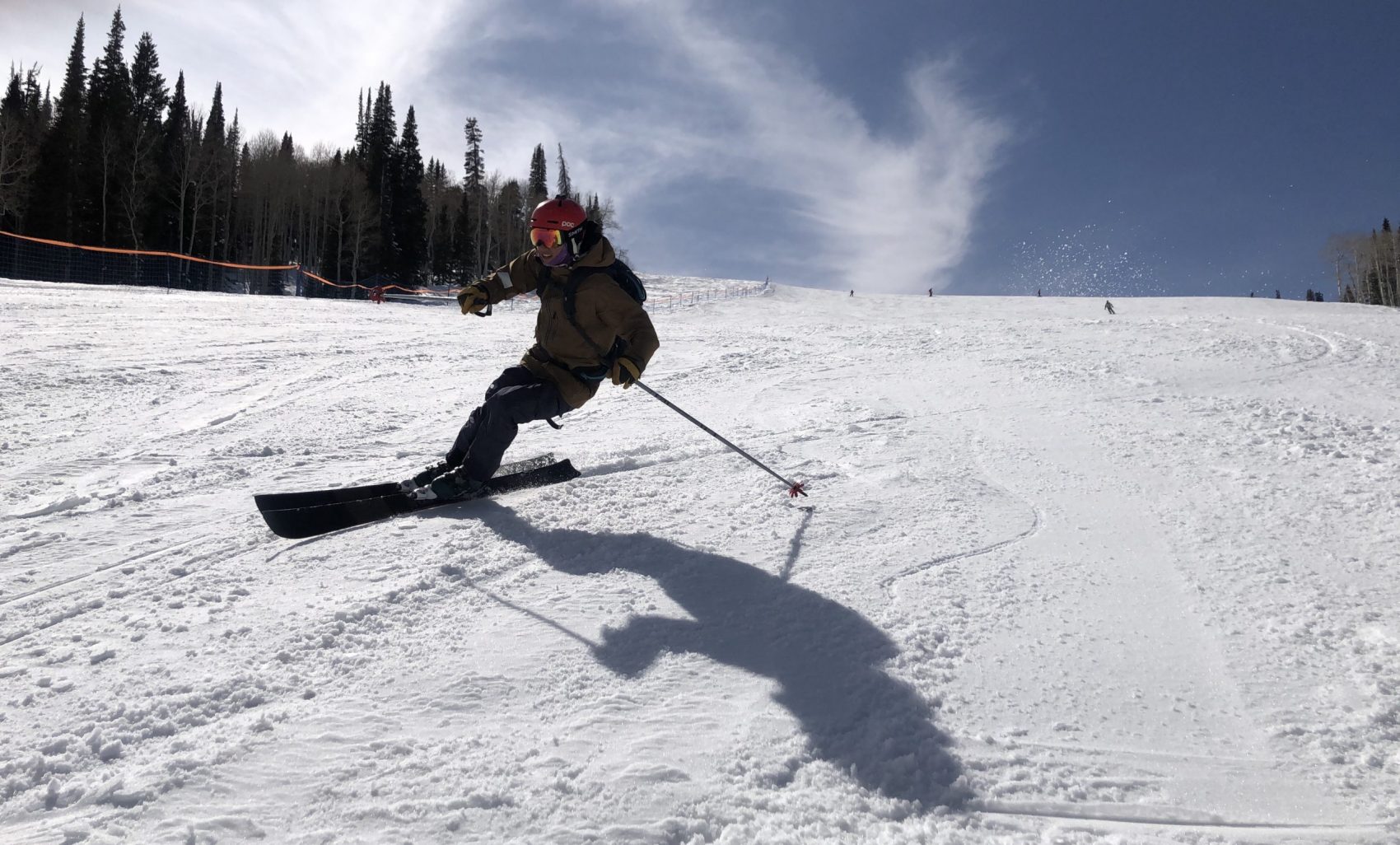 This season I got the chance to test out the brand new Line Blade at Alta and Solitude Ski Resorts in Salt Lake City, Utah. There's no getting around it, this ski looks weird, but it's the most entertaining groomer ski I've ever ridden. Line's new "Gas Pedal Metal" construction and a unique aggressive sidecut came together to make for a unique and thrilling ride.
2020/2021 Line Blade Stats:
Lengths

: 169, 176, 181 cm

Rocker

:  49.5 mm / 27 mm

Camber

: 6 mm

Stiffness

: yes but also no (more on this under "stiffness" below)

Weight

: 2025 grams

Weight per Ski (176 cm): 2025 grams
Dimensions

: 154-95-124 mm at 175 cm

Sidecut Radius

: "tight" Line doesn't even list a number for radius; it's whatever you want it to be.

Construction

: Aspen core with laminated fiberglass + "Gas Pedal Metal."

Factory Recommended Mount Point

: -7 cm from true center, +82 cm from tail
Reviewer Stats:
Name:

Calvin Giddings

Days skied on the 2020-2021 Line Blade:

30

Height:

5'10"

Weight:

145lbs

Skiing Level:

Expert

Ski Length Tested

: 176 cm

Boots used:

Daleboot VFF PRO and Lange XT3

Bindings used:

Tyrolia Attack 13 at rec and Pivot 18 Cast Freetour at -1 from rec

Preferred Snow/Terrain

: Steep and Deep
Locations Tested:
Alta, Utah

Solitude, Utah

Brighton, Utah

Wasatch Backcountry
Who This Ski Is For:
Freeriders

Hard Chargers (on groomers)

Swerve skiers who like holding an edge

Ex racers who want a playful ski that can still carve like a slalom ski

Anyone and everyone else
Overall Impression:
Gas Pedal Metal disconnected at the boot, combined with a true-to-brand Line flex and feel, make for a responsive ski with not only great edge hold and power but liveliness and pop for a playful and powerful ride.

I can't stop going on chairlift tangents about how this is the future of ski construction.

At first glance, these skis' sidecut looked too aggressive to be fun to ride. But the Blades have exceeded my expectations in every way. Gas Pedal Metal lets you charge on groomers, yet the ski is still surprisingly butterable and lively.

Most entertaining groomer ski I've ever ridden.
Pros:
Ridiculously fun to carve

Deeeep carves

Tight carves

Wiggly carves

Swallowtail is perfectly shaped for climbing skin tail clips

Good in chop at low to moderate speeds

These skis look rad

The Blades will take any given rider's swerve skiing abilities to the next level.
Cons:
The power and versatility of this ski depend entirely on edge hold. If your edges aren't regularly sharpened, this ski won't ride well. Similarly, smearing turns is a squirrely experience on glare ice and serious steeps.

Due to the large sidecut in front, and small in the back, this ski drives from the front like a car. In moguls, the Blades struggle due to their aggressive turn radius. These skis just aren't meant for smearing your turns.

If your weight isn't perfectly centered in variable conditions, the aggressive sidecut and wide shovels can cause the tips to catch.

The Blades have a low-speed limit off-piste. Their turn radius is just too tight for eating up chop at high speeds.
Groomers:
This is what the Blades were made for. Due to their freeride mounting point, they feel like a more playful version of the Head Supershape i.Titans.

Before riding these skis, I had always avoided groomers in favor of bumps and trees. Now I love groomers. If these skis can change my mind, they can change anyone's.
Moguls:
Skiing powder-covered moguls at Brighton while wearing the Slope vest. Stay tuned for my review on the vest coming soon! Credit: Calvin Giddings.
My one complaint when it comes to moguls is that these skis don't excel at feathering turns. Once you find a perfect line and rhythm, this becomes a non-issue. I suspect this can be mitigated with a little playing around with the detune, but who would want to detune a carving ski.
Powder:
Laying down some wiggles in the Little Cottonwood Canyon backcountry credit: Ryan Arthur
At 95mm underfoot, these are not powder skis. But after taking these out on a 3 foot powder day in the Big Cottonwood Canyon backcountry, I've gained a newfound respect for people who opt for the skinny sticks in deep conditions. If you like farming as many tight turns as possible in fresh powder, I can't think of a better ski.

In chopped powder, the Blade's low-speed limit becomes apparent. If you want a narrower ski for freeriding off-piste, there are better options out there, like the K2 Mindbender Ti series.
Crud:
The blades blast through soft and shallow chop at moderate speeds due to the Gas Pedal Metal. There isn't enough stiffness to keep the rider from getting bucked around when it comes to deeper or firmer chop at higher speeds.

In hard chop, the Blades can hold their own at low to moderate speeds. At high speeds, the tight turn radius and softness lend for a bumpy, out-of-control ride.
Stiffness:
These skis are pretty soft for a carving ski, but compared to other offerings from Line, the Blades are on the stiffer side. The Gas Pedal Metal is disconnected at the mounting plates, giving these skis that signature Line Ski feel while maintaining edge control and adding a strong and snappy finish to the turn. Despite the titanal layer, the tips of these skis remain accessible for butters and nollies.
Turniness:
Some tight turns in untracked powder in the Big Cottonwood Canyon Backcountry credit: Will Ambler
Line describes the radius on the Blades as "tight." I agree with this statement. However, with its multi-radius sidecut, you can easily open the Blades up and lay some deep trenches. I've heard people say the Blades have an 11-meter turning radius, but their true turning radius is whatever you want them to be from my experience.
Tip and Tail Rocker:
49.5 mm in the tip, 27 mm in the tail
Weight:
At 2025 grams per ski, the Blades are a heavier ski, but this isn't bad. Paired with a carving shape and freeride construction, the extra weight helps the Blades charge through chop. 

These skis are a bit heavy for touring. Even though the swallowtail is perfectly shaped for snugly holding a tail clip, I wouldn't recommend it.
Size:
With such aggressive camber and minimal rocker, the effective edge is quite large. I recommend sizing down on the Blades if you're using them strictly for groomers. If you are a more freeride-oriented skier, skiing them a little longer could be ideal. I'm skiing the 176, while most of my other skis are in the 176-182 range, and it feels like the perfect size for me. 
Construction:
I haven't had these for long, but from what I can tell, they're built like most Line skis: Flexy and playful, with some room for improvement when it comes to durability. The topsheets flake and scuff easily. The durability of the bases, edges, and sidewalls have impressed me, especially with such a low-tide year, but time will tell how the cores hold up after a full season of skiing.
Mounting:
The recommended mounting point worked great for me on these skis. With most skis, I like to mount a cm or two forward from rec, but these are directional skis, and I expect a forward mount would take away from their control with only a marginal gain in playfulness. 

Compared to other carving skis on the market, the Blades have a recommended mounting point that is very far forward. This is why I don't recommend a forward mount. The skis are already built to be skied playfully.

When I remounted these skis with a Cast Freetour system, I had to mount them at -1 from rec and didn't notice any difference at all riding them, which may be due in part to the already forward recommended mount point.
Skinning:
At 2025 grams per ski, the Blades are a bit too heavy for a dedicated touring ski, but they make a great 50/50 ski.

The blades are perfectly shaped for skintrack setting. The wide shovels really lay a nice wide track
Steeps:
After remounting with a cast system, I started taking these into steeper terrain in the backcountry to see how they would perform. Unsurprisingly, this is where the Blades fell short. Like most people when skiing steep high consequence lines, I scrub my turns to control speed. Bottom line, the Blades have a freeride construction in a carving ski shape, giving them a pretty jarring transition between holding an edge and drifting loose. I don't fault the skis for this, though, as they were not designed for this type of skiing.
Bottom Line:
These skis are unlike anything I've ever skied—a dream for playful skiers who want to carve fast on groomers.

A carving ski that can be pushed to freeride (with limitations)

The Line Blades are fantastic. It would be best if you bought a pair. 
Bailing halfway up Y-couloir in perfect riding conditions credit: Calvin Giddings