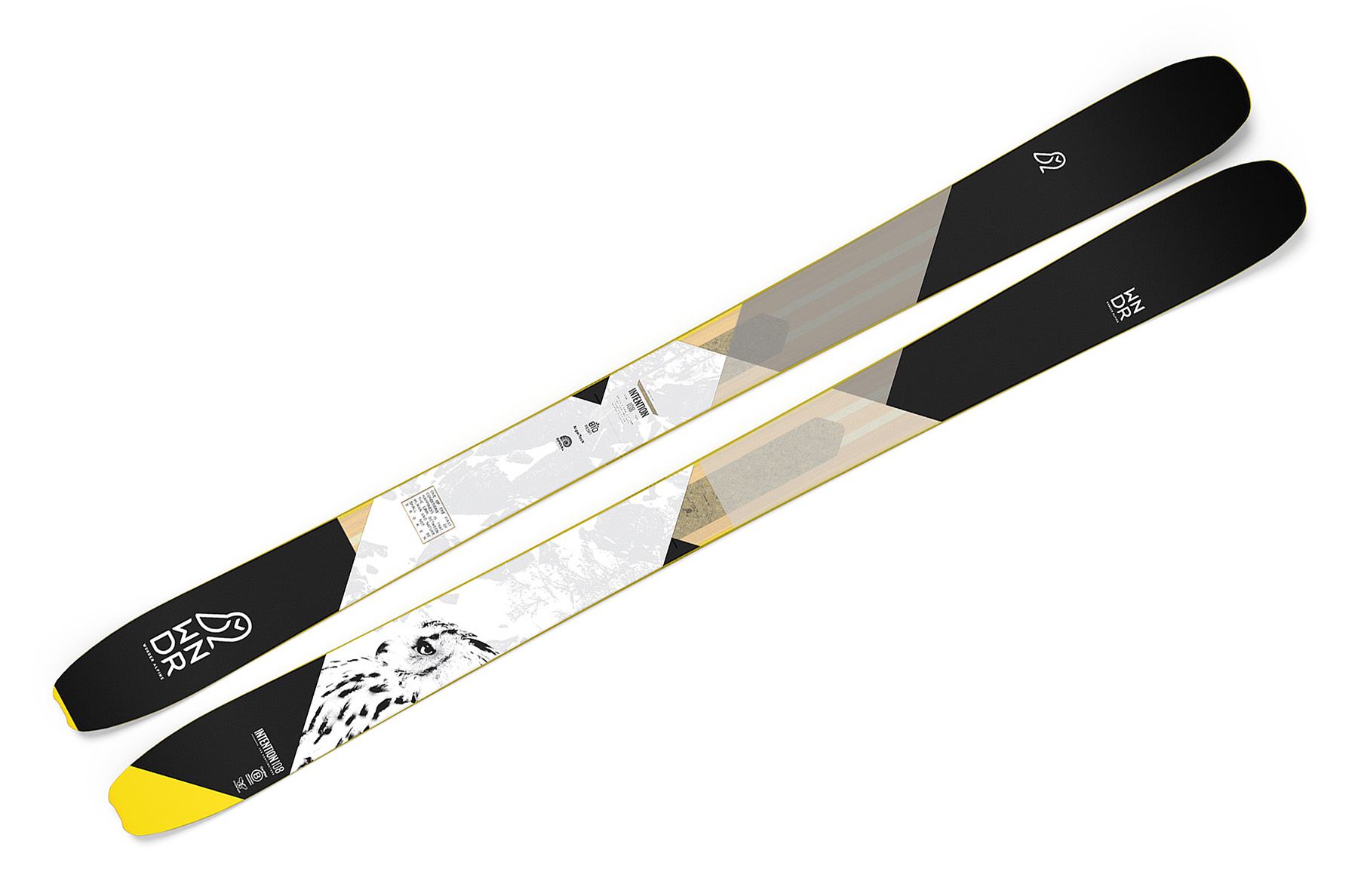 The 2022-2023 WNDR Alpine Intention 108. Credit: WNDR AlpineThis season, I had the opportunity to test WNDR Alpine's revamped Intention 108 skis. Unfortunately, I tore my ACL in early January, leaving me with just three days of experience on these skis. Fortunately, another gear tester has been thoroughly putting these skis through their paces in every condition imaginable this spring; a full review will come from him in a few weeks. In the meantime, this is my early review of the 2022-2023 WNDR Intention 108 from my limited time skiing on them this season.
Reviewer stats
Height: 6'5"

Weight: 175lbs

Intention 108 shape tested: camber

Bindings: ATK Raider 10

Boots: Scarpa F1

Location: Aspen, CO
Technical specifications
Dimensions: 137-108-128mm

Radius: 21.5m @ 188cm

Weight: 2000 @ 188cm

Lengths available: 164, 170, 176, 182, 188, 194cm

Camber profiles available: Rocker-Camber-Rocker, Reverse Camber

Intended Use: All/Big Mountain – Mid Winter One Quiver
I'm a big fan of WNDR Alpine's skis after having tested the Vital 100 Camber and Reverse Camber models, so I was super stoked to see what the next era of innovation brings.
If you're not familiar with WNDR Alpine, take a look at this article to learn more about why they're such a big deal in the ski industry.
Downhill performance
Normally, I dedicate multiple sections of a ski review to all different aspects of the downhill performance. However, considering my unfortunately truncated experience with these skis, I will cover it all in one.
Right off the bat, it's clear that these skis were made with downhill performance in mind. "Enjoyable" is quite simply the first word that comes to mind when describing the downhill performance of these skis. 
The 137-108-128mm shape provided excellent flotation in deep snow, allowing me to skim on top with just the right amount of penetration into the snow and savor that feeling all powderhounds live for. 
Following in the footsteps of its predecessors, the algae-based materials in the Intention 108 provide mind-bogglingly good dampening considering the weight. Charging hard at high speed, these skis withstood everything I threw at them in stride and absorbed shock excellently, considering their weight. In my limited experience in crud and chopped snow, I was pleasantly surprised by the fact that I hardly noticed the less-than-ideal snow as the result of the excellent dampening. As I have been with every WNDR Alpine ski that I've tested, I was impressed by the smooth ride that this collective of scientists and ski designers has produced. Great performance with unmatched sustainability; that's a pretty neat combination.
On hard snow, the longer edge-to-edge time means that initiating turns takes a bit more time than a skinnier ski and makes these skis a bit less maneuverable in tight terrain (chutes, trees, etc.). However, this is very typical of skis this width, and I found that the Intention 108 outperformed other skis in this width class that I've tested regarding maneuverability. This factor is simply a product of the width of the ski and isn't a gripe of mine whatsoever. These skis still rip in tight terrain, but if you're looking for a ski that can you can really push in tight terrain, I'd point you right to the Vital 100…
Touring/uphill performance
While these skis could certainly handle hard-charging resort skiing, they are primarily intended for use in the backcountry, so evaluating the uphill performance is an important component of a thorough review of these skis. At 2000g per ski in the 188cm length, the Intention 108 is the middle of the pack for this weight class. By no means is 2000g an egregiously heavy ski, and for the downhill performance it provides, I am perfectly fine making this sacrifice. If you're putting in 20-mile, 10,000 vertical foot days, you'll want a lighter ski. But for 99% of backcountry skiers, this is a very reasonable weight, especially when paired with a light touring binding.
One feature that WNDR designed into these skis that I love is the slight indentation on the tail. This little dent obviously doesn't affect performance at all, but it helps touring skin tail clips stay in place, preventing them from slipping off and taking time away from your tour having to fix them. 
The bottom line
On the website, under "Intended Use," WNDR Alpine lists the Intention 108 as a "Mid Winter One Quiver." WNDR is essentially claiming this ski can get it done at a high level all winter long. I was initially skeptical, but my suspicions were quelled after a few days on them. Although my time testing these skis was unfortunately cut short, I still feel confident saying that these very well could be the closest thing to a winter "Swiss army knife" ski that I've tested. 
I'd recommend this ski for skiers looking for a ski that they can push all winter long. I'd say the perfect skier for this ski is someone who loves charging hard in big mountain terrain and wants a stable, reliable ski for most of their winter missions. If you're a skier who will mostly be skiing skinny chutes or spending significant time in tight terrain, I would recommend a narrower ski for added maneuverability. And for someone looking to do huge days with lots of mileage consistently in the backcountry, opting for a narrower, lighter ski would be the right idea to give your legs a boost on the skin track.
I would have loved to continue testing these skis into the spring and seeing how they performed on spring snow, but we'll have an updated review in a few weeks from another gear tester's experience in more variable conditions.
Related Articles