Last season, I had the pleasure of testing the 2020-2021 WNDR Alpine Vital 100 Camber ski. That was among my favorite skis that I tested last season; so much so that I came back for more this season. I had the opportunity to test the updated version of the ski in a reverse camber configuration, which presents various pros and cons compared to the cambered version and feels like an entirely different ski. In this review, I'll break down the ski's performance in several categories: powder, crud, hard snow, tight terrain, and touring.
If you're unaware of why WNDR Alpine is so awesome and is creating so much excitement in the industry, you can read my post detailing what makes WNDR so special here. And now, without further ado, the review!
Reviewer Stats:
Name: Clay Malott
Days skied on the 2021-2022 WNDR Vital 100: 35
Height: 6'4″
Weight: 165lbs
Skiing Level: Expert
Boots used: Scarpa F1
Bindings used: Marker Alpinist 12
Testing location: Aspen, Colorado; Mt. Lassen, California; Lake Tahoe California
Technical Specifications:
Dimensions: 126-100-118mm
Radius: 23m @ 183cm
Weight: 1840g @ 183cm
Lengths available: 169, 176, 183, 190cm
Camber profiles available: Rocker-Camber-Rocker, Reverse Camber
Intended Use: Backcountry
Powder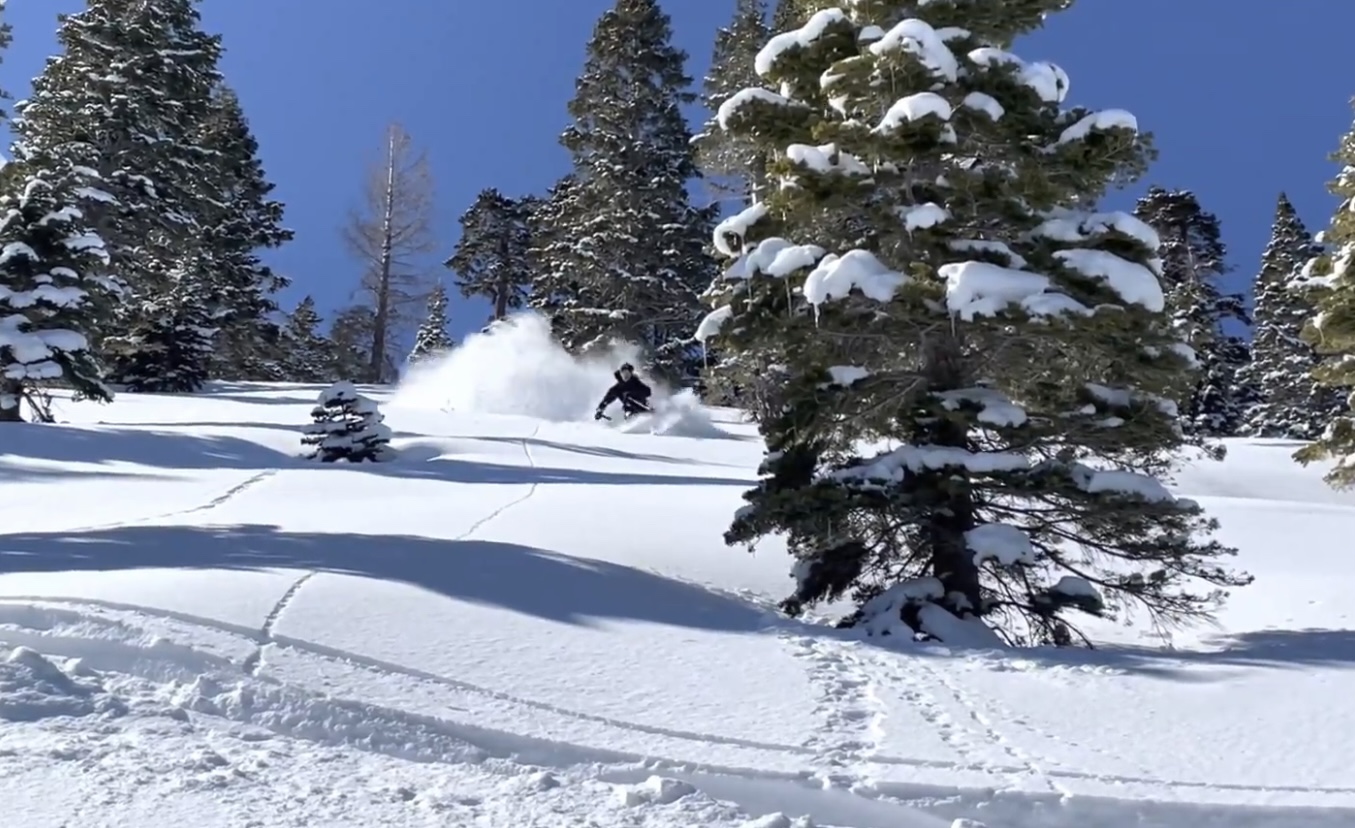 The Vital's performance in powder was easily one of its best categories. Just two words can effectively sum up the ski's performance in this category: dynamic and effortless. The 126-100-118mm shape coupled with the reverse camber ski profile gave it a blissful turn through deep snow. In powder, when I wanted to sink in a bit more, it was very easy to push the ski a bit harder and get it to dive. However, skiing a bit more nimbly on the ski and weighting it a bit more underfoot allowed me to float and only sink down a few inches. This deep snow versatility is one of the main things that I look for in a powder ski, and the Vital 100 RC blew me away in this regard; basically the right powder ski for any powder day.
I skied many powder days on the Vitals this season, and on any given day, from 2″ to 30″, I never found myself wanting a different powder ski. It's rare for me to give a category score of 10, but the Vital absolutely deserves it here. Category score: 10.
Crud
Usually, crud snow is the poorest category for touring skis. Skiing in chopped conditions is always more difficult than consistent snow, particularly when the crud is set up after a minor melt and freeze cycle. While the Vitals got bounced around more than a heavier alpine ski, they were still really impressive when compared to other touring skis that I've tested in the past. Even in horrid chopped snow conditions, the Vital was always manageable and performed well enough where I would say this is not a weak spot for the ski at all. Of course, if you're looking for optimal performance in choppy conditions, going heavier is always the way to go, but the Vital punches above it's weight in cruddy snow. Category score: 8.
Hard snow
Hard snow was another category that the Vital excelled in. Since it's a bit heavier than your average light touring ski, the ski brought exceptional dampness and stability at speed on hard snow. Excellent torsional rigidity made me feel confident loading up the ski on high-speed turns. The Vital allowed me to remain very centered on the ski on rough snow, whereas some other touring skis with a bit more flex force you to get a bit more forward and aggressive in these snow conditions. Ultimately, this means smoother skiing, a more responsive and controlled ski, and less tired legs at the end of the day!
With that being said, this configuration of the Vital 100 is reverse camber, meaning it lacked the effective edge that you'd get from a flexed camber ski. In some ways, I liked the cambered version on hard snow a bit more for this reason. However, it makes it even more impressive to me that the reverse camber version of the Vital performed this well on hard snow. The reverse camber shape is designed to help with floatation, and the rocker of this ski didn't seem to be too aggressive to the point where it took away much from the performance of the Vital on hard snow. This ski is probably the stablest reverse camber ski I've ever skied. Excellent engineering.
With the poor snow conditions this spring in Lake Tahoe, I was extremely glad to have such a stable, damp ski ready to perform on tough snow when I needed it. Category score: 9.
Tight terrain
This was my favorite category from the 2020-2021 cambered Vital, so it was interesting to compare the 2022 reverse camber configuration in tight terrain. Overall, the cambered Vital was more energetic and fun to ski in tight terrain. The camber shape of the cambered Vital gave it some extra "pop" that the reverse camber lacked. However, the Vital is a fairly stiff ski underfoot, so I was still able to load the reverse camber version up and get great energy from the release into the next turn. The Vital has consistently proven to me that it's a ski that wants to turn fast and charge hard in tight terrain if you give it the freedom and energy to do so. Category score: 9.
Touring
At 1840g per ski, the Vital is definitely on the heavier end of touring skis, especially for one that is 100mm underfoot. Of course, this means that it's harder to tour with and tires you out faster. I paired this ski with a particularly light binding, which saved some weight and made things a bit easier. Touring skis are all about balancing two ends of the spectrum: weight and downhill performance. For most backcountry skiers, including myself, I would take downhill performance over weight every time. If I'm going to spend all that energy walking up, I might as well enjoy the descent, right? In the case of the Vital 100, sacrificing a bit of weight and energy on the up is certainly worth the added downhill performance for the descent. Category score: 8.
Overall impressions
After having skied the Vital 100 cambered version all last season, I had high expectations for its reverse cambered counterpart. Fortunately, I was not disappointed. The Vital 100 reverse camber is a strong ski all around but really excels in soft snow. I'd recommend this ski to anyone who cherishes the descent and is looking for a winter/spring daily driver, something that performs well in every single condition imaginable. If the Vital 100 reverse camber had been my only ski this season, I would have been just fine. That's how good it is in a variety of conditions.
Pairing the Vital 100 camber and reverse camber skis would make a great two ski quiver. While both skis are excellent in all snow conditions, the reverse camber shines in soft snow, and the camber version excels in less ideal snow conditions and tight terrain.
Kudos to WNDR Alpine for designing such a great product while maintaining its mission of sustainability in the outdoor industry!