Growing up in England, I didn't get the opportunity to learn to ski. A handful of school trips to Europe in my early teens gave me a start in the sport and ignited a passion, but they were just as much about pointing downhill and tucking, racing my friends, as they were about honing the finer points of ski form.
Fast forward to now, and I've spent the last twelve winters in Colorado without taking any lessons. Skiing a hundred days a season and hanging out with buddies who are instructors, and I can now ski pretty much anything. But the art of skiing, I've yet to master that.
I could take lessons, but at the cost of hundreds of dollars, I am reluctant to. I'm a ski bum; I don't have that sort of cash!
Enter Carv. These two footbed sensors (one in each boot) connect to your smartphone, analyze your skiing, and give you real-time feedback (headphones required). Down to the millisecond. Every angle, every carve, every turn, every single little movement, up, down, left, right, you make, they're critiquing you. There's no escaping their watchful eye. I've heard nothing but good things from friends, instructors, other reviewers, and even pro skiers about this digital instructor that can improve your skiing.
It's like having a private instructor follow you round. Every single minute of every single day you ski. For a fraction of the price.
Installation was straightforward. Remove boot liners, insert footbed sensors (which consist of pressure sensors, accelerometer, and gyroscope), and replace liners. I was a little concerned that the extra few millimeters beneath my feet would alter the fit of my professionally fitted boots, and to some extent, it did for a day or two, but I either got used to it or the liner packed out. The battery pack, which also houses the processor and Bluetooth receiver, attaches to your booster strap.
Of course, like any GPS-enabled device, at the end of the day, you can see your top speed, your distance, the vertical you skied, and your runs on a map. That's all pretty standard stuff. However, the real-time analysis and feedback make Carv stand out.
Developed with input from PSIA (The Professional Ski Instructors of America), CSIA (Canadian Ski Instructors Association), and a team of the world's best instructors, Carv has analyzed millions of turns. The Carv inserts gather data about your balance and movement on the slopes and relay it to the app on your phone. Through 72 pressure sensors (36 on each foot) with nine-axis motion, the Carvs can give you data on 35 metrics assessing your skiing. The app then translates all that combined data to show you exactly how each of your ski boots is oriented in space, where and how hard you're pressuring each ski, how well you're initiating each turn, and to what degree you're getting your skis on edge.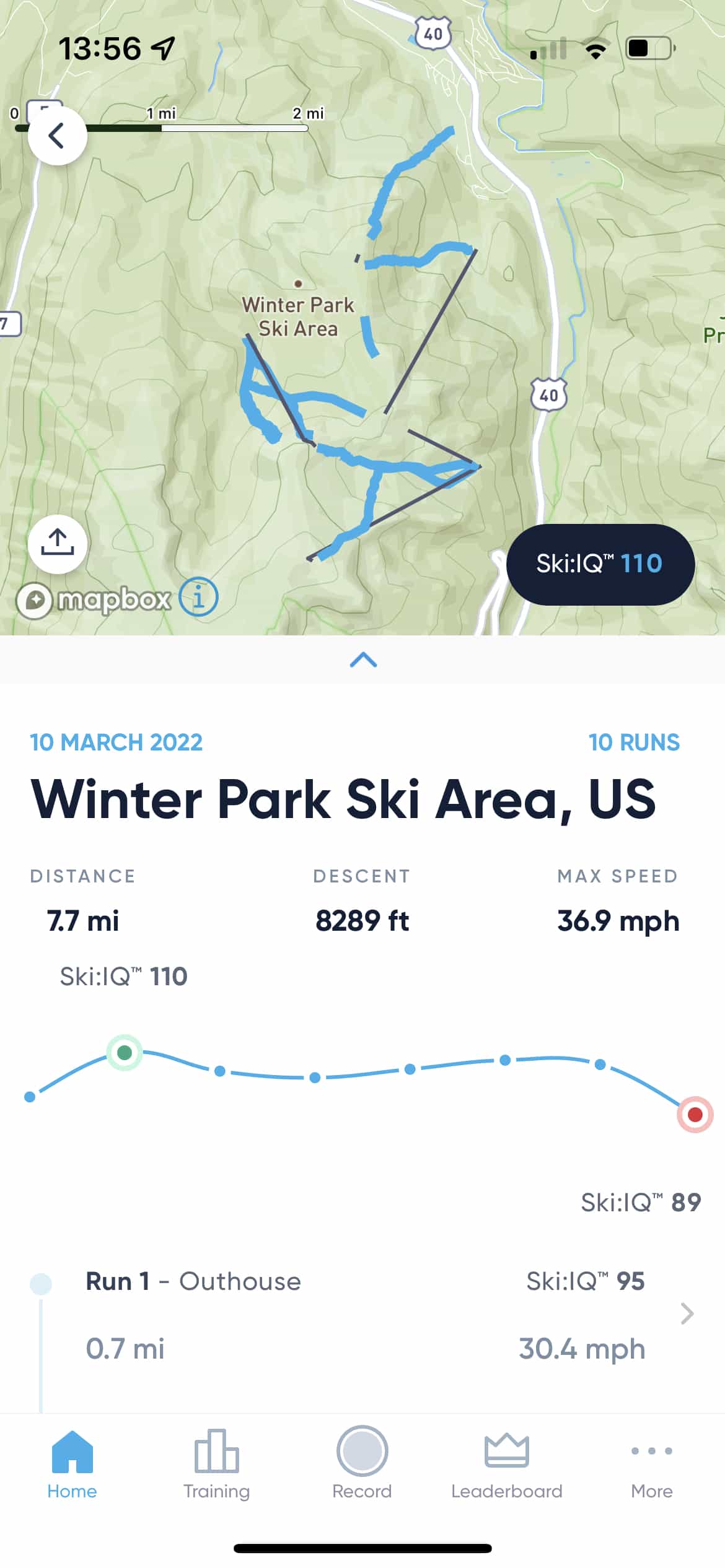 All this information comes together to form what Carv calls your Ski:IQ, a zero-to-165 representation of your skiing ability. After a first run in 'Free Ski' mode, my score was 110. 100 is an average skier, intermediates between 110-125, experts 125-140, and professionals 140+. The idea of Carv is that you should be able to improve that score by following its training drills, programs, and feedback. 95% of Carv users said it improved their skiing. Could Carv make me a better skier?
There are several modes you can use with Carv while skiing; Free Ski, Training, Challenge, and Monitor. After using Free Ski on my first couple of runs for my Ski:IQ score, I didn't really use it again. I spent most of my time in 'Training Mode' and 'Challenge' mode. Each training mode has a video explanation, a brief introduction of what is expected, how you can progress through the levels, and recommended pistes for the exercise (ie. green runs, blue runs, etc.) There's Carving Training, Pivot Slips, Outside Ski Turns, and Balance. While skiing in these modes the app was constantly feeding back in my ear, giving me a positive sound when I completed a successful turn, or negative when I didn't, with relevant feedback, for example telling me I was in the backseat.
I did find the gamification of these was fun, motivating, and almost addictive. It encouraged me to focus on my turns, listen to the feedback, and want to move up to the next level. It's like competing with yourself to become a better skier. And it worked.
Challenge mode drew further on this gamification, offering challenges for Edge Angle, Fast Turns, Edge Angle Streak, and Metronome. My best edge angle was 70º, I managed 25 fast turns in 30-secs, achieved a 38º edge angle streak, and skied to the metronome 87% of the time. All while focussing on and improving my skiing.
While on the lift after every run the app identifies areas where you can improve and offers helpful tips and advice. One downside to this is that if you're skiing with buddies, it is quite anti-social to be listening to what you are being told by your phone while others are chatting/talking to you. (I skied with one earbud in to try and counter this.)
So, did Carv improve my skiing? Definitely. After less than two weeks with Carv, my Ski:IQ went from 110 to 135. I felt like my form had improved and I looked like a better skier.
As an analytical data nerd (if it's not on Strava, it didn't happen), I thoroughly enjoyed using Carv and thought the feedback provided was insightful and accurate, resulting in actionable changes I could introduce to make myself a better skier. As a ski bum with limited resources, paying for private lessons is not really in my budget, so being able to get real-time, to the second feedback and advice on every aspect of my skiing proved beneficial. I would highly recommend Carv to anybody who wants to level up their skiing, whatever level you're currently at.
The app is available to download today and a Carv membership and the device are available for purchase at getcarv.com.
12 month membership: $199 / year
24 month membership: $149 / year
One-off Device cost: $199