It's no secret that Hestra makes some of the highest quality winter gloves money can buy. I have a pair of Hestra Vertical Cut ski gloves that are at least 10 years old and still going strong. Hestra also makes bike gloves, and they recently sent me the All Mountain Sr.,  Ergo Grip Enduro, and Bike Long Sr. Gloves to try out.
From the second I opened the package, the Hestra quality was unmistakable. Like their winter counterparts, I have no doubts that these gloves will last a very long time. The materials and craftsmanship are top-notch with no annoying seams or extra fabric to be found. According to Hestra's size chart, I measured in at a size 9.  During my initial try-on, the gloves were a little snug, but after breaking them in on one or two rides, the fit is now perfect. I've had gloves from other brands with wildly inconsistent sizing – not the case here.
All Mountain Sr.
Hestra describes the All Mountain Sr. as a "protective, breathable cycling glove for the whole mountain."  The palms are reinforced, but unpadded, for maximum handlebar feel, while the backsides feature form-fitting knuckle protection and gel inserts on the fingers. They remind me a lot of the Hestra Vertical Cut winter gloves that I like so much.
If I were only going to have one pair of bike gloves, these would be them. Despite a fair amount of protection, the All Mountain Sr. still feels light and breathable and allows for ample dexterity. I thought they might be a little too much glove for hot days, but the mesh backs vent excess heat extremely well. The padding and protection are substantial, but well-placed and barely even noticeable while riding.
I can't move on without mentioning how much I like the style of these gloves. The mix of colors and materials is rugged and outdoorsy without being overly bold. I find myself getting compliments on them almost every time I ride.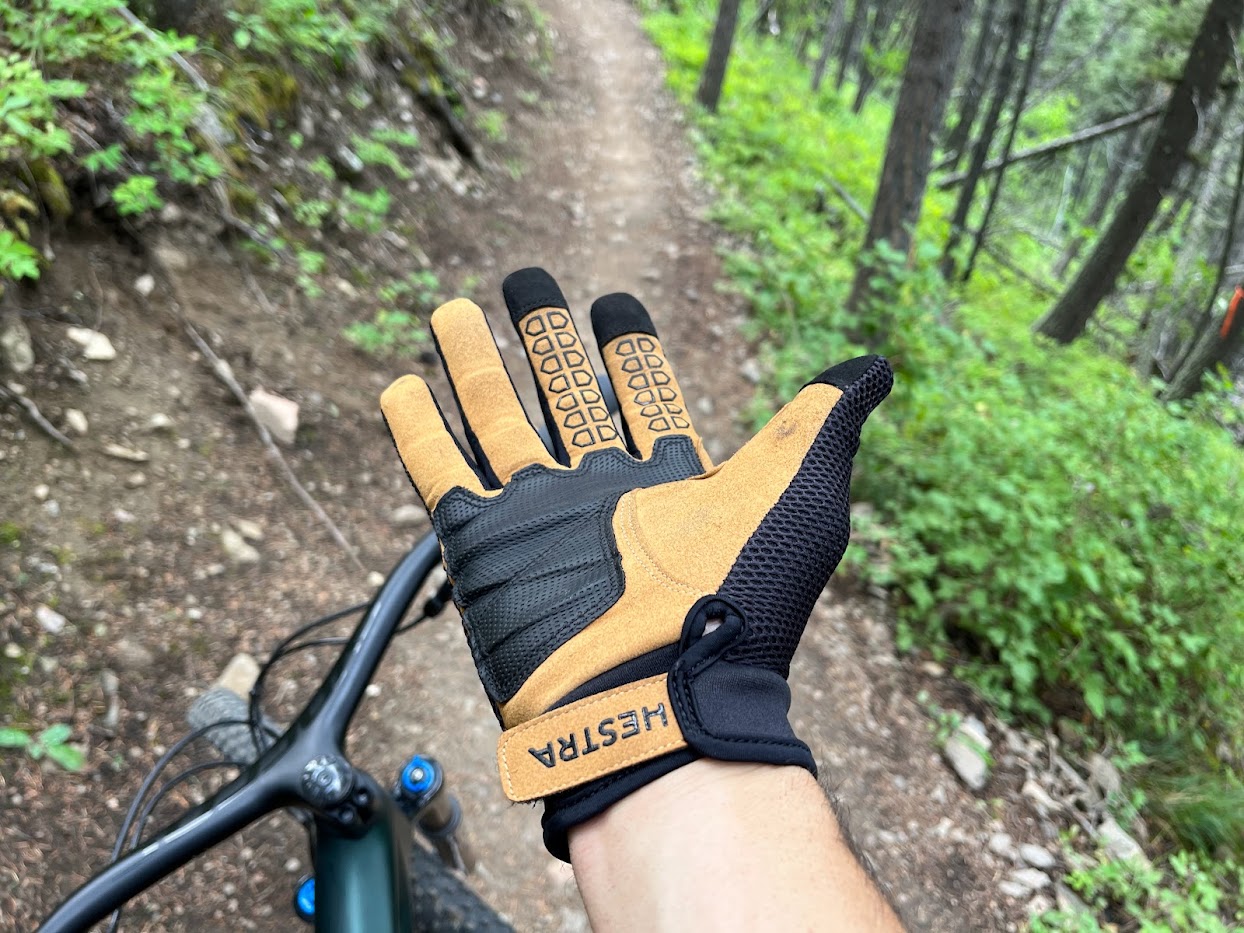 Ergo Grip Enduro
When any bike product has the word "enduro" in its name, I just assume that it's going to be heavy and uncomfortable for the sake of maximum protection and durability.  The Hestra Ergo Grip Enduro gloves don't fall in line with that trend.
Hestra touts these as "amazingly comfortable downhill gloves," and I'll confirm that to be true.  I initially thought the seams and stitching across the front of the fingers were a bit odd and might be uncomfortable.  After riding these gloves, the unique finger construction creates natural flex points that almost make it feel like you don't have gloves on. I'll say it again – the dexterity and feel of these gloves is awesome.
The Ergo Grip Enduro doesn't have the backhand protection of the All Mountain Sr. but instead adds gel inserts in the palms. I usually shy away from gloves with padded palms, but these have it well placed and in modest amounts that doesn't feel awkward or compromise your grip. The large velcro closure (which appears to be borrowed from some of Hestra's winter gloves) stayed in place all day and never irritated my wrists. It also provides just a bit more skin coverage than your average glove, which is never a bad thing when you're riding heavily armored up.
Between the smartphone-compatible fingers and excellent feel, I didn't find myself taking these gloves off on the lift.  After a full day riding these gloves at the Big Sky bike park, my hands felt pretty good, which isn't always the case.
Bike Long Sr.
The Hestra Bike Long Sr. is billed as Hestra's XC glove. I've taken them out on a few cross country rides as well as on some rougher gravel routes where I was heavily under-biked. These gloves feel like a perfect blend of the best qualities of the All Mountain and Ergo Enduro Grip gloves. The backs are light and breathable while the palms have just the proper padding and placement to keep things comfortable on longer rides.
For a relatively light-duty glove, they're super durable. I crashed hard on a descent and my right palm took a direct impact into sharp rocks on the ground. Despite my body being all cut up, the gloves barely have a scratch on them; no tears or rips to be found. When I got home, I threw them in the wash with the rest of my clothes, as all of Hestra's mountain bike gloves are designed to be machine washable.
I went with all black, but Hestra makes these gloves (and many others) in a variety of colors and six sizes so you can find the perfect style and fit. The Ergo Grip Enduro will set you back $75, but the All Mountain Sr. and Bike Long Sr. are only $55 and $50, which is a great deal for gloves this nice. Check them out along with Hestra's winter collection here.