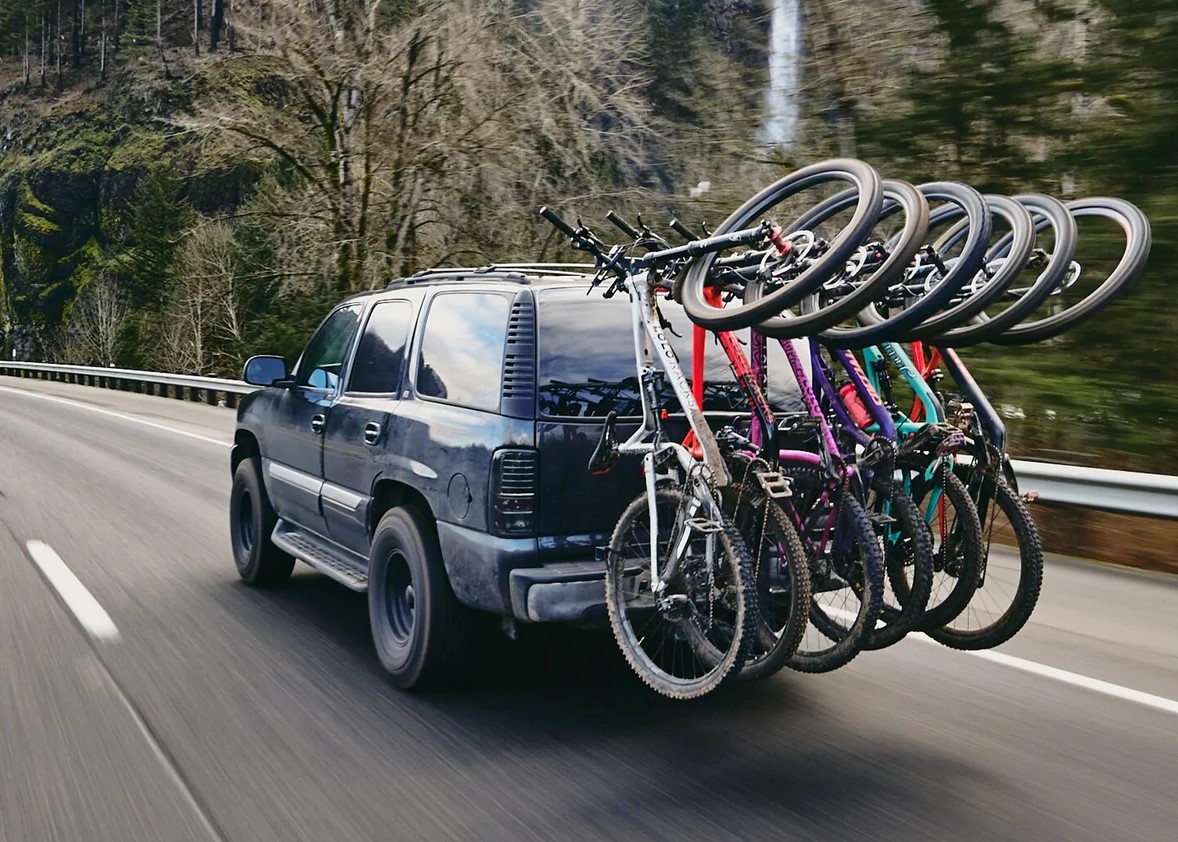 When our family was expecting our third child, I had to finally admit that my little Subaru Impreza wasn't going to be big enough for our family adventures. I sold my beloved Subaru to a friend and bought a full-size SUV. This was in December at the beginning of ski season, so I wasn't too worried about my bike transport system at the time. However, around mid-February, I started to feel an urgency to figure out the perfect bike rack. I knew the warmer weather would come and I wanted to be prepared.
And so, I started researching.
There are many options for bike racks. I knew that the roof-mounted bike racks I used before wouldn't' work on my new SUV. In addition, I don't have a truck or a big enough trunk, so some kind of hitch-mounted rack was what I was looking for. There are two styles of hitch-mounted bike racks:
Platform-style: These hold the bikes on a tray. Typically, they hold two bikes, but some come with an extender to get a four-bike capacity.
Vertical (hanging) rack: as the name suggests, the bikes hang vertically. This greatly increases the capacity.
Because of the carrying capacity of the vertical rack option, I narrowed my research to these. There are several vertical bike racks available in the market today and they are becoming increasingly popular. I see more and more of them at the trailhead and even around town. After looking long and hard at all the options available, there was one clear winner: the Lolo Rack.
I have owned a Lolo Rack for over four years now and I could not be happier.
What I love about it
The top feature is the carrying capacity. To be able to carry six bikes for such little effort is amazing. A platform rack would have protruded so far out, even with just four bikes. Not to mention would have been more hassle.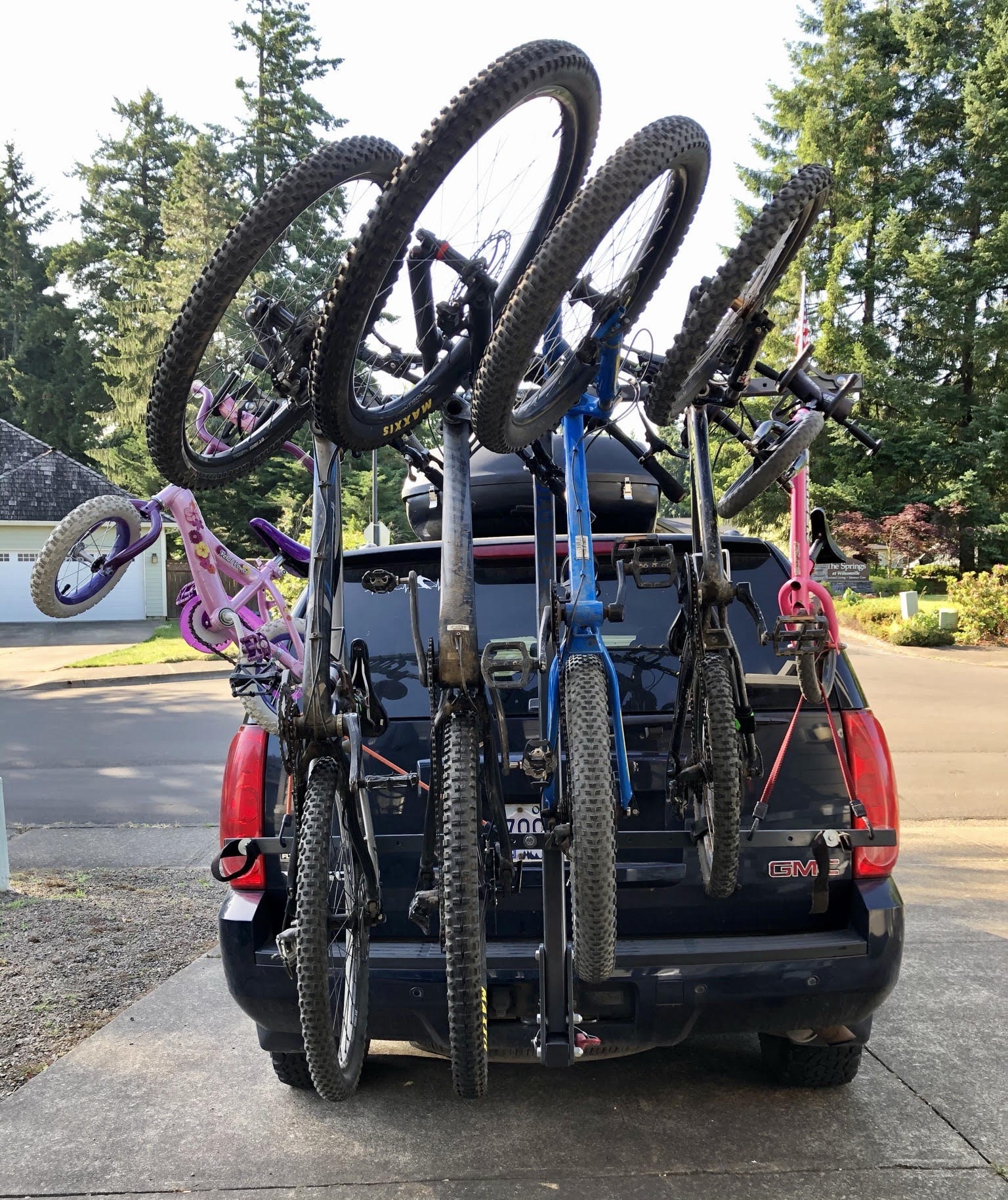 Another great feature is the bikes hang by a hooked mount by the handlebars. The rear wheel rests and is strapped to a flat bar at the bottom. This means that it doesn't matter what wheel size you have, it will fit on the Lolo Rack. I have had bikes with wheels of 29″, 26″, 24″, 20″, and 16″ on the rack. If the bike is too small for the rear wheel to rest on the bottom bar, then you just need a little bungee to secure the back wheel from swinging. I have never had an issue with the bikes getting scratched either. Other vertical racks on the market might require a certain wheel size, a suspension fork, or not work with fat-tire bikes. Not with the Lolo Rack!
The rack itself weighs 72 pounds. Although this is relatively heavy, when you think about what you get out of it, it is pretty impressive.
You still have access to your trunk as well. I was still able to open my trunk window, or you can lower the rack by removing a pin to get complete access. This can be a little challenging with bikes loaded on the rack.
What are the considerations?
Because of the hitch-mounted nature of the rack, your access to your trunk is always going to require a little more work than a roof-mounted rack. It is a mild inconvenience to pull the pin and drop it. To take the whole rack off or on is about a five-minute process.
When driving, the front tire of the bike will often spin. This isn't a big deal. It probably keeps your tire sealant well disbursed. If it bothers you, you can take a bungee and connect it from your tire to one of the pedals, and the problem is solved.
Also, at 72 pounds, it could be a bit too heavy for some to handle on their own. However, it is not a challenge for me and I'm not even a big guy.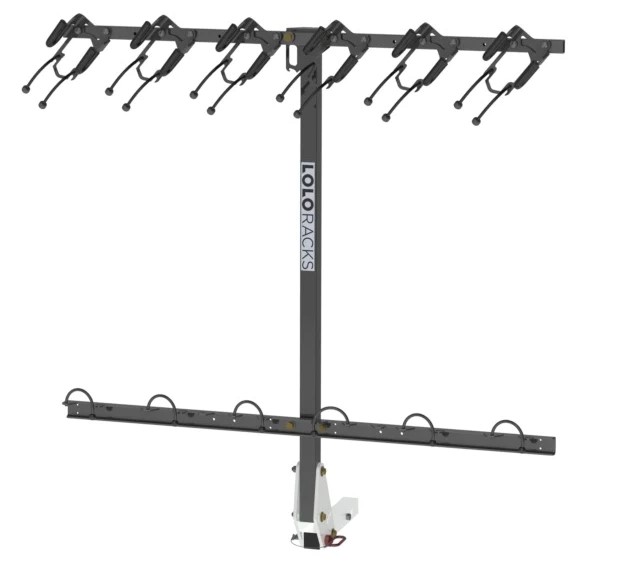 Anything else?
This year I upgraded my Lolo Rack with the Boss Swingout Attachment. The swingout allows me to access the rear of the car easily without taking the bikes off. I just lift a pin and everything swings to the side. The tradeoff is it adds another 30-35 pounds to the rack. It is also harder to take on and off. However, since I have the swingout, I can leave the rack on all season and not be as burdened with access to the trunk.
The Lolo Rack also comes with a smaller, lighter 4 bike rack option if that might fit your preferences better. Both options require a 2-inch hitch. I also recommend a hitch tightener to keep everything tight.
It is also important to note that the Lolo Rack can accommodate road bikes with drop-style bars and downhill mountain bikes with dual crown forks, but you need separate attachments. I don't own any bikes like that, so it is a non-issue for me.
Random fact: the name "Lolo" originates from the Native American Chinook tribe, meaning "to carry."
Conclusion
I get so many comments about my rack. People just want to know more about it. After seeing mine, I know at least three people who have bought one.
I have truly battle-tested it. It has been on 6-hour road trips, camping trips, gravel shuttles, and more. Worth every penny. You will have to decide if the swingout attachment is worth your extra discretionary income.
Most people with a vertical bike rack are pretty passionate about it and it's easy to see why. If you are in the market for one, do your research and weigh your options. I feel strongly that the Lolo Rack should be at the top of your list.