Brought to you by Grand Targhee Resort
Report from Wednesday February 3rd thru Saturday February 6th, 2021
Friends, Targhee is (and has been) going off–26″ in the last 2 days alone! And by the looks of the weather charts, that trend intends to stay awhile longer.
Pow turnin' through dust devils pretty well sums up the state of the slopes at your favorite ski area on the west side the of the Tetons. Add to that the variability of a tether-ball storm cycle that been pushed here and there by cross-valley winds, and you've got yourself one spicy ski-enchilada cooking up at Grand Targhee.
At one stage our trusty companions, the Lifties had described the snowpack as 'cream cheese' and that spread-able, edible delight certainly does provides a visual, but what we've been pushing through the past 60+ hours has felt closer to fine white sand. The variety of snow to recently arrive at Targhee has been dry, but with a bit of weight, slash-able yet grabby, and taking shape as rolling dunes while ceaselessly moving on the wind.
Bottomline: blink and it's different…and getting deeper.
To write that Blackfoot faces have boasted killer lines feels a bit like a broken record statement, but that doesn't make it any less true. Trust your edges when the cloud gets thick, and treat the trees as your viz markers. The rest is a dance of floating and falling.
And a closing note to the wise: the clever Targhee Viber knows that these days powder (and parking) go to those who get here early, especially on the weekend. But feel not the dreaded powder panic, Old Man Winter's meant to keep up his barrage on Grand Targhee straight through the week to come.
Winter's great and getting stellar in the Tetons Mountains and Grand Targhee Resort.
Snow Numbers: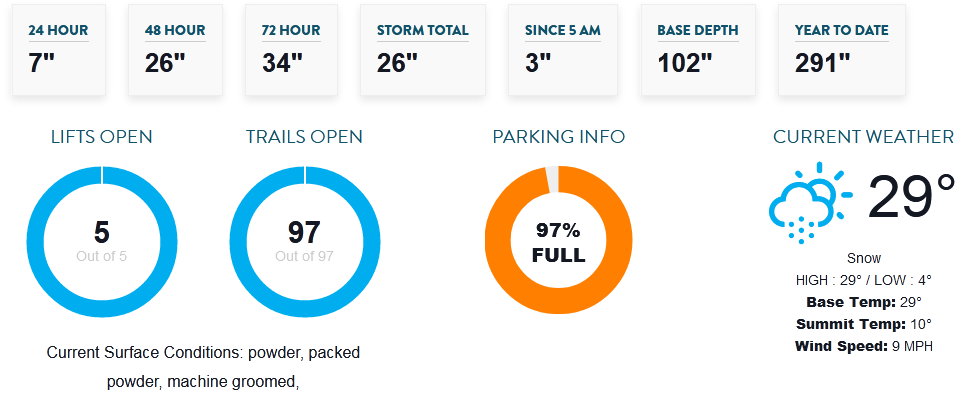 Forecast: