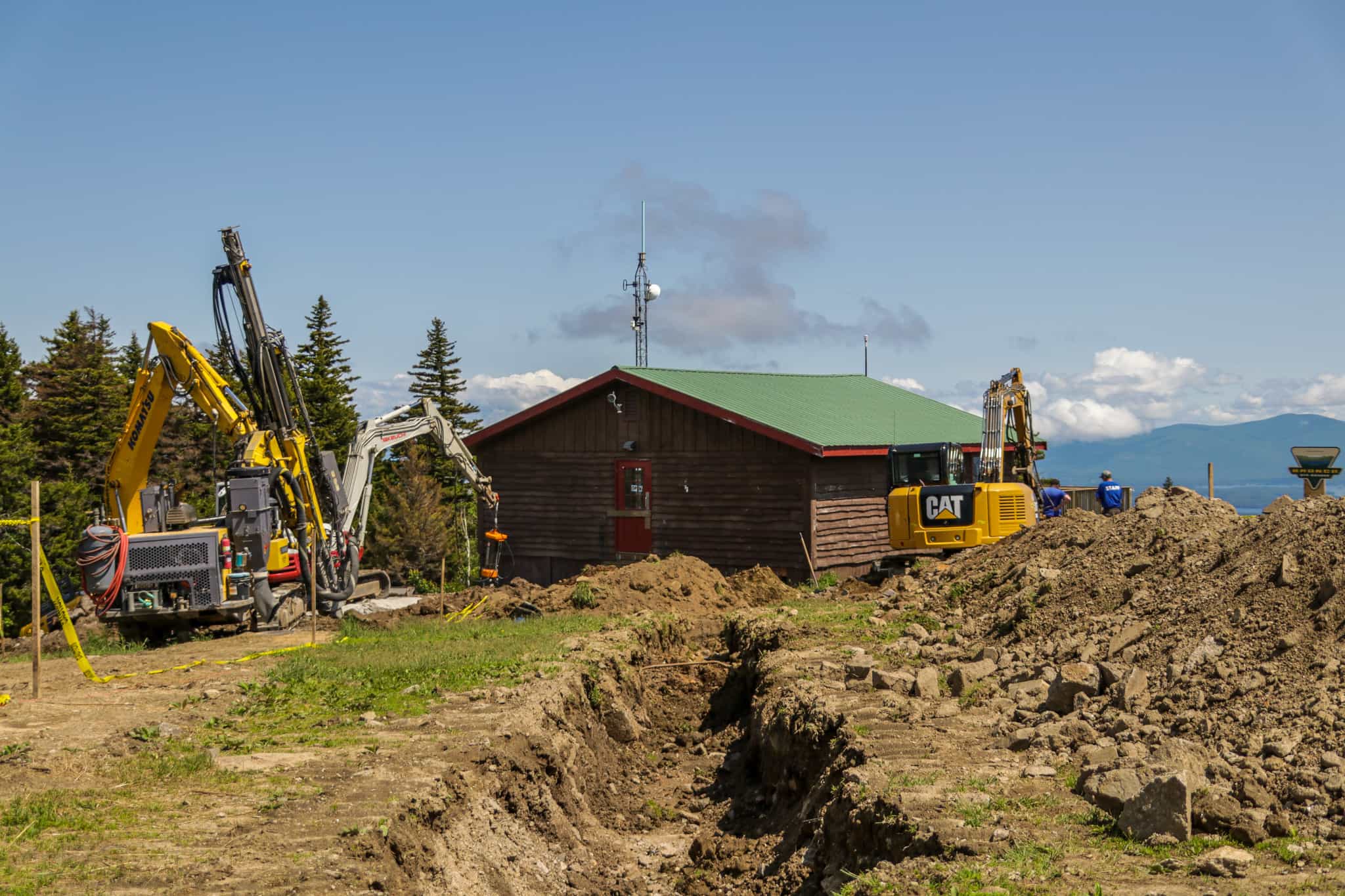 Gunstock Mountain Resort in New Hampshire is a beehive of activity this summer, as resort improvements totaling $6 million are slated for completion before the start of the 2023/2024 ski and snowboard season.
Guests visiting Gunstock this winter will experience some of the most noticeable improvements when they take a break from their outdoor activities: skiing, snowboarding and snow tubing. Major renovations to Gunstock's Stockade Lodge and Summit Lodge will enhance guests' dining experience. Located conveniently near two quad lifts at the base of the mountain, the Stockade Lodge will transform from a small grab-and-go cafeteria to a welcoming full-service restaurant with a new 18-seat, U-shaped cocktail bar and an expanded kitchen. Quick-serve options for skiers on the go and an area to boot up for the day will remain. Outside, the existing deck with views of the ski trails will be extended for ample seating around an inviting double-sided stone fireplace – a perfect setting for indoor or outdoor après ski. The Stockade Lodge was constructed in the 1970s to house the resort's ski school and a ticket office. An addition was completed in 2000, and the building has not seen significant updates since then. Construction of an extended wrap-around deck is slated for spring 2024. At the summit of Gunstock Mountain, the building that houses the Panorama Pub is being enlarged and improved. A 16-by-30 foot addition will increase the size of the serving area and provide additional seating for guests.
At Gunstock's original Historic Lodge, new, energy-efficient windows were installed throughout the great hall. Draft-free windows enjoyed by skiers and riders in winter will also keep cool air contained for summer guests visiting the 1930s ski lodge. State-of-the-art air conditioning installed last summer makes Gunstock's Historic Lodge an ideal setting for warm-weather weddings and gatherings of all types.
Early this summer, Gunstock broke ground for the construction of a new two-level building to expand ski and snowboard rental operations and house a new ski tuning and repair shop. The 24-by-67 foot structure mirrors, and runs parallel to, the existing rental shop built two years ago. The additional square footage and proximity to Gunstock's Learning Center will help streamline the rental experience for new skiers and riders as well as seasoned snowsports enthusiasts who want to rent snowboards, skis, boots, poles, and helmets. A new tuning and repair shop will feature advanced equipment to meet growing guest demand for on-mountain convenience and the ability to customize equipment tuning.
Also in the Gunstock base area, a paving project that is underway includes the grading and redesign of the resort's main parking lot, including nighttime lighting and lot striping for maximizing parking capacity. 
In addition to infrastructure upgrades, work on the mountain includes improved snowmaking capability and crews are trimming and widening trails for better skier traffic flow on existing terrain. Live webcams showing progress can be viewed, and more information is available at gunstock.com.