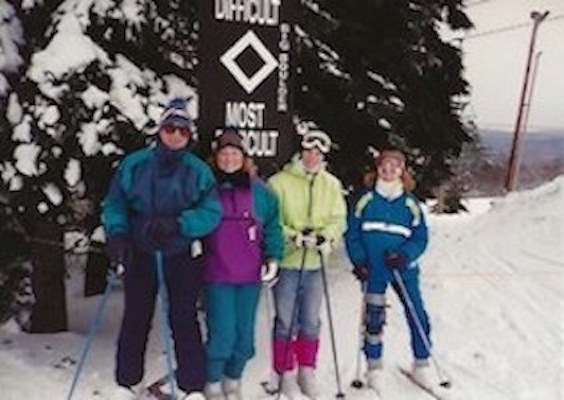 You may have heard of the more famous companion resorts such as Alta/Snowbird, or  Whistler Blackcomb, but in the Pocono mountains of Pennsylvania lies Jack Frost Big Boulder. While both the former are big mountains with deep powder, JFBB is the polar opposite. What JFBB lacks in vertical drop and natural snowfall it makes up for with stoke, smiles, and family fun.
Not unlike Park City, Big Boulder shares its origins in the mining industry. Born from the coal industry that fueled Philadelphia in the 19th century the Lehigh Coal and Navigation Company built the Split Rock Club on the shores of Lake Harmony. The club consisted of Split Rock Lodge and the adjoining Hazzard ski slope. When the lodge was sold in 1947, Hazzard ski slope became known as Big Boulder Ski Area. This was the first commercial ski resort in Pennsylvania, and it was here that snowmaking was first used successfully in a commercial application.
When Jack Frost opened in 1972, the experiences from Big Boulder laid the groundwork for a well-designed ski resort. All of the slopes, lifts, buildings, and snowmaking infrastructure that would be required were planned as part of the original construction. Today, Jack Frost Ski Area is a companion resort to Big Boulder Ski Area. With roots in the industrial age, these two ski resorts have become the heart and soul of the Northeastern Pennsylvania ski industry.
One Pass, two mountains. Known as the skiers' mountain, Jack Frost is an upside-down resort with the lodge at the summit sitting at an elevation of 2000′. JF boasts a vertical drop of 600′, 20 trails, and 12 lifts.  Big Boulder has a traditional layout with the lodge sitting at an elevation of 1700′ and the summit reaching 2175′. Known as the snowboarding mountain, due in part to its variety of terrain parks, BB has a vertical drop of 475′, 15 trails, and 10 lifts. BB offers night skiing for those blessed with youth or strong legs from 3 pm to close.
The invention of snowmaking.  With an average annual snowfall of 50″ it's no wonder that JFBB has 100% snowmaking. The origins of snowmaking are complex, but in Pennsylvania lure, John Guresh was the first to successfully manufacture snow for commercial use.
Everyone needs to learn to ski somewhere. Big mountains and deep powder are great for advanced skiers but can be horrible for beginners and kids. As a kid, I was stoked to ski Jack Frost all day and then drive 5 miles to ski Big Boulder all night. With literally 12 hours of skiing available it's hard to get more bang for your buck at any other resort. The accessibility, laid-back vibe, price of lift tickets, snowmaking, terrain parks, and night skiing combine to make JFBB two perfect resorts for beginners, intermediates, and families.