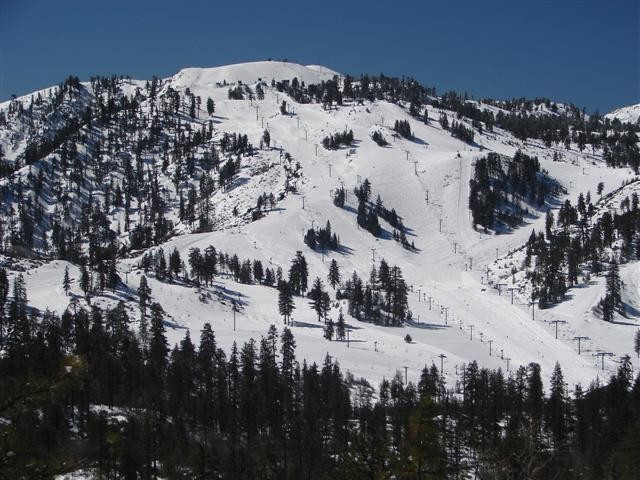 Growing up in Southern California, I always looked to the mighty San Gabriel Mountains in the winter for the first sign of snow. While snowfall isn't always consistent, several peaks are over 10,000 ft and can hold snow into the summer months on big snow years. With multiple ski areas in the region to choose from, Southern California offers staunch independent areas from Mt. Baldy, Mt. High, and Mt. Waterman to newly Alterra-owned Snow Summit and Bear Mountain. The last independent not listed is where I grew up trekking to on the weekends – Snow Valley Mountain Resort, a truly local mountain that will always hold a special place in my heart.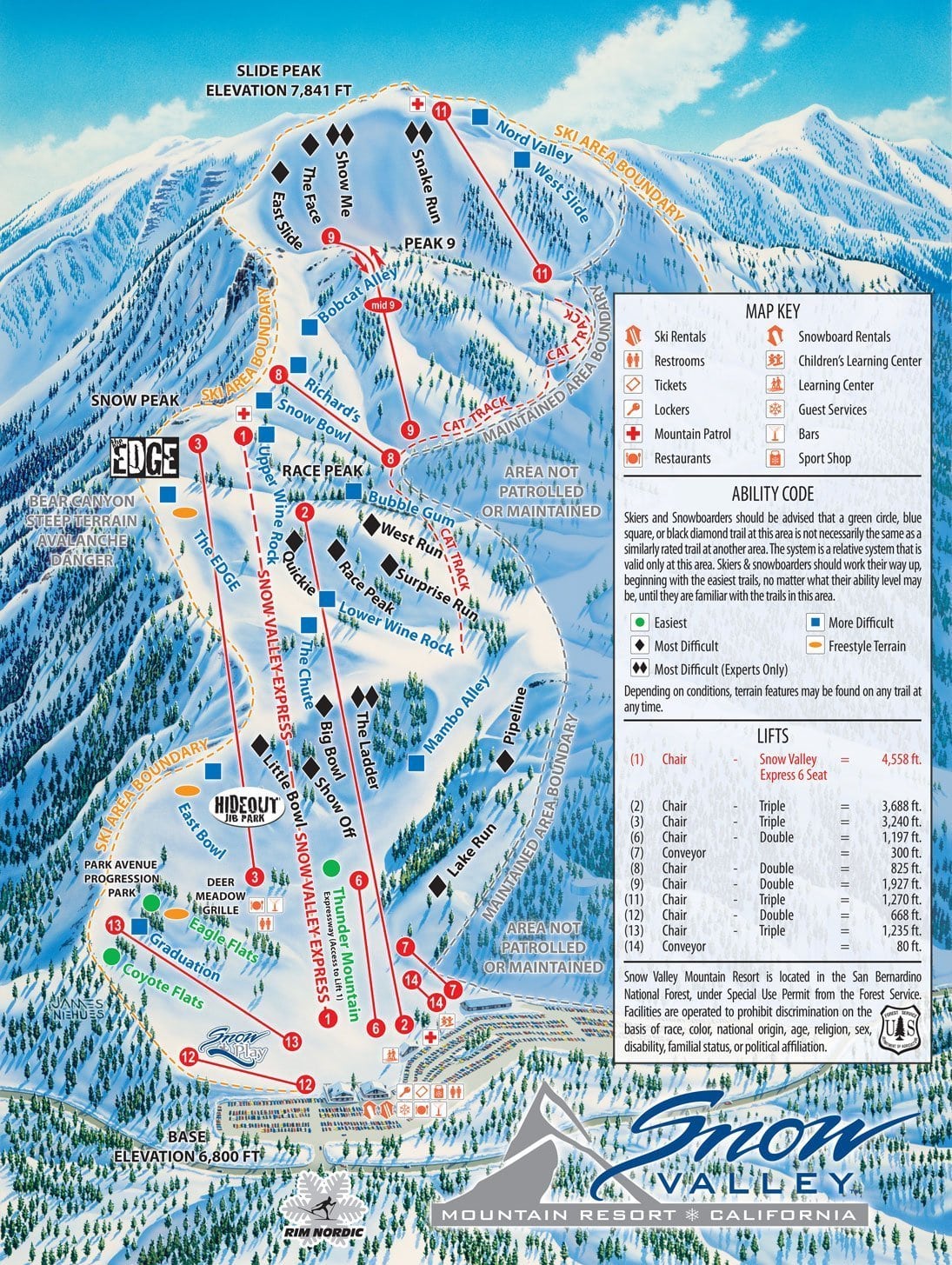 Nestled in the San Bernardino National Forest, Snow Valley is a one-and-a-half to two-hour drive from the coastal towns of Orange County. First developed in the 1920s, the ski area has grown to encompass 240 skiable acres and a vertical drop of just over 1,000 feet to play on. Snow Valley may not be as well-known as some of the other ski areas in the region, but its local charm, non-existent lift lines, and terrain diversity, among other things, make up for any misgivings you may have. While you can stay in Big Bear or Running Springs, day trips to Snow Valley were and still are my go-to option. Leaving around 6 am, I'd drive from the beach, through the Inland Empire, and up Highway 330/18 through Running Springs. A quick breakfast burrito in their massive parking lot or on Chair 1 was all I needed to get me ready for a great day of skiing ahead.
Snow Valley is split into two mountain zones: "Chair 1"/Snow Peak (main mountain) and Slide Peak (upper mountain). Snow Peak is served by multiple fixed-grip lifts, but the crown jewel is a new high-speed six-pack, the first and only in Southern California. The amount of terrain options available from Chair 1 for such a compact local mountain is remarkable. From "The Edge" terrain park, to high-speed groomers such as Mambo Alley and Big Bowl, to ungroomed offerings such as The Ladder and Lake Run, it's the perfect playground for any progression.
Slide Peak, accessed by Chairs 9 and 11 via Chair 1, serves the upper mountain. It may not look like much from the trail map, but Slide Peak is its own slice of paradise, especially on a powder day. Snake Run and the trees and bushes off of West Slide will leave any skier breathing heavy. Growing up, I spent countless hours up weaving my way through all the nooks, rocks, 'bushes, stumps, and trees Slide Peak could throw at me. Not to mention, you can take in views of Big Bear Lake, Mt. San Gorgonio, and the expansive Inland Empire below.
Kevin Somes is the Vice President and General Manager of the ski area and is always transparent and forthcoming. From road washouts to weather issues to the most recent COVID-19 outbreak, he's always been hands-on in his approach to ensure that the Snow Valley faithful know what's going on at the ski area, whether it's good news or not. Since he's been at the helm, they've made several improvements to the ski school, snowmaking, and even expanded their summer offerings to include hiking, mountain biking, and sightseeing. I didn't make it up to Snow Valley last season due to a back injury, but I can't think of a better spot to get back on the snow.
Mountain Stats
Nearest City: Running Springs, CA
Vertical: 1,041 ft (317 m)
Top Elevation: 7,841 ft (2,390 m)
Base Elevation: 6,800 ft (2,100 m)
Skiable Acres: 240
Runs: 29
Lifts: 11 (1 High Speed Detachable 6, 4 Doubles, 4 Triples, 2 Conveyors)
Terrain Parks: 2
Website: www.snow-valley.com