Located off Interstate 77 near Beckley, West Virginia, Winterplace is extremely popular with large groups and families looking for easy access.  Plenty of lodging options are available in nearby Beckley to the north and Princeton to the south, along with a few ski in ski out properties available on-site. Winterplace runs in conjunction with The Resort at Glade Springs, only 15 minutes from the base, and provides a free shuttle to and from the slopes for guests.
Winterplace was first established in 1958 on the north slopes of Bald Knob on Flattop Mountain. This marked the opening of the second ski resort in the state (after Canaan Valley a few years prior) and was marketed as the southernmost ski area in the east. Three years later, "Old Winterplace" closed for good, and fifteen years later, "New Winterplace" opened its lifts on the slopes of Huff Knob, directly across I-77 from the original location.
Winterplace has one of the most efficient snowmaking systems in the industry. Fully automated and covering all terrain, conditions at Winterplace tend to be less icy than what is commonly known on the "Ice Coast" since they have the ability to cover all their terrain in a fresh blanket of man-made snow in the blink of an eye. Coupled with 100" of annual snowfall, picking the right day means conditions will be fantastic.
The mountain is a fantastic place to learn featuring no overwhelming terrain and some of the best instructors I have ever met. Group lessons commonly turn into one-on-one instruction. The learning terrain is spacious and gently sloping so that beginners are not intimidated and are able to advance their skills quickly.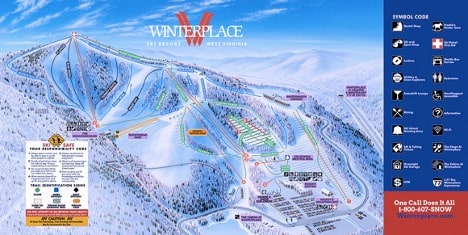 What separates Winterplace from the rest?  The answer to this question is quite simple: night skiing. Open at 9 AM and at 8:30 AM on weekends and holiday periods, Winterplace keeps the lights on until 10 PM. Who wouldn't want to ski for over 13 hours in a row? Sure, your legs might be numb, but there are very few things more surreal and magical than shredding under the lights. Even better, night skiing is included in all-day lift tickets!
Winterplace will always be a special place to me. As a kid that grew up in Georgia, this mountain gave me the opportunity to have my passion for skiing grow. It is the true embodiment of the roots of skiing and helped fuel and inspire my fascination for the mountains to the degree that it is today.
Location: Ghent/Flat Top, West Virginia
Vertical: 603 ft.
Top elevation: 3,600 ft.
Base elevation: 2,997 ft.
Skiable area: 90 acres
Snowmaking: 100% coverage
Runs: 27 and 1 terrain park
Difficulty: 37% Beginner, 40% Intermediate, 23% Advanced
Night skiing: 26 of 27 slopes and terrain park
Longest run: 25 miles
Lift system: 10

2 Quads, 3 Triples, 2 Doubles
3 Super Carpet

Annual Snowfall: 100 inches