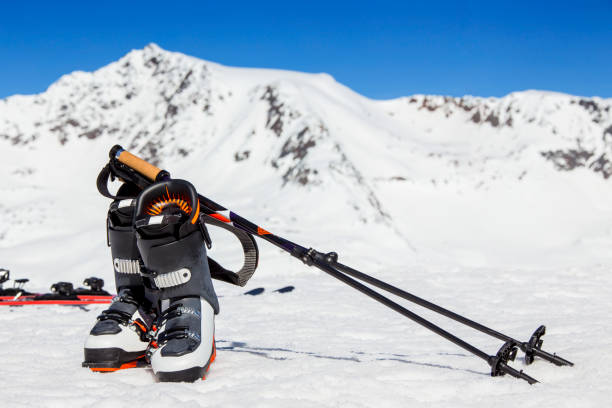 Have you been considering buying ski boots, but once you start doing deeper research, words like "flex" and "last" keep showing up way too often? Or the distinction between all-mountain and on-piste becomes too blurred to tell a difference? The ski boot purchasing decision can be a daunting mission, and seeking help is nothing to shy away from. 
The first step in your ski boot purchasing decision is to determine your level of difficulty. Are you someone who enjoys the slower, more scenic trails? Do you enjoy skiing through difficult terrain with difficult obstacles? Are you a tree skier? Do you prefer to shred through powder, or keep the mountain icy? These are all questions that you can ask yourself to help determine your level of skiing. 
If you are someone who does not ski very often, or maybe you have not skied a day in your life, you would be seeking more of a beginner's boot. Beginners need a "softer to medium flexing boot and a fit that will allow them to be comfortable all day." The "flex" in a ski boot refers to the stiffness the shell has. The higher the flex number, the more stiff the boot will be. By no means is a ski boot going to be perfectly comfortable, but some boots are more comfortable than others because of the level of flex the boot has. For beginner skiers, comfort over performance is necessary for a good day of skiing. 
Intermediate skiers are a group filled with people who can ski all types of the mountain but aren't as trained as an expert. Intermediate skiers should seek a "medium flexing boot with a fit that's precise enough to allow full control in a variety of conditions." Intermediate skiers should focus on finding a boot that effortlessly combines comfort and performance. 
Advanced and expert skiers can be found on double black runs, the terrain park, or freeskiing. These skier types need to be "stiff to very stiff flex and a very precise fit." Because advanced skiers are tackling more difficult terrain, the boot this person chooses must have high-performance technology. Many expert skiers intentionally size down in their boots to allow for more control. 
Once you've determined your level of skiing, the next step in the ski boot purchasing decision is to determine the goal of your ski trip. There are many different types of ski boots to choose from, and each type of boot can serve a different purpose. For example, an all-mountain ski boot allows a skier to ski any part of the mountain even if there are any obstacles in the way. An on-piste boot is more suited towards beginners and intermediate skiers who aren't interested in exploring more difficult terrain. The on-piste boot may be more difficult to control in powdery or rocky conditions. If you are a racing skier, all-mountain or on-piste boots would not satisfy your personal goals. A racing boot needs to be designed for competition and performance. Because of that, racing skiers need a different boot.
Determining the goal of your ski trip can help you choose which boot will best help you accomplish that goal. Once that decision is made, you can start comparing brands. There are so many different ski boot brands to choose from; the process can be a little overwhelming at times. Every brand is experimenting with different technologies to make ski boots as innovative as humanly possible, so it is important to look at what each brand has to offer. However, if the process of looking through the boot website on top of the boot website seems impossible, keep reading below to see a brief brand comparison of four of the best ski boot brands of 2022. This list focuses on comparisons between all-mountain/on-piste boots. 
Men: 15 different all-mountain/on-piste boots to choose from.

Flex ranging from 90-140 depending on which model you decide to choose.

Men's boot would work best for intermediate-expert skiers

Women: 12 different all-mountain/on-piste boots to choose from

Flex ranging from 70-110 depending on which model you decide to choose. 

Women's boots work best for all types of skiers – beginner to expert.

Lange has two types of boots: RX and LX. The RX boot fits a more narrow foot, while the LX boot satisfies those with a larger foot. The Lange boot models fall under either RX or LX and are made with different variations that satisfy all skier types and levels. 

The progressive dual-core technology in every boot. Dual-core is an exciting new boot technology that systematically combines soft plastic and hard plastic to give skiers the highest level of control possible in all ski conditions. The soft plastic allows for vibrations to be better absorbed while the hard plastic traps potential energy and power for your next move. 
Men: 5 different all-mountain boots to choose from 

Flex ranging from 80-130

Men's boots satisfy mostly intermediate-expert skiers

Women: 5 different all-mountain boots to choose from

Flex ranging from 60-100

Women's boots work best for beginner-advanced skiers

Each Head all-mountain boot is made with "Light Done Right" technologies. Boots are made with Graphene and carbon fibers to make the boots as light as humanly possible. Not only do these kinds of materials significantly decrease the weight of the boot, but they also make it easier to ski harder and longer because of increased performance. 

In addition to the all-mountain boots, Head also has a performance line for someone looking for boots with more advancements.
Men and Women have the same 7 boot brands to choose from. Each brand has a men's fit and a women's fit to cater to the needs of different foot and calf sizes. 

All mountain and on-piste brands: Dobermann GP, Promachine, Speedmachine 3, Strider, Sportmachine, HF, and Cruise

Each brand offers a little something different to your ride, each one is made with different technologies to enhance the boot. For example, the Sportmachine boot is made for skiers who want to ski all parts of the mountain. As a result, the boot is built around a wider last, allowing for a more comfortable fit to "accommodate high-volume feet". On the other hand, the Speedmachine brand targets skiers who are still seeking an all-mountain boot, but value speed and precision. The boot has brand new liner and shell technologies that "reduce weight while maximizing comfort and boosting the transmission of power". 
Men: 20 different on-piste and all-mountain boots to choose from.

Flex ranging from 70-130

The wide variety of boots to choose from allows all ski types to be able to find a boot that suits their needs. 

Women: 18 different on-piste and all-mountain boots to choose from

Flex ranging from 60-120

Just like the men's boots, the wide variety of boots gives all skier types a boot to choose from. 

Salomon has designed their men's and women's ski boots with such precision to satisfy the needs of men and women. Salomon recognizes that men and women have different body types and needs that need to be met. Because of that, women's boots have been made with special technologies that keep the boots warmer.