UC Davis recently released their annual "Tahoe: State of the Lake Report 2018".
The report details two very important findings:
Lake Tahoe saw its worst ever clarity readings on record – 59.7′
Lake Tahoe saw its highest surface temperatures on record – 68.4ºF
"The average clarity level for 2017 was 59.7 feet, a 9.5 foot decrease from the previous year, and the lowest level ever recorded." – UC Davis, July 26th, 2018
"Lake temperature was the warmest on record. Surface water temperatures in July 2017 were the warmest ever recorded at 68.4 degrees, which was 6.1 degrees more than in 2016." – UC Davis, July 26th, 2018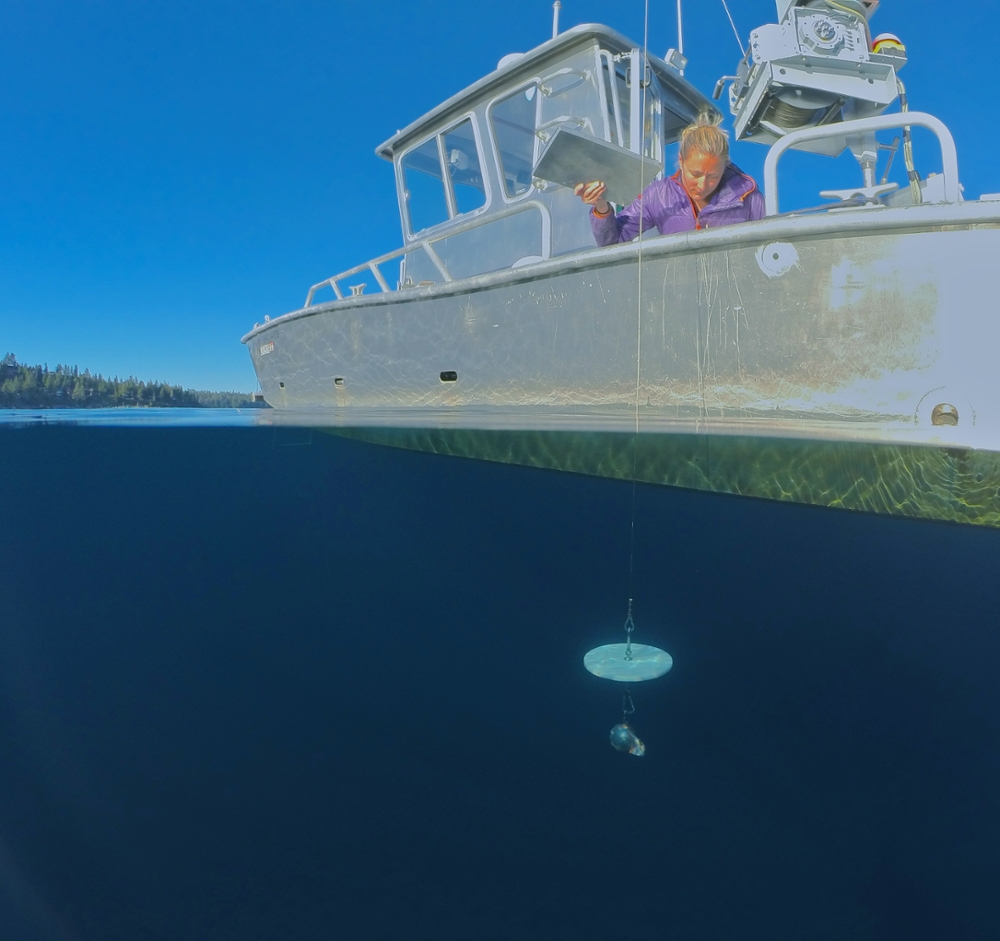 Scientist fear that Tahoe's turn for the worse could be a sign of the future to come.
"While 2017 may be viewed as an anomalous year, it has reinforced the fact that progress toward environmental restoration of Lake Tahoe will be punctuated by extreme years in future decades.  Monitoring these extreme years and applying the lessons learned will be critical to ensuring that the lake and its watershed has the resilience needed to thrive under future conditions." – Geoffrey Schladow, director of the UC Davis Tahoe Environmental Research Center, or TERC
Clarity records go back to 1968.
Lake Tahoe's clarity has already returned to near normal levels in 2018.
"Clarity readings from the first half of 2018 indicate that clarity is back in its normal range, suggesting 2017 was an outlier. Nonetheless, the report said the decline highlighted the reality that extreme climatic and hydrologic events will become more common in the future and that current monitoring efforts need to be reviewed and upgraded to prepare for them." – UC Davis, July 26th, 2018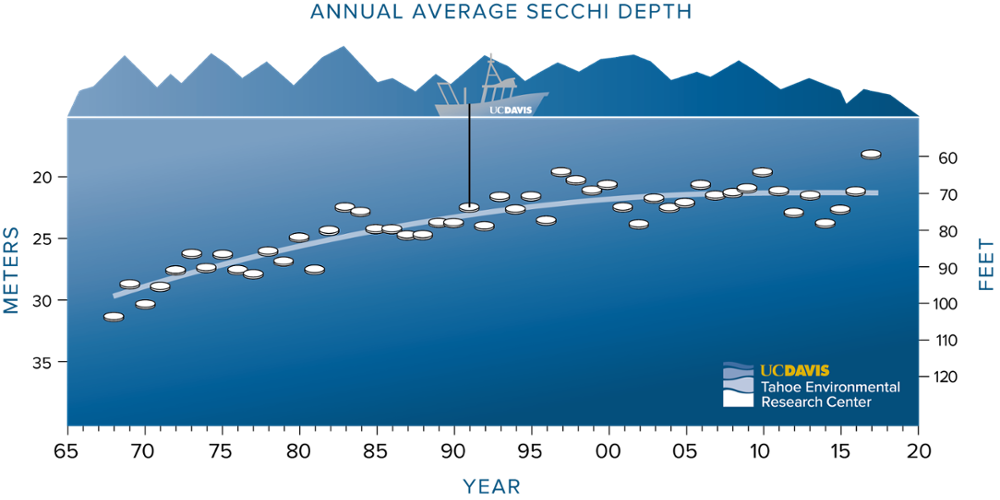 Why Did Tahoe's Clarity Drop So Much in 2017?
5-year drought from 2012 – 2016
Record wet winter in 2016/18
"The decline [in clarity] this year is largely attributable to the record wet winter that followed the five-year drought. A change in the timing of snowmelt and lake warming also played a role." – UC Davis, July 26th, 2018

"2017 was the second highest recorded year, with 68.9 inches, following the five previous dry years. The long-term average of 31.6 inches is shown by the dashed line." – UC Davis, July 26th, 2018
Lake Tahoe's Clarity Restoration Goal = 97.4′
The state of California's clarity restoration goal for Lake Tahoe is 97.4′.
In 2017, Tahoe saw its worst clarity on record at 59.7′
"The clarity restoration target of 97.4 feet was set by federal and state regulators, a goal agencies and the Tahoe Basin community continue to work toward." – UC Davis, July 26th, 2018
Lake Tahoe Saw Its Highest Water Temperatures on Record
Tahoe saw its highest ever recorded surface water temperature for July 2017 at 68.4ºF
Tahoe saw its highest single day surface water temperature at 75.31ºF on August 1st
Tahoe saw its highest annual average water temperature in 2017 
Warming in Tahoe has accelerated to its highest recorded rate in recent years.
"Lake temperature was the warmest on record. Surface water temperatures in July 2017 were the warmest ever recorded at 68.4 degrees, which was 6.1 degrees more than in 2016." – UC Davis, July 26th, 2018
"In 2017, the highest maximum daily surface water temperature (summer) was 75.31 °F, which was recorded on August 1, 2017. This was 2.27 °F warmer than the previous year. The lowest maximum daily surface water temperature (winter) was 41.68 °F, which was recorded on March 6, 2017. This was 0.72 °F cooler than the previous year." – UC Davis, July 26th, 2018
"In 2017, the volume-averaged temperature increased by only 0.04 °F (0.02 °C) over the previous year, but bringing it to the warmest value recorded." – UC Davis, July 26th, 2018
"Up until the late 1990s, the warming rate was high, but the large number of deep mixing years between 1997 and 2011 caused the lake temperature to cool. Since that time, warming has accelerated to its highest recorded rate." – UC Davis, July 26th, 2018